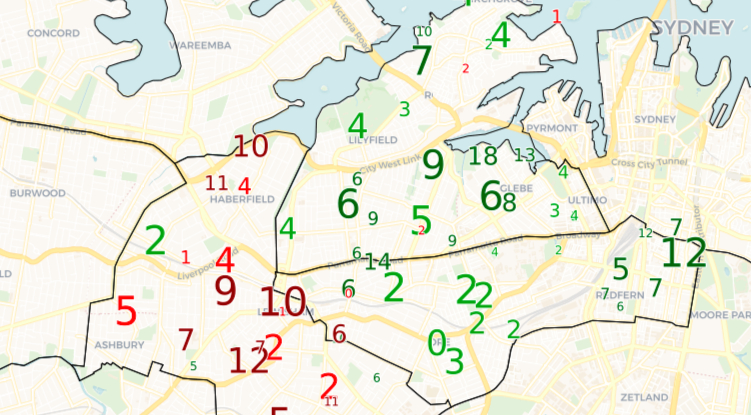 The inner west of Sydney has been a key battleground at NSW state elections since at least 2003, when the Greens first made a serious attempt to win the seats of Port Jackson and Marrickville. Yet something has changed this year, with the focus shifting elsewhere. There was some (incorrect) speculation about Balmain being in play, but the Greens' marginal seats were all on the north coast.
As today's post I have created a map showing the booth results across three inner-west electorates: Balmain, Newtown and Summer Hill. The first two are now held by Greens MPs by 60% or more, while Labor's Jo Haylen holds Summer Hill with almost 70% of the two-candidate-preferred (2CP) vote.
While there are some demographic differences between Summer Hill and its neighbours to the east, they are more similar, particularly in suburbs like Marrickville, Summer Hill and Dulwich Hill.
The first map shows the 2CP swing by booth between Labor and the Greens. It is remarkable how almost every booth in Newtown and Balmain has swung towards the Greens, while there are big swings towards Labor just across the border.
There is variety in how big the swings were. Jenny Leong got little to no swing in the centre of her electorate, but gained big swings in the Redfern/Surry Hills area.
You can then toggle maps to show the 2019 result by booth, and you'll see that there are practically no booths where the winning candidate polled less than 60%. You can also toggle the map to see the 2015 result, and while the winning party in most booths is the same, the margins are much smaller.
Obviously it's hard to say exactly why this is happening, but I suspect some of it is a strengthening of sitting MPs. It's often been said about rural electorates that the sitting MP is more important than in urban seats. I suspect there is a similar dynamic in these seats, where highly-educated voters are aware of the electorate they live in and who the local member is, and would likely vote differently if they crossed the boundary.
There may also be campaign and candidate effects – the Greens definitely put a lot less resources into Summer Hill than into Newtown.
That may change in the future – Summer Hill is probably still the Greens' best chance to gain a third seat in the Sydney region. On the one hand it will be easier to extend their campaign now that Balmain and Newtown have become so safe, but Jo Haylen's strengthened position will make a Greens campaign harder in 2023.