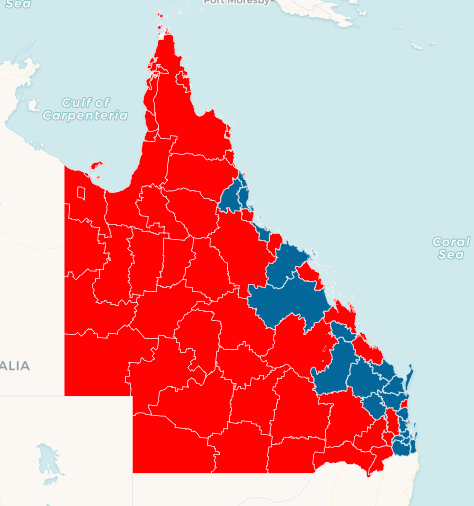 The Queensland government has recently announced plans to introduce proportional representation to some council elections as part of a broad set of reforms. This proposal is a significant improvement to the local electoral system, but is facing a fierce backlash from self-interested groups, in particular the Local Government Association of Queensland. I'll run through the reforms and explain why this particular change is so important.
These reforms strengthen integrity rules, introduce caps on expenditure, strengthen disclosure rules, and align a bunch of election laws to match state election laws. Most of these seem good, but I want to focus on one in particular. I'll run through all of these reforms at the end of this post.
Most local councils in Queensland are undivided, meaning all councillors are elected to represent the entire council area. I say "most councils", but this does not mean "most voters". 22 out of 78 councils use local wards, but these councils cover 83% of the state's population. This includes almost every council in South-East Queensland and most major regional centres. The only big towns which don't use wards are Toowoomba, Mackay, Gladstone and Noosa. This map shows which councils are divided or undivided.
The rest of this post simply deals with the undivided councils. Every divided council in Queensland uses single-member electorates. These electorates will be shifting from using optional preferential voting to compulsory preferential voting, to use the same method as elections to the Queensland Legislative Assembly and the House of Representatives. In an ideal world these councils would also use proportional representation, but that's an issue to discuss another day.
The existing system for undivided councils is first-past-the-post. This is bad enough when used for single-member electorates but it gets even worse when electing a large number of councillors. Say you are electing eight councillors. Voters get to vote for eight candidates on the ballot. You count up these votes, rank them and then elect the first eight. No preference flows. It's possible (and indeed very likely) that a large proportion of the electorate will not contribute to electing a candidate.
To illustrate this point, let's take a look at the ten most populous councils which use this method: Toowoomba, Mackay, Gladstone, Noosa, Lockyer Valley, Livingstone, Southern Downs, Western Downs, Central Highlands and Somerset. The following chart shows what proportion of the vote in each of these councils went to a successful candidate, and what proportion of candidates were elected.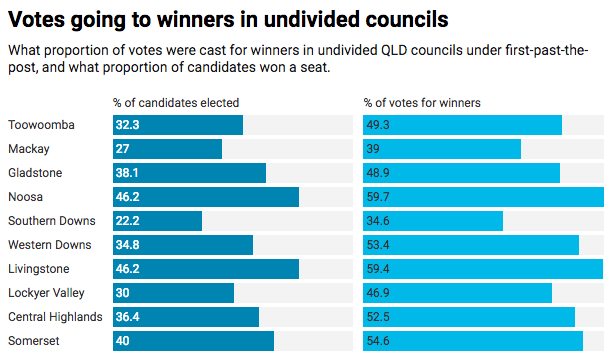 In no council did more than 60% of votes contribute to a winner. Less than 40% of votes contributed to a winner in Mackay and Southern Downs. There's also a very strong relationship between the number of candidates running and the share of the vote that counts to a winner. The more candidates, the lower the share.
This system is arbitrary, with the last seat often decided on a tiny margin, and clearly disproportional, since it allows some voters to elect multiple representatives while others miss out entirely. If one group is disciplined they could win a large number of seats off a relatively small share of the vote, while locking out others.
In contrast, a proportional system would ensure each voter gets a vote weighted the same, and just one vote. Vote-splitting would not be a major problem, and it would be ensured that the councillors represent the full range of the local council.
Unfortunately most of the councils I've profiled do not have formalised groups or parties which would be useful in conducting analysis, but there were two formalised groups in the Mackay election.
The Greg Williamson Alliance ran five candidates, in support of ultimately successful mayoral candidate Greg Williamson. Justin Englert led a team of ten candidates. 20.3% of the vote went to Williamson's team, with 26.4% going to Englert's team and 53% going to the other 22 candidates.
Yet all five of Williamson's councillors won seats, along with two of Englert's and three others.
Unfortunately we don't have data on which candidates were voted for by the same voters, so it's not possible to calculate exactly how much popular support each group had. But it was clearly a disproportionate result which favoured the team with a smaller slate of candidates.
Proportional representation is the best way to elect representatives when you are electing more than one in an area. The beautiful thing about the single transferable vote is that it works even without any organised parties, so works for rural councils without party organisation (unlike European PR systems). We use STV now to elect multi-member wards in New South Wales, Victoria, South Australia, Tasmania and the Northern Territory. It's not crazy or untested.
In contrast, the current first-past-the-post system is similar to the first 'block vote' system used to elect the Australian Senate, and is similar to the exhaustive preferential system used for the Australian Senate from 1919 until 1946 and also used for some NT and NSW councils in the recent past. This latter system was famous for electing an all-white Alice Springs council despite a large Indigenous minority. Both of these systems contributed to massively lopsided results in Senate elections for the first half-century of federation until proportional representation was introduced in 1949.
The current system is really good if you are part of a disciplined minority who can gain control of a council. And maybe this is why the Local Government Association of Queensland (LGAQ) is so upset about this change.
Their campaign is focused on creating a fear of change, while being vague about the proposed changes. When you dive into their commissioned polling which claims to show that Queenslanders are happy with their current system, you actually find that more voters support proportional representation than oppose it, with a large number who are neutral, while compulsory preferential voting has even support and opposition. The main finding is that (unsurprisingly) most voters are neutral on most changes.
If you're a Queenslander I would strongly encourage you to contact the Queensland government and support the introduction of proportional representation for Queensland council elections, and to reject the vested interests of the LGAQ. Perhaps you could use the LGAQ form to express your own view.
Now, I should briefly mention one big problem I have with these reforms: compulsory preferential voting for proportional representation systems. This is inappropriate and out of line with the principle of making local voting systems consistent with state and federal systems. It will likely lead to a much higher informal rate and make it much harder to cast a vote. I'll return to this topic tomorrow.
APPENDIX
Here is my best attempt at summarising all of the proposed changes to local government elections. There are also some changes to how councils work outside of elections. This list is based on this document.
Confirms that councils can be divided into multi-member wards.
Clarifies criteria for councils that want to use postal voting instead of attendance voting and requires recommendation from ECQ to minister (making it harder to do)
Mandatory training for all candidates
Broadens caretaker rules to cover significant procurement decisions, making local laws or planning schemes, and varying existing DAs.
Councillors will be prohibited from using discretionary funds from January 1 in election year.
Allows candidates to run for both mayor and council if it's a multi-member council area. If elected as mayor, their council votes will be distributed to other candidates.
Require candidates to disclose party membership or if they or a close associate is involved in a contractual relationship with the council or has a development application before the council.
Only political parties or registered groups of candidates can only "undertake group like campaigning techniques" (no I'm not sure what this means).
Requiring postal vote applications 10 days before election (rather than 3 days) which aligns with state election procedure.
Real-time disclosure of donations, expenditure, loans and gifts within 24 hours within the last 7 days of election campaign (currently required to disclose within 7 days, and no current requirement to disclose expenditure in real time).
Expenditure caps of 50c per voter, with minimum of $10,000 and maximum of $20,000 for council elections and minimum of $30,000 and maximum of $100,000 for mayoral elections.
Replace optional preferential voting with compulsory preferential voting for single-member elections.
Replace first past the post with compulsory preferential proportional representation (STV) for multi-member elections.
Public funding for candidates polling over 4%.
Councils can appoint one of their own as mayor if vacancy takes place in final year of the term.
Single-member ward vacancies filled by by-election in first 36 months of term.
Multi-member ward vacancies filled by countback in first 36 months of term.
Council vacancies filled by appointment in final year of term, but can be left vacant in last 3 months.