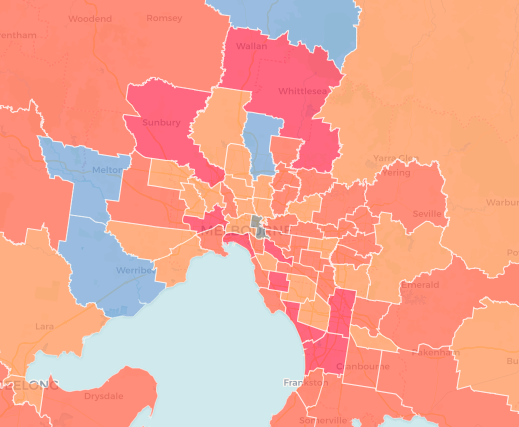 In today's edition, I'm updating a map I produced on request to include the two-party-preferred vote (and swing) in 87 out of 88 seats.
The VEC published two-party-preferred figures in seats where the two-candidate-preferred was not between Labor and Coalition (this electorate-level data is available in my data repository). It was, however, impossible to calculate such a figure in Richmond, where the Liberal Party declined to stand a candidate.
Kevin Bonham has calculated three statewide 2PP figures, depending on how you count Richmond:
57.62% to Labor (Uniform swing applied to Richmond – probably fairest method)
57.89% to Labor (Richmond treated as 100% to Labor)
57.35% to Labor (Richmond excluded)
Whichever model you take, it appears that the polls consistently underestimated Labor's lead. The pollsters had no trouble picking the winner, since the result was so clear, but the polling error was relatively large. This reminds me of Nate Silver's rule about the direction of polling error:
Nate's 1st rule: Almost all polling errors occur in the OPPOSITE DIRECTION of what the conventional wisdom expects. https://t.co/VwPO1598Oc pic.twitter.com/ZCzVCRH5Li

— Nate Silver (@NateSilver538) May 9, 2017
The conventional wisdom was that the Andrews government was in at least some trouble, even if some commentators acknowledged that Labor were the favourites for re-election. It does make me wonder if some pollsters were herding towards a more conventional result.
With 2PP data available for all but one seat, I've now been able to put together two more maps, one showing the two-party-preferred vote by seat, and the other showing the swing:
The default map shows the swing, but you can toggle to show the two-party-preferred vote.