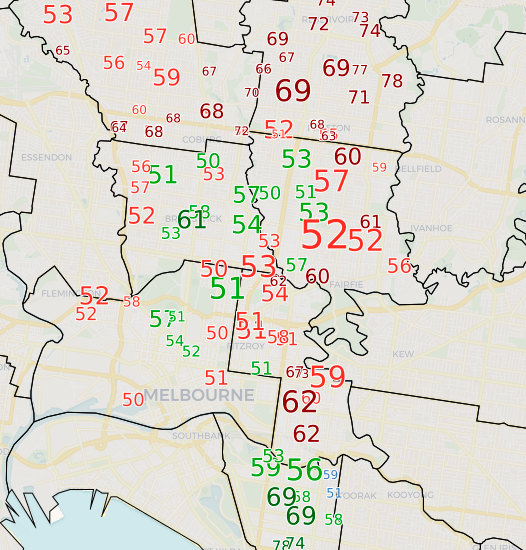 Today's maps focus on the performance of the Greens, who went backwards in terms of votes, yet managed to win a record number of lower house seats at a general election.
This first map shows the primary vote swing for the Greens in the 88 electorates.
Seats coloured dark green or bright green mostly swung to the Greens. Pale green seats had a small negative swing, with the brown seats doing worst.
In the recent past we've seen the Greens gain swings in the inner city while losing ground in regional parts of Victoria, but the picture from this election isn't quite as clear.
Yes there was a big increase in the Greens vote in Northcote, Prahran and Richmond (the last helped by the absence of a Liberal candidate), but the Greens vote went slightly backwards in Melbourne and Albert Park, and barely increased in Brunswick.
This second map shows the two-candidate-preferred vote by booth in non-classic seats. This includes five Labor vs Greens races, one Labor vs independent race and one Liberal vs Greens race, all in a contiguous area in the inner city stretching from Prahran to Pascoe Vale.
The map also shows the map data for Mildura, Morwell, Shepparton and Geelong, but you have to zoom out to see those areas.
You can also toggle the map to see the swing by booth, but only for four inner-city Labor vs Greens races for some obscure technical reasons.
That's about it for today. I'll have more maps tomorrow.