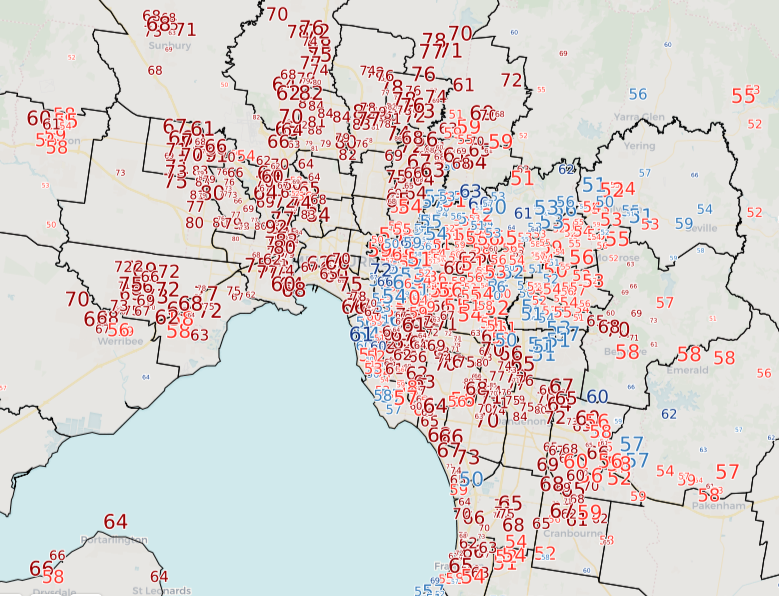 I have just finished my collection of election data for the Victorian state election.
This collection features the full list of booths with location information, the full list of candidates, primary vote and 2CP voting figures by booth, and voting figures by electorate and region as well.
I've been able to use this data (as well as the swing data from Poll Bludger's excellent results site) to produce a series of maps, the first of which I will be publishing today.
These maps show the two-party-preferred vote by booth for the 77 seats which held Labor vs Coalition booth counts. This includes the 76 seats where those parties came in the top two, plus Benambra where the 2PP count was finished despite the change in the top two in the final distribution.
If you'd like to check out this data, it's now available for download on my maps page, along with thirteen other collections from recent state and local elections. Older data (including the 2014 Victorian results) are available to Patreon donors.
First, this map shows the two-party-preferred vote by booth for every booth in the 77 seats where we have a 2PP booth count. This excludes six inner-city seats where the count included the Greens, as well as four regional and one suburban seat where an independent made the final count.
You can also toggle that map to show the swings by booth. You'll see that most areas swung to labor, but there was a particularly strong swing in the inner south-east of Melbourne, where Labor tended to cross 10% on the election-night vote.
I'll be back tomorrow with more maps created from this dataset.