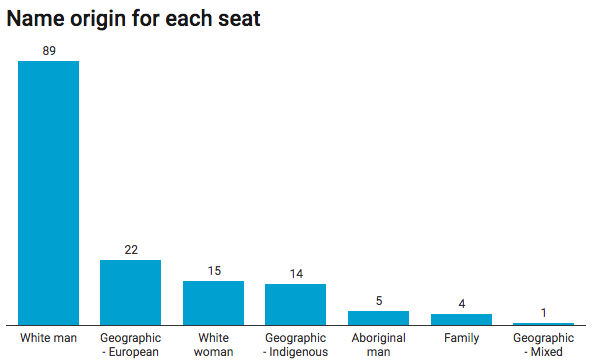 Australian federal electorates follow a fairly unique naming convention. Australian state seats are usually named after geographic locations, which is also common for national electorates in Canada, the UK and New Zealand, while electoral districts in the United States are generally given numerical names.
The majority of Australian federal electorates are named after prominent individual Australians, as a way of honouring those people. 113 out of 150 seats in the current parliament are named after people, while 37 are named after geographic features.
The AEC is usually hesitant to rename seats, and their guidelines prioritise maintaining existing seat names. Yet seats do change from time to time: states gain additional seats, population shifts within a state sometimes require a seat to be abolished, and there is pretty much a hard-and-fast rule that former prime ministers are honoured with a seat as soon as possible after their death.
Because of this practice, most seat names are those that were named in the first half of last century: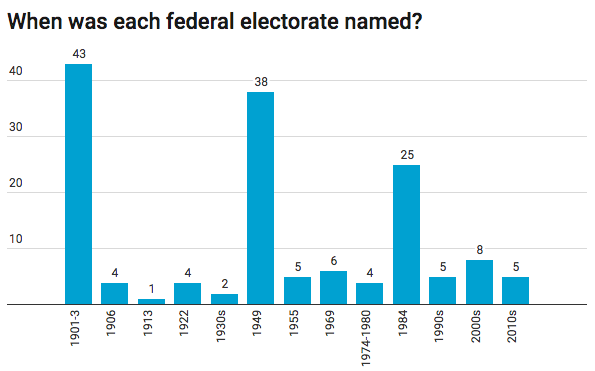 43 seats are those created for the first parliaments. 35 seats have survived since 1901, while eight other seats are the same as when they were created in Tasmania and South Australia in 1903 (those states did not use single-member electorates in 1901).
There were spikes in seat names in 1949 and 1984, when the parliament was expanded. More than two thirds of electorates were named in these three peak periods.
Thus it's not surprising to discover a strong bias towards naming seats after white men. This partly reflects the era in which seat names were coined, but also reflects how men were much more likely to qualify as someone who had "rendered outstanding service to their country" in an era where women didn't get the same opportunities.
After the fold I will run through why this has happened, and how the AEC isn't making anywhere near enough progress towards honouring a more diverse cross-section of Australians. You can also download the dataset I used to conduct this analysis.
I count fifteen seats named after early explorers (all men) and eight named after British governors of Australian colonies (it was nine until Denison was renamed in the recent redistribution). There's also fifteen seats named after politicians from the Federation era, all of whom are men. Not to mention the 21 former prime ministers who have seats named after them (which will increase to 22 with the new seat of Fraser in 2019).
All of this has contributed to a severe imbalance in who has been honoured with a seat name: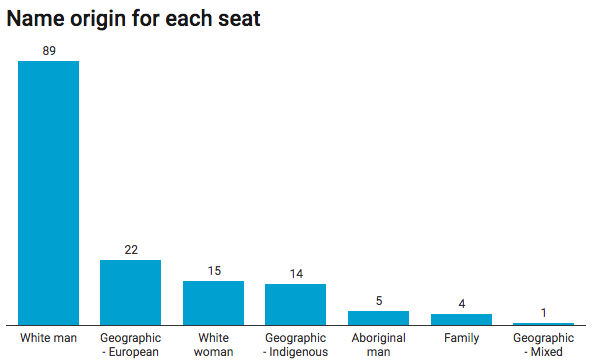 Almost six times as many seats are named after men as women. While there are fourteen indigenous seat names which refer to geography (plus Eden-Monaro, which is a mix), there are only five seats named after indigenous men. I may be wrong, but I don't believe any seat is named after a person who is of an origin other than Aboriginal or British.
So considering this imbalance, what should we be doing to address it? There certainly has been a gradual shift towards naming seats after women, but it hasn't come close to parity. This following graph is the same as above, but it breaks down seat names based on the gender of the person being honoured: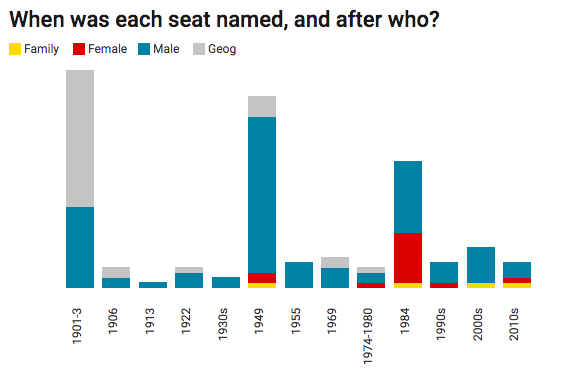 The original federation seat names have a strong bias in favour of naming seats after geographic features. 70% of seats named after a geographic feature date back to 1901.
There was a massive surge of seats named after men in 1949, and we also saw two seats named after women that year. Three other women were honoured with seats in 1974, 1996 and 2010, with ten being honoured when the parliament expanded in 1984 (but alongside fourteen men).
Even if roughly half of new seat names were named after women, we wouldn't come close to parity without a massive expansion in the size of the House of Representatives.
The record has been quite dismal over the last two decades. 12 new seats have been named since 2001. Nine have been named after men, two have been named after families (Burt and Durack – Burt is entirely named after men, it's not clear if Durack covers any women). Only one seat (Wright) was named after a woman.
But we are due for a big rush of new seat names in 2019. One has already been locked in: Denison (named after an early governor of Tasmania) has been renamed Clark after a Federation-era Tasmanian politician.
Two new seats were created in last week's draft boundaries for Victoria and the ACT, but we also saw four other seats proposed to have their names changed. Three of these seats were previously named after geographic features.
When you add together these seven new names or name changes, only two of them would be named after women, with four named after men. The proposed seat of Nicholls would be named after both Doug and Gladys Nicholls.
So if these proposals were adopted, the gender balance would shift from 94-15 to 97-17 – pretty much no change.
What we name seats isn't the biggest deal, but it is one of the way that we honour prominent Australians, and I think it's a real problem that the vast majority of these seats are named after white men (particularly with such a bias towards 19th century figures).
All of the men proposed to have seats named after them are worthy people to consider – Andrew Inglis Clark, John Monash, Charles Bean, and of course Malcolm Fraser. But I'm sure there are a bunch of other people who would contribute more to us having a diverse range of people given this honour. I would like to see the AEC, and those making submissions, to think a bit more outside the box when considering how to name seats.