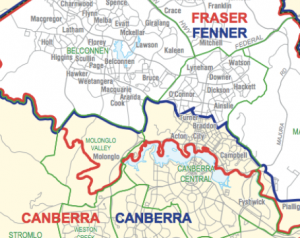 The Australian Electoral Commission yesterday released draft electoral boundaries for the ACT's two federal electorates.
At the moment, the ACT is covered by two seats: Canberra and Fraser. The boundary between these two seats follows the Molonglo River and Lake Burley Griffin which divide Canberra in half – all of the northern suburbs in Fraser, and all of the southern suburbs in Canberra.
Canberra's northern suburbs has been growing faster than its southern suburbs, and this has pushed Fraser to be larger than the seat of Canberra, forcing the Committee to move some suburbs from Fraser to Canberra.
Download the map of the new ACT federal boundaries from this page.
The Committee has decided to move Civic and a number of neighbouring suburbs including Acton, Braddon, Campbell and Reid. In addition, the new estate of Molonglo Valley, which is only being developed now, was moved from Fraser to Canberra.
In addition, the Committee has renamed the seat of Fraser.
Fraser is currently named after Jim Fraser, who was previously the sole member representing the ACT in the House of Representatives. It is normal practice that seats are named after deceased former Prime Ministers, and with the recent death of Malcolm Fraser, the Committee decided to free up the name 'Fraser' to be used in the future as the name for a Victorian seat named after the former Prime Minister.
We are expecting a seat to be named after Gough Whitlam in the impending New South Wales redistribution, but the next Victorian redistribution is not due for at least three years, so in the meantime the seat name 'Fraser' is likely to be rested.
The former 'Fraser' has been renamed 'Fenner', after virologist Frank Fenner. Fenner died in 2010, and was a key figure in the global elimination of smallpox.
Interestingly, the Commission was split on whether there were strong reasons to rename the seat of Canberra, with two members supporting a change and two opposing, with the casting vote deciding against making a change. Those who supported change had preferred naming the seat 'Churcher' after Betty Churcher, former director of the National Gallery of Australia.