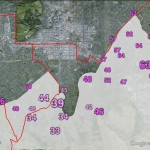 Port Hills is a marginal electorate covering the southern suburbs of Christchurch.
The electorate has been held by Labour MP Ruth Dyson since its creation in 2008. Dyson also held the seat of Banks Peninsula from 1999 to 2008, covering a similar area to Port Hills.
Dyson won the seat with a 9.5% margin at the 2011 election, but the recent redistribution turned the seat into a notional National seat, by a 2.5% margin. Dyson will face a tough contest to claw back enough votes to hold the seat.