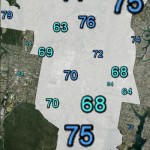 A by-election will be held in the NSW state seat of Miranda on 19 October. Miranda covers parts of the Sutherland Shire in southern Sydney.
The seat has traditionally voted Liberal but Barry Collier held the seat for Labor from 1999 to 2011.
In 2011, Collier retired and the Liberal Party's Graham Annesley won the seat – with a massive swing of 21.8% across the seat.
Annesley was a former senior executive at the NRL and was appointed immediately as Minister for Sport and Recreation. In August 2013 he resigned both as a minister and as Member for Miranda to take up the CEO's role at the Gold Coast Titans NRL team.
The Liberal Party should comfortably hold Miranda, which they now hold with a 21% margin. But that 2011 margin was inflated, and if the ALP has made any kind of recovery in its performance in NSW state politics, it should be able to drag that margin down. The seat will be interesting to watch to see whether this happens.
Read the Miranda profile here.