The Australian Electoral Commission has announced the draft boundaries for Queensland's federal redistribution, which will see the state gain a thirtieth seat. The AEC has proposed the creation of a seat using the name of 'Wright' in the rural hinterland south of Brisbane and west of the Gold Coast. The seat is named after the poet Judith Wright. The name was originally proposed for the central Queensland seat created for the 2007 election, but was changed to Flynn in consideration of the history of the disgraced ALP MP Keith Wright, who had previously represented a seat in central Queensland.
Antony Green has crunched the numbers and come up with the notional margins in each seat. The new seat of Wright is a marginal Liberal seat, while the redistribution sees two very marginal Liberal seats, suburban Brisbane Dickson and the Townsville seat of Herbert, both become notional Labor seats, although in the end both seats remain incredibly marginal. I'll leave the rest of the broad picture to Antony Green's commentary:
In the South East corner, Treasurer Wayne Swan's seat of Lilley has its margin cut from 8.6% to 5.9%, but Labor's position in the marginal seats of Blair, Moreton and Petrie is strengthened but weakened in Longman. The Liberal seat of Ryan has its margin cut from 3.8% to 1.2%.

The marginal seats on the old boundaries are shown below. Labor held 15 seats, the Coalition 13 (Liberal 10, national 3) with Independent Bob Katter holding the northern outback seat of Kennedy. Nine of Labor's 15 seats were marginal on the old boundaries.

[…]

On the new boundaries, Labor now notionally hold 17 seats with the addition of Herbert and Dickson to the Coalitions 12 (Liberal 9, National 3) with one Independent. The Liberal margin in Bowman is so narrow it could almost be a Labor seat.

Nine of Labor's 17 seats are marginal, but this includes Herbert and Dickson. Three of Labor's former marginal seats, Blair, Moreton and Petrie, have been substantially strengthened, while Brisbane has moved into the marginal category.
I have uploaded the maps as a Google Earth file, which you can download here. You can also download the 2007 boundaries and use them to compare each seat's changes and do your own analysis. The following maps show Brisbane as a hold on the 2007 and draft 2010 boundaries: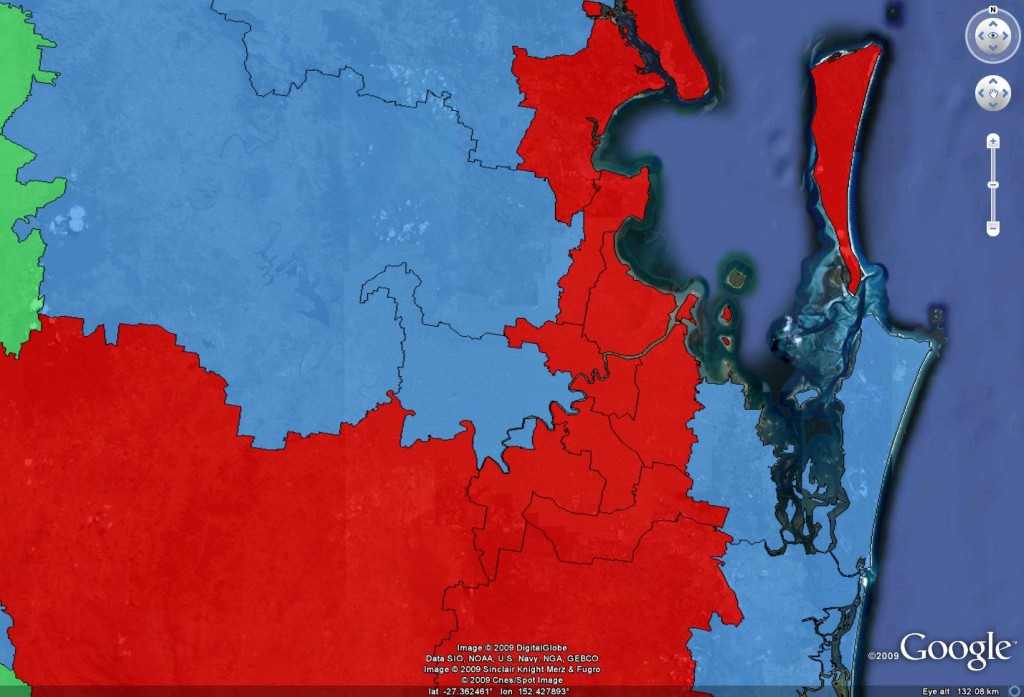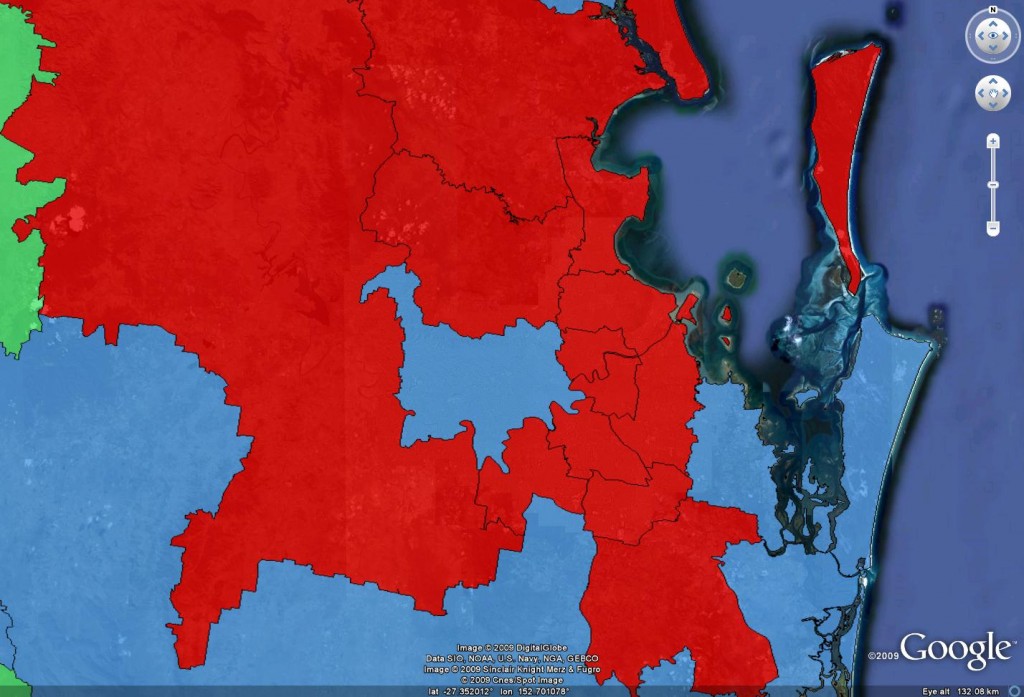 One seat I wanted to particularly point out is Ryan, which is the sole remaining Liberal seat in Brisbane proper. Ryan was held by a 3.8% before the redistribution, while on the draft boundaries the seat is held by a bare 1.2%.
Elsewhere: A discussion thread at Poll Bludger.