LIB vs NAT 3.4%
Incumbent MP
Graham Jacobs, since 2008. Previously Member for Roe 2005-2008.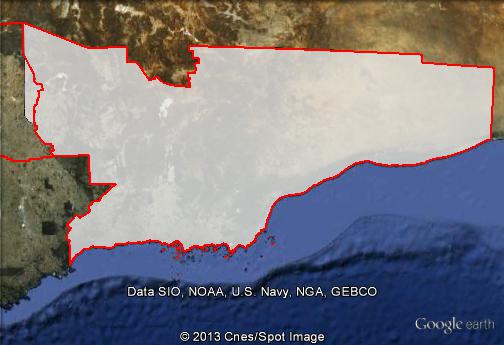 Geography
South-eastern Western Australia. Eyre is a massive seat covering the southern suburbs of Kalgoorlie and the town of Esperance. In between, Eyre covers all of the eastern parts of the state on the same latitude as Perth. The seat covers Coolgardie, Dundas, Esperance, Ravensthorpe, Westonia and Yilgarn local govenrment areas, and parts of Kalgoorlie/Boulder council area.
Redistribution
Eyre kept all of its 2008 territory, and also gained Westonia council area from the seat of Central Wheatbelt. This reduced the Liberal margin from 3.6% to 3.4%.
History
A seat with the name of Eyre was first created in 1950. This seat existed until 1962, and again from 1989 to 2005. The second seat was held by Julian Grill from 1989 until his retirement in 2001. Grill had previously held seats with other names since 1977.
Eyre was won by John Bowler in 2001, and he won the renamed seat of Murchison-Eyre in 2005. Bowler served as a minister in the Carpenter government from 2005 to 2006. In 2006 he was forced to resign from the ALP and the ministry due to his involvement in a scandal relating to former MPs Brian Burke and Julian Grill.
In the lead-up to the 2008 election, Murchison-Eyre was merged with parts of Roe to form a larger seat of Eyre. This new seat did not follow similar boundaries to the previous Labor-dominated seat as it included areas along the coast more friendly to conservative parties.
Roe had existed since 1950 (barring a six-year period in the 1980s) and had been dominated by the Country/National Party with occasional periods of Liberal victories.
Roe had been won in 2005 by the Liberal Party's Graham Jacobs.
At the 2008 election, Bowler ran as an independent for the neighbouring seat of Kalgoorlie, and won. Jacobs won Eyre, with the Nationals coming close to winning off Labor preferences.
Candidates
Assessment
Eyre is a contest between the Liberal Party and the Nationals. Jacobs was only the member of Parliament for a smaller part of Eyre at the 2008 election, and should benefit from an increased personal vote. On the other hand, the Nationals have been a strong presence in WA in the last three years and demonstrated their relevances independently of the Liberals.
The seat will be a key National Party target, but may be hard to achieve if they don't receive Labor preferences.
2008 result
| | | | | |
| --- | --- | --- | --- | --- |
| Candidate | Party | Votes | % | Swing |
| Graham Jacobs | LIB | 6,515 | 46.1 | +0.5 |
| Suzie Williams | NAT | 3,754 | 26.6 | +9.9 |
| John Keogh | ALP | 2,745 | 19.4 | -9.0 |
| Linda Parker | GRN | 1,019 | 7.2 | +3.6 |
| Arthur Edward Harvey | CEC | 104 | 0.7 | +0.7 |
2008 two-candidate-preferred result
| | | | | |
| --- | --- | --- | --- | --- |
| Candidate | Party | Votes | % | Swing |
| Graham Jacobs | LIB | 7,578 | 53.6 | |
| Suzie Williams | NAT | 6,550 | 46.4 | |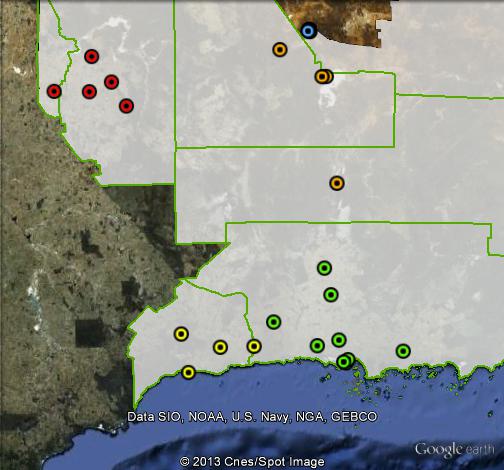 Booth breakdown
Booths have been divided into five areas. A number of booths lie in the Kalgoorlie/Boulder local government area near the Kalgoorlie urban area, and these have been grouped together. Booths in Ravenshorpe and Esperance council areas at the southern end of the seat have been grouped by council area.
Booths in Westonia and Yilgarn councils are grouped as North-West, and booths in Coolgardie and Dundas councils are grouped as North-East.
The Liberal Party polled a majority of the vote in Esperance, and came first on primary votes in Kalgoorlie and Ravenshorpe. The Nationals polled a majority in the north-west. The ALP topped the poll in the north-east, and also polled more than the Nationals in Kalgoorlie.
| | | | | | | |
| --- | --- | --- | --- | --- | --- | --- |
| Voter group | LIB % | NAT % | ALP % | GRN % | Total votes | % of ordinary votes |
| Esperance | 55.70 | 24.43 | 13.59 | 5.82 | 5,923 | 52.12 |
| Kalgoorlie | 37.30 | 25.74 | 26.58 | 9.51 | 2,619 | 23.05 |
| North-East | 28.52 | 29.03 | 32.29 | 8.71 | 1,378 | 12.13 |
| Ravenshorpe | 45.53 | 33.90 | 13.95 | 6.00 | 817 | 7.19 |
| North-West | 25.68 | 56.46 | 12.92 | 4.47 | 627 | 5.52 |
| Other votes | 46.60 | 23.16 | 21.30 | 8.02 | 2,854 | |