Incumbent MLCs
Khalil Eideh (Labor), since 2006.
Andrew Elsbury (Liberal), since 2010.
Bernie Finn (Liberal), since 2006. Previously Member for Tullamarine 1992-1999.
Colleen Hartland (Greens), since 2006.
Cesar Melhem (Labor), since 2013*.
*Melhem filled a vacancy caused by the resignation of Matin Pakula in March 2013.
Geography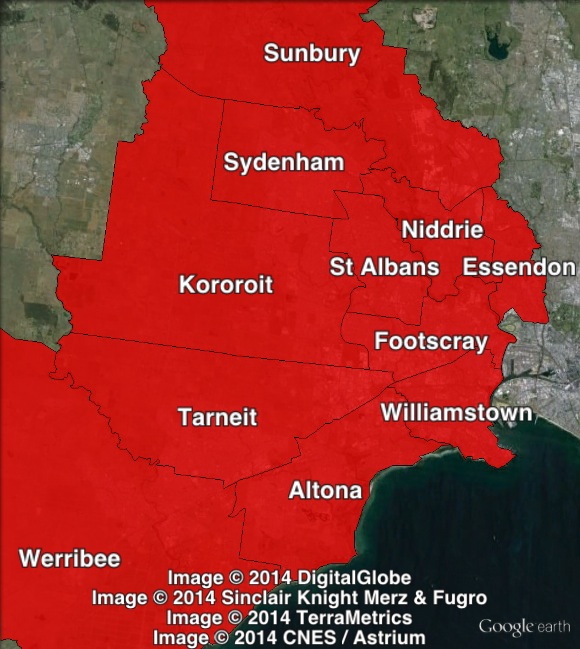 The Western Metropolitan region covers the western suburbs from Sunbury in the north to Werribee in the south, and as far east as Williamstown and Essendon.
All eleven seats in the region are held by the ALP. None of these seats are particular marginal, with margins ranging from 4.3% in Essendon and 4.5% in Niddrie to 17.5% in Kororoit.
Redistribution
Substantial changes were made to the Western Metropolitan region. The area currently covered by this region previously included only nine electorates – the creation of two additional electorates in the region resulting in the West Metro region shrinking in area. The seats of Yuroke and Pascoe Vale were transferred to the Northern Metropolitan region.
Relatively mild changes were made to the electorates of Essendon, Niddrie, Footscray and Williamstown, all on the eastern edge of the region. The seat of Keilor was only changed slightly, but was renamed Sydenham.
In the south, the electorate of Tarneit shifted significantly, losing Werribee and gaining areas from Altona. Those areas transferred from Tarneit were joined to some sparsely-populated parts of the Geelong-area electorate of Lara to create a new seat of Werribee.
Kororoit and Derrimut were reorganised, with Derrimut abolished and replaced by the seat of St Albans which shifted further into areas previously contained in Keilor and Niddrie. Kororoit expanded to cover more territory.
In the north, parts of Yuroke, Macedon and Melton were combined to form the new seat of Sunbury, at the northern end of the region.
Overall, these changes increased the Liberal vote in the region by 0.8% and cut the Labor vote by 0.5%.
History
Western Metropolitan region was created in 2006, when proportional representation was introduced.
At the first election, the ALP won three seats, and the Liberal Party and the Greens each won one seat.
At the 2010 election, Labor MLC Justin Madden shifted to the lower house seat of Essendon. The ALP's third seat was lost to the Liberal Party's Andrew Elsbury. Labor's #3 candidate was Bob Smith, who had held a seat in the Legislative Council since 1999, most recently in the South Eastern Metropolitan region since 2006.
Labor MLC Martin Pakula resigned in early 2013 to run for the Lyndhurst by-election in south-eastern Melbourne. His seat was filled by Cesar Melhem.
The remaining three seats have been held continuously since 2006 by Labor's Khalil Eideh, the Liberal Party's Bernie Finn, and the Greens' Colleen Hartland.
2010 result
2010 election
Redistribution
Party
Votes
%
Quota
%
Quota

Labor Party

198,100
46.86
2.812
46.14
2.768

Liberal Party

125,267
29.63
1.778
30.42
1.825

The Greens

50,715
12.00
0.720
11.88
0.713
Sex Party
20,008
4.73
0.284
4.55
0.273
Family First
15,282
3.62
0.217
3.69
0.221
Democratic Labor Party
13,336
3.15
0.189
3.10
0.186
Others
0.22
0.013
On primary votes, the ALP won two seats, and the Liberal Party won one seat. The third Labor candidate, second Liberal and the lead Greens candidate were all in close competition, with between 0.72 and 0.81 quotas.
After the elimination of minor candidates, there were six candidates remaining:
Bob Smith (ALP) – 0.801 quotas
Andrew Elsbury (LIB) – 0.773
Colleen Hartland (GRN) – 0.722
Joel Murray (SEX) – 0.285
Daniel Mumby (FF) – 0.222
Mark Farrell (DLP) – 0.189
DLP preferences flowed to Family First, pushing Mumby ahead of the Sex Party's Murray:
Smith (ALP) – 0.802
Elsbury (LIB) – 0.775
Hartland (GRN) – 0.724
Mumby (FF) – 0.397
Murray (SEX) – 0.286
The elimination of the Sex Party pushed Hartland very close to a quota:
Hartland (GRN) – 0.990
Smith (ALP) – 0.808
Elsbury (LIB) – 0.778
Mumby (FF) – 0.403
Family First preferences elected Liberal candidate Elsbury, and pushed Hartland to within 0.002 quotas of election:
Elsbury (LIB) – 1.161
Hartland (GRN) – 0.998
Smith (ALP) – 0.812
The distribution of Elsbury's surplus mostly favoured Labor's Smith, but not by enough to overtake Hartland, who was elected 103 votes under a quota.
Hartland (GRN) – 0.999
Smith (ALP) – 0.970
The final gap between Hartland and Smith was only 2035 votes.
Candidates
A –

Greens

Dinesh Jayasuriya
Jonathon Marsden

B – Jerry Creaney – People Power
C – Zeev Vinokurov – Liberal Democrats
D – Berhan Amed – Voice for the West
E – Trevor Dance – Palmer United Party
F – David Costabile – Country Alliance
G – Geoff Rogers – Australian Christians

H –

Labor

Cesar Melhem
Khalil Eideh
Stanley Chiang
George Seitz
Kirsten Psaila

I – Frank Reinthaler – Cyclists Party
J – Vicki Nash – Sex Party
K – Roy Taylor – Animal Justice
L – Jaxon Calder – Family First

M –

Liberal

David Tran
Gayle Murphy
Cassandra Marr

N – Jake Wilson – Shooters and Fishers
O – Rachel Carling-Jenkins – Democratic Labour
P – Jeff Truscott – Rise Up Australia
Preferences
Assessment
The Western Metropolitan region is the strongest part of Victoria for the ALP.
At the last election, both of the last two seats were fiercely fought over, and that result could easily change, with the ALP in a strong position to pick up a seat either from the Greens or the Liberal Party.