Incumbent MLCs
Andrea Coote (Liberal), since 2006. Previously MLC for Monash 1999-2006.
Georgie Crozier (Liberal), since 2010.
David Davis (Liberal), since 2006. Previously MLC for East Yarra 1996-2006.
John Lenders (Labor), since 2006. Previously Member for Dandenong North 1999-2002, MLC for Waverley 2002-2006.
Sue Pennicuik (Greens), since 2006.
Geography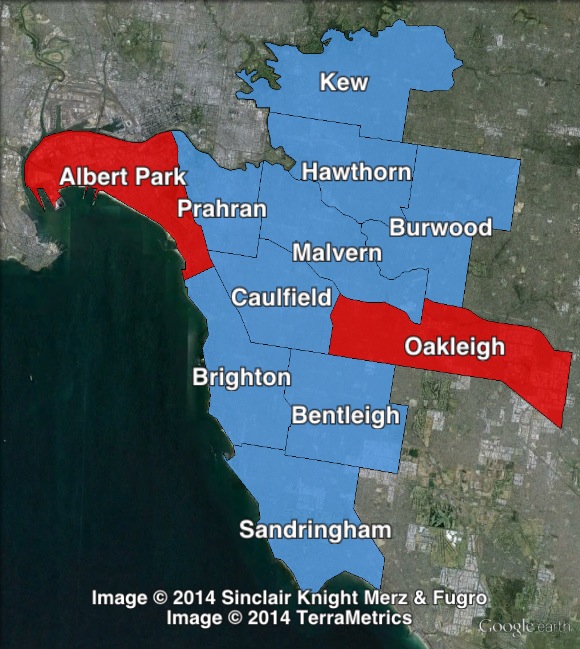 Nine out of eleven seats in Southern Metropolitan are held by the Liberal Party, with the other two seats held by Labor.
Those two Labor seats are on the edge of the region – Albert Park in the north-west and Oakleigh in the east. Albert Park is very marginal (0.9%) while Oakleigh is relatively marginal (5.1%).
The Liberal Party holds Bentleigh by a slim margin of 0.9%, and Prahran is held by only 4.7%. The other seven Liberal seats are held by margins ranging from 6.3% in Burwood to 20.5% in Malvern.
Redistribution
Changes were relatively minor in the Southern Metropolitan region, with all eleven seats maintaining their existing name.
No seat underwent a major redrawing.
Looking at the region as a whole, there was very little change in the vote for any of the key parties.
History
The Southern Metropolitan region was created in 2006, when proportional representation was introduced.
In 2006, the ALP and Liberal Party each won two seats, and the fifth seat was won by the Greens.
In 2010, the Liberal Party won a third seat at the expense of the ALP.
Coote, Davis, Lenders and Pennicuik have all held their seats since the 2006 election. Evan Thornley was elected as a Labor MLC in 2006. He resigned in late 2008, and his seat was filled by Jennifer Huppert. She lost to Liberal candidate Georgie Crozier in 2010.
2010 result
2010 election
Redistribution
Party
Votes
%
Quota
%
Quota

Liberal Party

196,676
51.57
3.094
51.58
3.095

Labor Party

96,404
25.28
1.517
25.34
1.520

The Greens

62,285
16.33
0.980
16.32
0.979
Sex Party
12,364
3.24
0.195
3.12
0.187
Democratic Labor Party
6,849
1.80
0.108
1.81
0.109
Family First
3,620
0.95
0.057
0.98
0.059
Others
3,171
0.83
0.050
0.85
0.051
On primary votes, the first three Liberal candidates and the first Labor candidate were elected, with the Greens just short of a quota.
The final six candidates in the count were:
Sue Pennicuik (GRN) – 0.982 quotas
Jennifer Huppert (ALP) – 0.516
Ken Hill (SEX) – 0.212
Michael Murphy (DLP) – 0.134
Jane Hume (LIB) – 0.090
Ashley Truter (FF) – 0.061
Family First and Liberal preferences both flowed to the DLP, pushing Murphy ahead of the Sex Party candidate:
Pennicuik (GRN) – 0.985
Huppert (ALP) – 0.519
Murphy (DLP) – 0.261
Hill (SEX) – 0.216
Sex Party preferences elected the Greens' Sue Pennicuik.
Pennicuik (GRN) – 1.161
Huppert (ALP) – 0.524
Murphy (DLP) – 0.266
Hill (SEX) – 0.026
Candidates
Sitting Liberal MLC Andrea Coote and sitting Labor MLC John Lenders are not running for re-election.
A – Faliana Lee – Australian Christians
B – Vince Stefano – Democratic Labour
C – Craig Bonsor – Liberal Democrats
D – Peter Vassiliou – Rise Up Australia
E – Richard Bowen – Cyclists Party
F – Clive Jackson

G –

Greens

Lorna Wyatt
James Harrison

H – Kenneth Miller – People Power
I – Nyree Walshe – Animal Justice
J – Francesca Collins – Sex Party
K – Penny McCasker – Voluntary Euthanasia

L –

Labor

Philip Dalidakis
Eric Locke
Raffaele Ciccone
Cassandra Devine
William Fowles

M – Paul William – Shooters and Fishers
N – Shane Clark – Family First
O – Christopher Morris – Country Alliance
P – Dwayne Singleton – Palmer United Party

Q

–

Liberal

Margaret Fitzherbert
Ken Ong
Nellie Khoroshina

R – Luzio Grossi
Ungrouped
Preferences
Assessment
The first two Liberal seats and the single Labor seat are very safe, and the third Liberal seat and the Greens seat are also reasonably safe.
The Liberal vote is a long way away from putting the party's fourth candidate in a possibly winning position. The party could see a drop in vote that could threaten their third seat, but it would have to be a substantial drop.
The Greens won their seat fairly comfortably. The ALP would need a swing of approximately 2.2% against the Greens to pick up a seat.