Incumbent MLCs
Greg Barber (Greens), since 2006.
Nazih Elasmar (Labor), since 2006.
Matthew Guy (Liberal), since 2006.
Jenny Mikakos (Labor), since 2006. Previously MLC for Jika Jika 1999-2006.
Craig Ondarchie (Liberal), since 2010.
Geography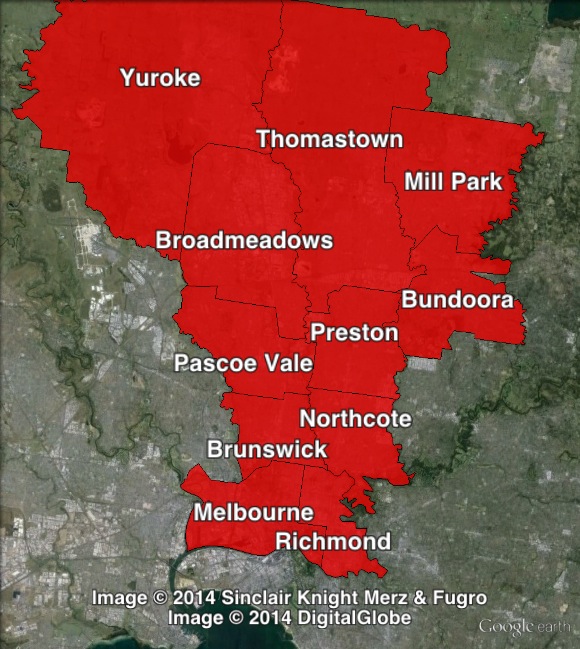 Northern Metropolitan covers the Melbourne CBD and areas to the north of Melbourne, with the southern boundary following the Yarra River.
All eleven seats in this region are held by the ALP.
There is a cluster of four seats at the southern end of the region where the Greens are the main rival to the ALP, and are the only seats in the state where the Greens candidate was one of the top two candidates. In these seats, the Labor margin against the Greens ranges from 3.6% in Brunswick to 10.3% in Northcote.
Further north, there is a large cluster of very safe Labor seats, ranging from 10.9% in Bundoora to 21.6% in Thomastown.
Redistribution
Northern Metropolitan shifted west, with two electorates moving to other regions.
The abolition of seats in the Northern Victoria and Eastern Metropolitan region forced those regions to take in territory previously in Northern Metropolitan. The seat of Yan Yean was transferred to Northern Victoria, and the seat of Ivanhoe was transferred to Eastern Metropolitan. Yan Yean also underwent significant changes in boundary – which flipped the seat from a Labor seat with a 4.1% margin to a Liberal seat with a 0.1% margin.
To make up for the loss of Yan Yean and Ivanhoe, this region gained Pascoe Vale and Yuroke from Western Metropolitan region.
With the exception of Yan Yean, most electorates underwent relatively mild changes.
These changes increased the Labor vote in the region by 2.82%, while cutting the Liberal vote by 2.5% and cutting the Greens vote by 0.47%.
History
The Northern Metropolitan region was created in 2006, when proportional representation was introduced.
At the first election in 2006, Labor won three seats, while the Liberal Party and the Greens win one seat each. In 2010, the Liberal Party won a second seat off Labor.
Four out of the five seats in this region have been held by the same person since 2006. The fifth seat has been held by three different members. Labor MLC Theo Theophanous held a seat in Northern Metropolitan from 2006 until 2010, when he resigned before the election. That seat was briefly held by Labor MLC Nathan Murphy, but he was defeated at the 2010 election by the Liberal Party's Craig Ondarchie.
2010 result
2010 election
Redistribution
Party
Votes
%
Quota
%
Quota

Labor Party

165,259
41.94
2.516
44.76
2.686

Liberal Party

106,905
27.13
1.628
24.63
1.478

The Greens

75,648
19.20
1.152
18.73
1.124
Sex Party
14,290
3.63
0.218
3.85
0.231
Democratic Labor Party
10,655
2.70
0.162
2.94
0.176
Family First
9,132
2.32
0.139
2.56
0.154
Others
12,146
3.08
0.185
2.53
0.152
The first two Labor candidates, as well as the first Liberal and Greens candidates, were all elected on primary votes.
After the election of the first four candidates, and the exclusion of minor candidates, this is how the count looked:
Craig Ondarchie (LIB) – 0.625 quotas
Nathan Murphy (ALP) – 0.510
Fiona Patten (SEX) – 0.252
John Kavanagh (DLP) – 0.162
Alex Bhathal (GRN) – 0.153
Andrew Conlon (FF) – 0.140
Stephen Mayne (IND) – 0.091
Vickie Janson (CDP) – 0.059
CDP preferences flowed to the DLP, and Mayne preferences split between the Greens and the Sex Party.
Ondarchie (LIB) – 0.629
Murphy (ALP) – 0.515
Patten (SEX) – 0.289
Kavanagh (DLP) – 0.212
Bhathal (GRN) – 0.193
Conlon (FF) – 0.149
Family First was excluded, and their preferences flowed to the DLP.
Ondarchie (LIB) – 0.632
Murphy (ALP) – 0.515
Kavanagh (DLP) – 0.345
Patten (SEX) – 0.291
Bhathal (GRN) – 0.195
Most Greens preferences flowed to the Sex Party, with some flowing to Labor.
Ondarchie (LIB) – 0.635
Murphy (ALP) – 0.534
Patten (SEX) – 0.410
Kavanagh (DLP) – 0.374
The DLP's preferences flowed almost all to the Liberal Party, and brought Ondarchie close to breaking quota.
Ondarchie (LIB) – 0.963
Murphy (ALP) – 0.538
Patten (SEX) – 0.439
The Sex Party's preferences mostly flowed to Labor, but a small amount flowed to the Liberal Party and pushed Ondarchie over quota. The Sex Party preferences were not completely distributed.
Ondarchie (LIB) – 1.003
Murphy (ALP) – 0.811
Patten (SEX) – 0.105
Candidates
Sitting Liberal MLC Matthew Guy is running for the seat of Bulleen.
A – Kris Schroeder – Basics Rock'n'Roll
B – Christos Tzelepis – Shooters and Fishers

C –

Liberal

Amandeep Rosha
David Mulholland
Susan Turner

D – Nik Dow – Cyclists Party
E – Maria Bengtsson – Australian Christians
F – Michael Mastrantuono – Rise Up Australia
G – Bruce Poon – Animal Justice
H – Brendan Fenn – Family First
I – Michael Murphy – Democratic Labour
J – Nathan Purcell – Vote 1 Local Jobs
K – Domenic Greco – Country Alliance
L – David Limbrick – Liberal Democrats

M –

Greens

Alison Parkes
Anthony Williams
Gurm Sekhon

N – Peter Allan
O – Maria Rigoni – Palmer United Party
P – Marc Florio – People Power
Q – Phil Cleary – Voice for the West
R – Bertha Franklin – Voluntary Euthanasia
S – Fiona Patten- Sex Party

T –

Labor

Nazih Elasmar
Burhan Yigit
Martin Appleby

Ungrouped

Tiffany Harrison
Darren Bain
Preferences
Assessment
The Northern Metropolitan region is a strong area for both Labor and the Greens. The region is the strongest region in Victoria for the Greens, and the second-best region for Labor.
The Liberal Party only narrowly won their second seat, and if the Liberal vote drops it wouldn't be hard for the Liberal Party to lose the seat, and for a fourth centre-left candidate to win.
The Greens vote is high enough to win a single seat, but the party will need to win a much higher vote to have a chance of winning a second seat in North Metro.
If the left wins a fourth seat, it is most likely that Labor will win, but it is not inconceivable that the Sex Party could win. The Sex Party benefited from a strong flow of preferences, and came within 1/10th of a quota of overtaking Labor. If the Sex Party could overtake the third Labor candidate, they could win the seat on strong preferences.