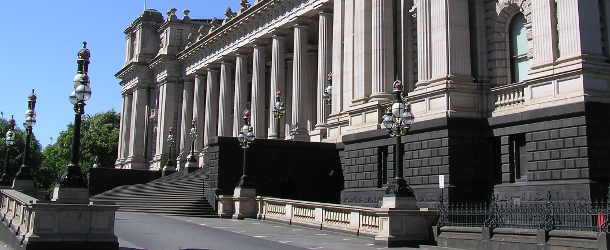 Welcome to the Tally Room's guide to the 2014 Victorian state election. This guide includes comprehensive coverage of each seat's history, geography, political situation and results of the 2010 election, as well as maps and tables showing those results.
Table of contents:
Legislative Assembly seat profiles
Seat profiles have been produced for all 88 Legislative Assembly electoral districts. You can use the following navigation to click through to each seat's profile. You can also find links to each seat profile on the profile of each Legislative Council region.
Legislative Council regional profiles
Guides have also been written for Legislative Council races in all eight regions. Each region contains eleven Legislative Assembly districts and elects five Members of the Legislative Council. Each profile contains links to Legislative Assembly profiles written for districts in that region, as well as a map of the region, the results of the 2010 election in that region, and candidates for the Legislative Council in that region.
Political history
The first Labor government took office for thirteen days in 1913. From 1913 to 1955, political power tended to flip back and forth fairly regularly. Conservative parties were in government most of the time, but most governments were unstable. On two occasions, a long-standing conservative coalition was broken by the Country Party taking power as a minority government with the support of Labor.
Following the split in the ALP in 1955, which led to the formation of the Democratic Labor Party, the Liberal Party governed continuously from 1955 to 1982.
Labor governed for three terms from 1982 to 1992. Prior to 1982, no Labor government had been re-elected, and Labor had held a majority in the Legislative Assembly for only one term in the early 1950s.
The Liberal/National coalition won back power in 1992 and held it for two terms, led by Jeff Kennett.
Labor, led by Steve Bracks, won back power in 1999. Labor held power for three terms, until 2010. The Liberal/National coalition has held power since 2010.
Recent events
The 2010 election unexpectedly saw the Liberal and National parties return to power after eleven years.
The four years since that last election have been turbulent, with a slim Coalition majority undermined by a rogue MP, and the fall of one Premier.
Key seats
Following the recent Victorian state redistribution, the Coalition holds 48 seats on the new boundaries, and the ALP holds 40 seats. Those 48 Coalition seats include five seats that have Labor incumbent MPs, but the boundaries were changed to the extent that the seat has a notional Liberal margin.
There are twelve Liberal seats held by margins of less than 6%. The ALP would need to win five of these seats, and hold on to their 40 seats, to win a majority.
Redistribution
Victoria underwent the first redistribution since the 2002 election, and the redistribution saw significant changes to Victoria's electorates.
Overall, 73 out of 88 seats have maintained their existing name. Most of the remaining seats have effectively changed names, but a number of seats were abolished and replaced by new seats in other regions.
The Coalition won 45 seats and Labor won 43 seats at the 2010 election. Under the new boundaries, the Coalition holds 48 seats, and Labor holds 40 seats. Two new Labor seats were created, and two Coalition seats were abolished. This was balanced out by five Labor seats that have become notional Liberal seats.
Despite holding less seats, the redistribution has made it slightly easier for Labor to win a majority. On the former boundaries, Labor needed a uniform swing of 1.2% to win a majority. The new boundaries will require a uniform swing of only 0.9%.
Contact
If you have a correction or an update for a single electorate page, feel free to post a comment. You can also send an email by using this form.