October 25, 2014
Cause of by-election
Sitting member Tim Owen became a subject of investigation by the NSW Independent Commission Against Corruption (ICAC), which revealed that Owen had received donations from prohibited donors, namely developers. Owen resigned from the Liberal Party and announced that he would not run for re-election in May 2014. In August 2014, further revelations forced Owen, as well as former Liberal MP Andrew Cornwell in the neighbouring seat of Charlestown, to both resign from Parliament. The ICAC revelations centred on Owen and Cornwell receiving donations from property developer and Lord Mayor of Newcastle Jeff McCloy. McCloy has since also resigned from the lord mayoralty.
Margin – LIB 2.6%
Geography
Central Newcastle. The district of Newcastle covers the central suburbs of the City of Newcastle, including the CBD, Merewether, Hamilton, Tighes Hill, Broadmeadow, Stockton, Islington, Waratah and Mayfield.
History
Newcastle has existed as a district in the Legislative Assembly almost continuously since 1859. The seat elected a single MLA from 1859 until 1880, when it began electing a second MLA. It gained a third MLA in 1889. In 1891, Newcastle elected two Labor MLAs, some of the first Labor MPs in New South Wales.
In 1894, Newcastle was abolished when Legislative Assembly districts were redrawn. It was restored as a single-member district in 1904.
The seat was won in 1904 and 1907 by Liberal Reform candidates, but was won by the ALP's Arthur Gardiner in 1910. He was re-elected in 1913, and in 1917 won re-election as an independent.
New South Wales electoral boundaries were radically redrawn before the 1920 election due to the creation of multi-member districts electing MLAs using proportional representation. Newcastle expanded to be a five-member district covering a much larger area than the previous single-member district.
While Gardiner was re-elected in 1920, Newcastle elected three Labor MLAs and one Nationalist that year. The ALP managed to win four out of five seats in Newcastle in 1925, and in 1927 single-member districts were restored, and Newcastle was reduced to its former size.
From 1927 to 2007, Newcastle elected Labor MPs at all but one election, with an independent winning the seat in 1988.
The seat was won in 1927 by Peter Connolly, who held the seat until 1935, when he lost preselection and retired.
The seat was won in 1935 by Frank Hawkins. He held the seat until 1968. He served as a minister in the state Labor government from 1950 until the party lost power in 1965.
The seat was won in 1968 by Newcastle City Council alderman Arthur Wade. He held the seat for the next twenty years.
In 1988, Wade retired in Newcastle. The ALP lost power in a massive landslide, and in Newcastle the seat was won by independent candidate and local real estate agent George Keegan.
Keegan lost in 1991 to the ALP's Bryce Gaudry. He won re-election in 1995, 1999 and 2003.
Prior to the 2007 state election, the NSW Labor head office intervened in the seat, stripping Gaudry of his preselection in 2006 and preselecting NBN television newsreader Jodi McKay, despite Gaudry having the support of local party branches.
Gaudry announced that he would run as an independent in early 2007. In addition, the independent Lord Mayor of Newcastle, John Tate, also ran for the seat.
At the 2007 state election, the ALP's margin in the seat was cut from the previous 14.9% margin to only 1.2%. The Liberal Party polled less than 10%, with John Tate polling 24% and Gaudry 21%. The Greens also outpolled the Liberals. After preferences from the Liberals, Greens and Gaudry, Tate came within 1.2% of defeating McKay.
In 2011, McKay was again challenged by John Tate, as well as Liberal candidate Tim Owen. Tate was expected to be the main opposition to McKay. Tate's vote, however, collapsed from 34.1% to 11.6%. Tim Owen increased the Liberal vote from 9.8% to 36.7% of the primary vote, and won the seat over McKay by a 2.6% margin.
Candidates
The Liberal Party has announced that they will not run in the Newcastle by-election as a supposed 'act of atonement'. The ALP had already preselected their candidate for the upcoming 2015 state election.
Stephen O'Brien (Socialist Alliance)
Tim Crakanthorp (Labor)
Michael Osborne (Greens)
Jacqueline Haines (Independent)
Jennifer Stefanac (Independent/Palmer United)
Karen Howard (Independent)
Milton Caine (Christian Democratic Party)
Brian Buckley Clare (Independent)
Assessment
With no Liberal candidate running, and considering the circumstances of the by-election, the ALP is in a very strong position to win this seat.
In the absence of a Liberal candidate, small right-wing parties should do better in Newcastle than they would normally be expected to do. It remains to be seen whether a credible centre-right independent will emerge, but that person will struggle to capture a large proportion of the Liberal vote.
The Greens do well in the electorate of Newcastle, and should increase their vote, but their result will not likely be ground-breaking. The Greens perform most strongly in by-elections when no Labor candidate is standing, as they are the uncontested centre-left party. The same phenomenon won't exist in this by-election.
2011 result
| | | | | |
| --- | --- | --- | --- | --- |
| Candidate | Party | Votes | % | Swing |
| Tim Owen | Liberal | 16,072 | 36.7 | +26.9 |
| Jodi McKay | Labor | 13,417 | 30.6 | -0.6 |
| John Sutton | Greens | 6,510 | 14.9 | +3.6 |
| John Tate | Independent | 5,067 | 11.6 | -12.5 |
| Rod Noble | Independent | 1,372 | 3.1 | +3.1 |
| Zane Alcorn | Socialist Alliance | 700 | 1.6 | +1.6 |
| Milton Caine | Christian Democrat | 496 | 1.1 | -0.1 |
| Noel Holt | | 189 | 0.4 | +0.2 |
2011 two-candidate-preferred result
| | | | | |
| --- | --- | --- | --- | --- |
| Candidate | Party | Votes | % | Swing |
| Tim Owen | Liberal | 19,337 | 52.6 | |
| Jodi McKay | Labor | 17,459 | 47.4 | |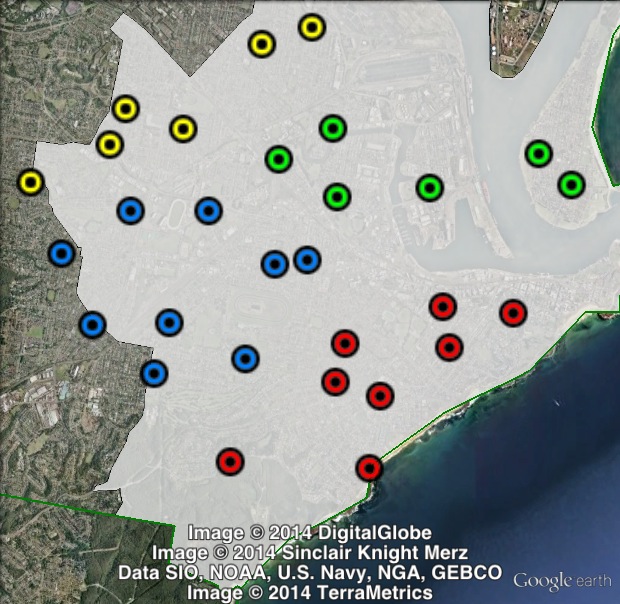 Booth breakdown
Booths in Newcastle have been divided into four parts:
North-East – Islington, Stockton and Tighes Hill
North-West – Georgetown, Mayfield and Waratah
South-East – Newcastle, Merewether and Cooks Hill
South-West – Adamstown, Hamilton and New Lambton
The ALP won a majority of the two-party-preferred vote in three out of four areas, but the Liberal candidate won a large 64% majority in the south-east, which is the largest part of the seat, as well as a majority amongst the special votes. This translated into a slim overall Liberal majority.
The Labor vote was strongest at 59.7% in the north-east, while the Liberal vote was strongest at 63.9% in the south-east.
The Greens came third, with a vote ranging from 13.4% in the north-west to 17.8% in the north-east. Independent candidate John Tate, who had come second in 2007, polled from 10.2% in the north-east to 13.1% in the north-west.
| | | | | | | |
| --- | --- | --- | --- | --- | --- | --- |
| Voter group | Tate % | GRN % | ALP 2PP | LIB 2PP | Total votes | % of votes |
| South-East | 10.30 | 15.02 | 36.12 | 63.88 | 12613 | 28.78 |
| South-West | 12.95 | 13.55 | 51.71 | 48.29 | 8856 | 20.21 |
| North-East | 10.16 | 17.83 | 59.67 | 40.33 | 5997 | 13.68 |
| North-West | 13.13 | 13.44 | 57.85 | 42.15 | 5813 | 13.26 |
| Other votes | 11.85 | 14.84 | 45.19 | 54.81 | 10544 | 24.06 |