LIB 15.7%
Incumbent MP
Bronwyn Bishop, since 1994. Previously Senator for New South Wales 1987-1994.
Geography
Northern beaches of Sydney. Mackellar covers Pittwater council area and a majority of the Warringah council area. Major suburbs include Dee Why, Collaroy, Narrabeen, Mona Vale, Avalon and Frenchs Forest.
History
Mackellar was created in 1949 as part of the expansion of the House of Representatives. It has always been won by the Liberal Party with substantial margins.
The seat was first won in 1949 by William Wentworth, grandson of colonial political figure William Charles Wentworth. Wentworth had previously polled 20% of the vote in the seat of Wentworth (named after his grandfather) as an independent in 1943.
Wentworth was a leading red-baiter in Parliament during the 1950s, although he remained in Parliament for almost two decades after winning Mackellar. He was close to John Gorton, and when Gorton became Prime Minister in early 1968 he appointed Wentworth to cabinet as the first ever federal minister with responsibility for Aboriginal affairs. Wentworth remained on the frontbench under Billy McMahon and served in the ministry until McMahon's defeat in 1972.
Wentworth announced his retirement in 1977, but didn't wait for the election to resign from the Liberal Party, after returning to the role of outspoken backbench rebel during the first term of the Fraser government. He ran as an independent for the Senate in 1977 and polled 2%.
Wentworth was succeeded in Mackellar by Liberal candidate Jim Carlton, who had served as the state party's General Secretary during the 1970s. Carlton served as a minister in the final year of the Fraser government, and was a frontbencher in the Liberal opposition from the Hawke government's election in 1983 until the 1990 election. Carlton retired from Parliament in 1994.
The ensuing by-election was won by sitting Senator and Liberal frontbencher Bronwyn Bishop. Bishop had been a  Senator for New South Wales since 1987, and had been a prominent Opposition frontbencher, and had been discussed as a possible leadership contender. She played a prominent role in the opposition frontbench after winning the by-election, but her colleagues did not share her assessment of her leadership potential, and she was passed over in favour of first Alexander Downer and then John Howard.
Bishop was appointed to a junior ministerial role after the election of the Howard government in 1996. She was dropped from the ministry after the 2001 election after a controversial tenure as Minister for Ageing. She has held the seat continuously since 1994, winning re-election in 1996, 1998, 2001, 2004, 2007 and 2010.
Candidates
Assessment
Mackellar is a very safe Liberal seat.
2010 result
| | | | | |
| --- | --- | --- | --- | --- |
| Candidate | Party | Votes | % | Swing |
| Bronwyn Bishop | LIB | 54,110 | 62.12 | +5.74 |
| Linda Beattie | ALP | 18,381 | 21.10 | -3.33 |
| Jonathan King | GRN | 14,609 | 16.77 | +5.08 |
2010 two-candidate-preferred result
| | | | | |
| --- | --- | --- | --- | --- |
| Candidate | Party | Votes | % | Swing |
| Bronwyn Bishop | LIB | 57,245 | 65.72 | +3.34 |
| Linda Beattie | ALP | 29,855 | 34.28 | -3.34 |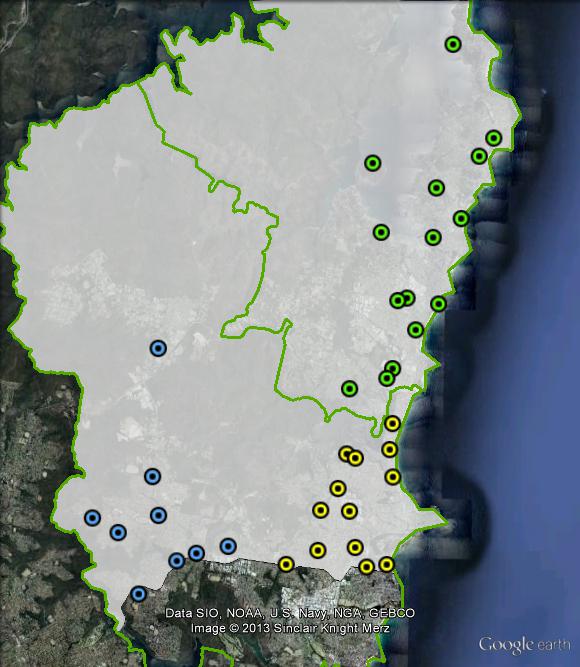 Booth breakdown
Mackellar covers all of Pittwater council area and a majority of Warringah council area. All of the polling places in the Pittwater area have been grouped together. Those in Warringah have been split between Dee Why-Collaroy on the coast and Belrose-Frenchs Forest inland.
The Liberal Party's majority varied from 63.8% in Dee Why-Collaroy to 69.2% in Belrose-Frenchs Forest. The Greens vote varied from 13.9% to 19.2%.
| | | | | |
| --- | --- | --- | --- | --- |
| Voter group | GRN % | LIB 2PP % | Total votes | % of votes |
| Pittwater | 19.16 | 64.54 | 28,132 | 32.30 |
| Dee Why-Collaroy | 15.40 | 63.76 | 24,708 | 28.37 |
| Belrose-Frenchs Forest | 13.85 | 69.17 | 16,587 | 19.04 |
| Other votes | 17.63 | 67.11 | 17,673 | 20.29 |