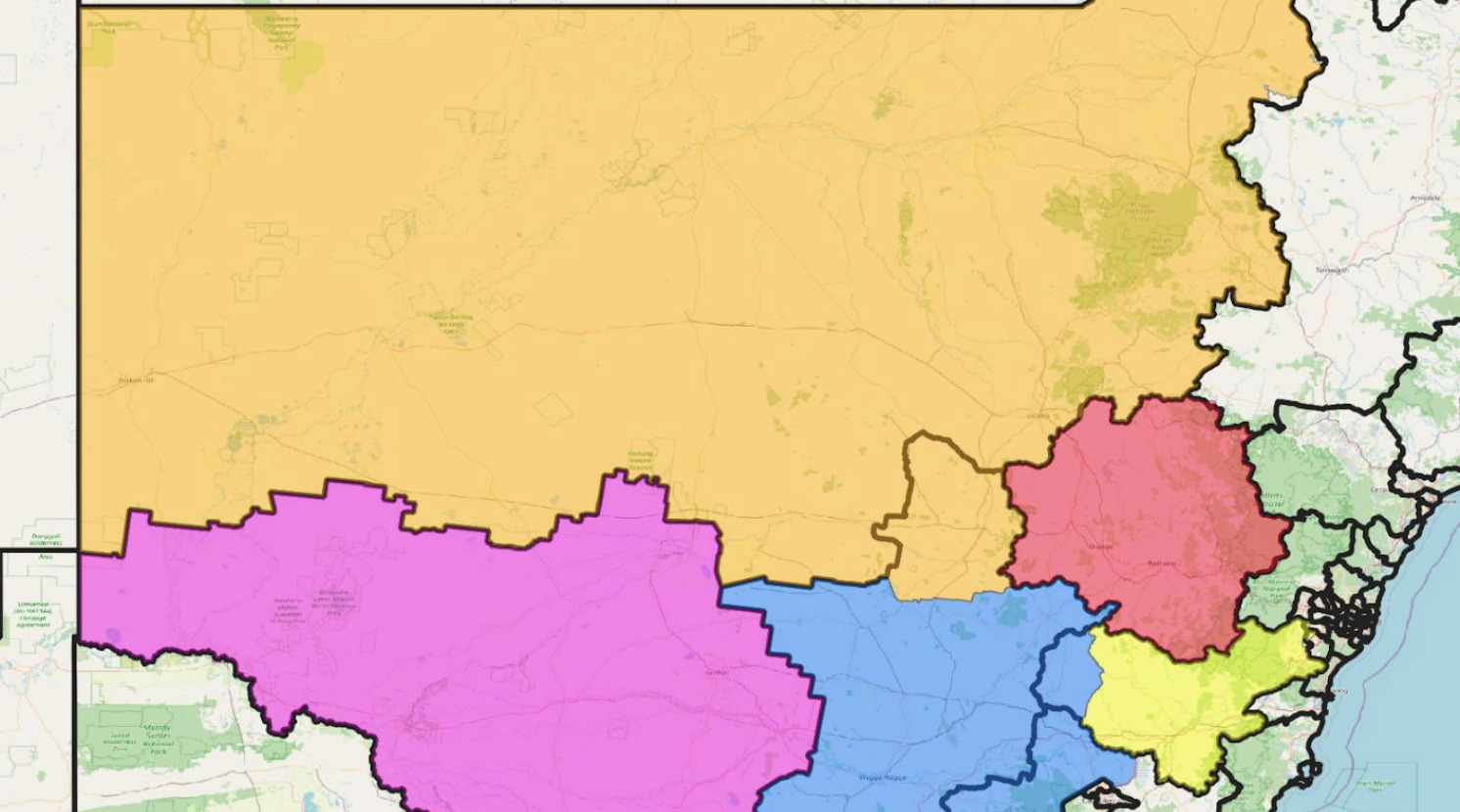 Federal redistributions are currently underway in three states. While the main focus is on the boundaries of the electorates, and the electoral implications of those boundaries, it's worth also drawing some attention to the question of what we name those electorates.
Australia's federal boundaries are unusual in that they are mostly named after people as an honour to prominent and prestigious people from the past. This is not very common in other countries – usually districts are either named after a local area (as in New Zealand, the UK or Canada) or are numbered within the state or province (as in the United States, Malaysia, the Philippines and many others). Even in Australian states, usually electorates are named after a suburb or town.
The question of who seats are named after came up in last Friday's podcast, where Shane Easson and I discussed the ongoing redistribution process and some of the proposed names for NSW federal electorates.
In this post I'm going to look at trends for how seats are named, and differences between states, which gives some insights to what could potentially happen in this redistribution cycle.
In one sense, this topic can seem of minor importance. A name of an electorate doesn't have electoral significance – there's nothing to stop a seat named after a Liberal prime minister like Fraser or McMahon being won by a Labor member. But it is a particularly rare honour that our country hands out to figures of significance, and these decisions say something about what this country values.
Throughout the 20th century, the names of seats gradually changed. There were large expansions in the parliament in 1949 and 1984, and some states gradually lost seats. Even when a state didn't lose seats, some old seat names were abolished. Throughout that century there was a tendency to move away from naming seats after place names and towards people, but the vast majority of those people are white men. In recent decades there has been more of an effort to name seats after Indigenous people and women, but the numbers are still quite paltry. There is also a significant difference between states.
Let's start with the history.
The first federal electorates were drawn by the state parliaments in the four biggest states prior to the first federal election in 1901 (South Australia and Tasmania used an at-large statewide electorate for their first federal election, so their "federation" seats date back to 1903), and there was an attempt in New South Wales and Victoria to name many of their seats after Indigenous names. In New South Wales, the commissioners proposed to name all 26 seats using Indigenous words, but a backlash caused most of these seats to adopt a different name. Still, right from the beginning there were quite a few Indigenous place names used for federal electorates.
Of the 75 electorates used in 1903, 21 of them were named after Indigenous place names. A further 28 were named after place names of European origin, and just 26 were named after people (all men).
Naming seats after people, rather than places, became the default after 1901, but over the next half-century there just weren't that many new seats to name. The number of seats apportioned to each state was changed only three times between 1906 and 1922, and then the seat count per state remained the same until 1949. New South Wales gained seats in 1906 and 1922, and Queensland gained a seat in 1913, and the Northern Territory electorate was created in 1922. Excluding the unimaginatively named "Northern Territory", that's just three freshly-created seats in almost half a century.
Yet 15 new names were created in the 1906, 1913 and 1922 redistributions, and another three at the 1934 and 1937 redistributions (which didn't involve in changes in the seat count per state). Through this time, there were a net change of nine fewer seats named after places and nine more named after people. I say "people", but at this point they were all named after men.
The 1949 parliamentary expansion almost entirely saw new seats named after people, mostly men, but also saw the first seat named after a woman (Chisholm), and two other seats were co-named after a man and a woman (Macarthur and Mackellar – although Dorothea Mackellar was still alive when the seat was created, so it's not clear if the seat was later co-named after her).
These trends continued in coming decades – place names slowly becoming less popular, with more seats named after people, but mostly men. Tangney was created in 1974 as a second seat named after a woman.
The 1984 expansion created a lot more seats named after women but it also created a lot more seats named after men, and overall the balance remained severely lopsided. In the last four decades there have been fewer opportunities, but we've seen a slow increase in the number of seats named after women (or both men and women), mostly at the expense of seats named after place names.
But overall seats (co-)named after women make up 14.6% of the total, while seats solely named after men make up 63% of the total.
The other trend worth observing has been the use of Indigenous names (either names of people or place names) over the last 120 years. 28% of all seats were named after Indigenous place names in 1903. This number has declined in raw numbers and much more so as a proportion of the increased total, but not by as much as place names of non-Indigenous origin.
The first seat named after an Indigenous person was Bennelong, created in 1949. Bennelong was joined in 1984 by Jagajaga, named after the three Wurundjeri elders who supposedly signed the treaty with John Batman in 1835. Up until 1998, they were the only seats, named after people who had lived in the very earliest days of British settlement.
In the last 25 years, there has been an uptick in seats named after Indigenous people: singer Harold Blair in 1998, activist Vincent Lingiari in 2001, politician Neville Bonner in 2004, and then activist William Cooper and activists Doug and Gladys Nicholls in 2019. Note that there are no federal seats solely named after a woman.
It is also worth noting that while there are quite a few names of an Indigenous origin – either honouring an Indigenous person or using an Indigenous place name – but otherwise I believe every other person honoured with a name is of European ancestry.
On the podcast, Shane mentioned that he's noticed a change in recent years, with Tom Rogers appointed as Electoral Commissioner in 2014 leading to a greater willingness to change seat names. The AEC has guidelines which are meant to set a direction for naming decisions, but some things appear to have changed. There has been less concern about maintaining federation names, and instead more of a priority given towards reducing the number of geographic names.
This next chart shows the number of new seat names introduced at each election, compared with the number of additional seats given to states (which is effectively the minimum number of new seat names to be created).
Generally there are 1-2 states which gain a seat at each election, although 2013 saw no changes in the seat count by state. Generally 1-3 seat names are created at each election, but 2019 stands out when eight new seat names were created.
What stands out about 2019? In short, it's the redistribution cycle which saw the largest proportion of federal seats redistributed in the last decade. The 2019 redistribution affected 88 seats, with only New South Wales and Western Australia spared. Only the 1993 and 2010 cycles affected more seats – but 2025 is on track to meet the record of 2010, affecting 100 seats.
If the AEC is in the mood to change seat names, they'll have plenty of chances. While they could get away with just one new seat name (in Western Australia), there will be some quite substantial changes in Victoria and NSW, and this could justify a number of seats to be abolished, not just one each. And that's before you consider any decisions to rename seats which haven't been radically changed.
At this point it's worth mentioning the differences between the states. Some states have experienced far more redistributions than others, and thus probably have less potential for seats being renamed than others. In particular there is still more potential for seat renaming in NSW than in Victoria.
In the 2019 redistribution cycle, just three seats were renamed because of dramatic change: Bean was a new seat in the ACT, as was Fraser in Victoria. The seats of Port Adelaide and Wakefield were effectively merged, and instead of keeping either name they replaced both with "Spence".
The other five new seat names didn't involve a big change in boundaries: Batman became Cooper, Melbourne Ports became Macnamara, Murray became Nicholls, McMillan became Monash, and Denison became Clark. Two of those retired names were geographic descriptors: the other three referenced 19th century figures, two of them figures linked to massacres of Indigenous people, and the third named for a 19th century governor who only lived in Australia during his 15 years of official service before leaving.
If you look at the breakdown of current electorate names by state, there's some clear differences.
Victoria and Queensland each have five seats named after women, but NSW is only equal with Western Australia and South Australia at two each, despite those other states having a much smaller number of seats.
If you look at the number of seat names of Indigenous origin, you can see the remnants of that original decision in 1901 to name seats after Indigenous places in NSW and Victoria, which are home to 14 out of 16 seats named after Indigenous places. There aren't that many seats named after Indigenous people in any state, but NSW is still trailing the slightly smaller big states on this front.
Considering that 2019 precedent, it seems quite possible we could see some similar decisions in New South Wales in this cycle, replacing some names that seem less relevant in the 21st century with people who have made a more substantial contribution in a more recent era, and allowing for greater diversity of honourees.