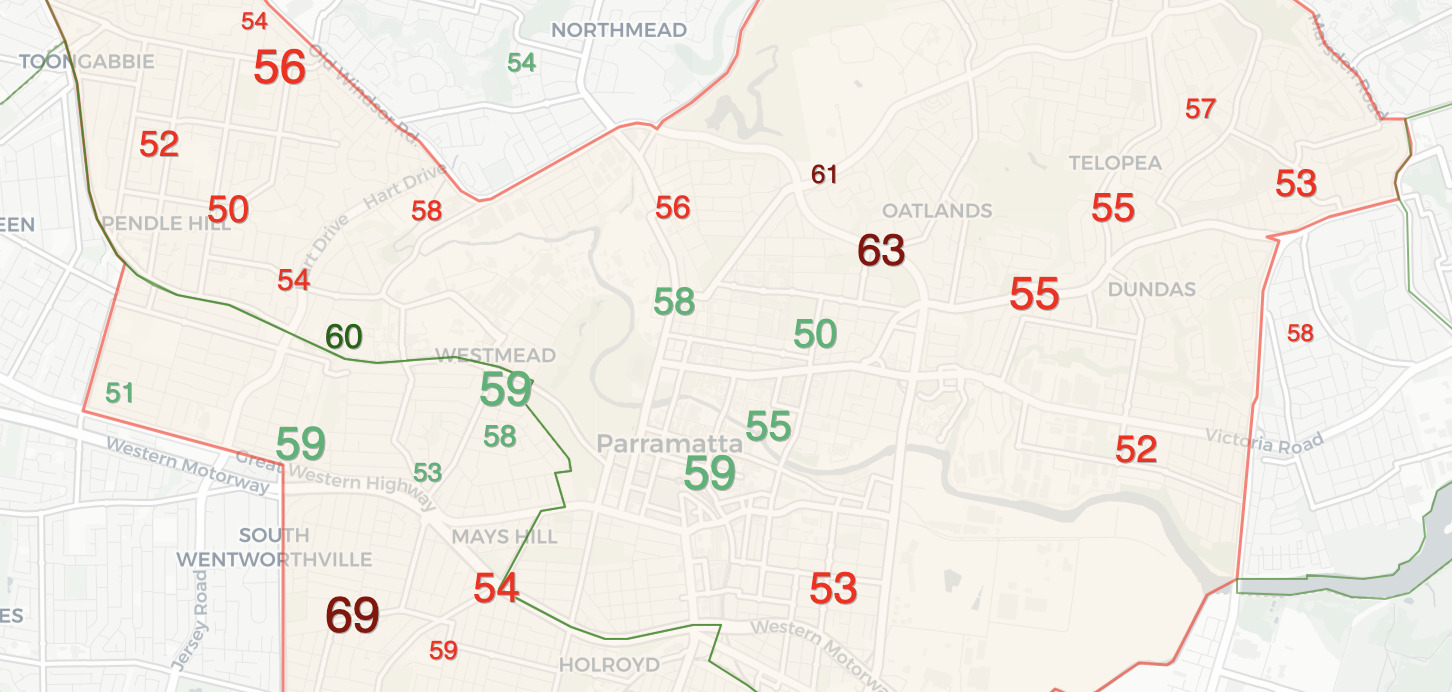 When I went to look at the Voice referendum results at the booth level in my local area, I noticed some surprising trends in terms of which booths voted Yes.
In Parramatta, I was surprised that the north-east of the seat generally voted No, while more suburban areas in the west tended to vote Yes, particularly around Westmead and Wentworthville.
This map shows the booth results in the seat of Parramatta.
Overall, No won in Parramatta, but Yes won booths in a strip from North Parramatta to Wentworthville.
One possible explanation for this trend is the presence of voters of Indian heritage.
The Parramatta area is generally very diverse, but in particular has a large population of people of Indian ancestry. In the suburb of Parramatta itself, there are more people born in India than in Australia. But they are not evenly distributed. The north-east of the council tends to have fewer residents of Indian heritage, and has a larger Chinese-Australian community.
So I decided to look across the board. Is there a reason to think that, amongst voters in multicultural outer suburban areas, Indian-Australian voters were relatively likely to vote Yes?
Of course the Yes campaign received its strongest support in inner suburban areas – seats with high education levels and relatively well off. These areas have plenty of ethnic diversity (compared to rural areas) but not as much as areas deeper into suburbia. None of the highest-ranked Indian-Australian areas are in the inner city.
I don't believe that Indian-Australian heritage is the primary cause of the Yes vote, so if you want to identify a trend you'd need to isolate the strongest Yes-voting areas, and instead look at the more marginal suburban areas that mostly ended up favouring No, but include some patches of Yes support.
I built a dataset merging the election-day booth results at the suburb level (based on the address on the polling place list) and filtering it to exclude suburbs with less than 500 formal votes. I then matched these suburbs up to the census ancestry data from the 2021 census.
First up, I've made a list of the 15 suburbs with the highest levels of Indian ancestry.
Ten out of fifteen suburbs voted Yes, a number of them by a significant margin. No suburb registered a vote less than 45.8%, which is at least 6% better than the national total.
Incidentally as a comparison I ran the same analysis on suburbs with a high level of Chinese ancestry. Twelve out of fifteen suburbs voted No, although most had Yes polling above the national result.
As another way to isolate any confounding effects, I thought it would be interesting to look at trends within a seat. So the next chart looks at the nine seats with the highest level of Indian ancestry, and plots the relative Yes vote for each suburb within that seat.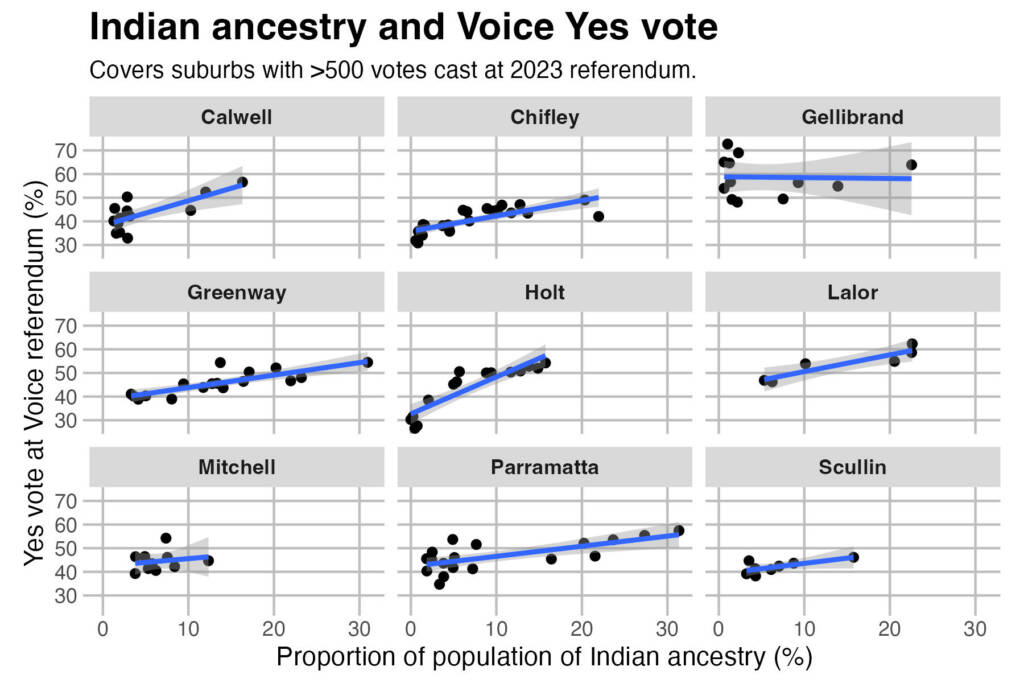 The trends aren't all the same, but they are mostly in the same direction. Greenway, Holt and Parramatta in particular stand out.
I found the Gellibrand example interesting. There's a cluster of booths with very low levels of Indian ancestry, which include the suburbs with the highest and lowest Yes vote. But once you leave that cluster, the booths with higher levels of Indian ancestry have a higher Yes vote.
So I also decided to map Gellibrand. This seat straddles the inner city Yes heartland, and those booths mostly had a Yes vote in excess of 60%. The remainder of the seat is split between smaller Yes majorities and some No majorities, but the western edge of the electorate has a substantial Indian-Australian population, and some of those are the only other booths which had a Yes vote above 60%.
I have tried to zoom out and look at these trends at a broader level, but it's harder to draw conclusions because there are so many suburbs with very small numbers of people of Indian ancestry. But I think this next chart is still interesting, which is limited to suburbs in metropolitan electorates.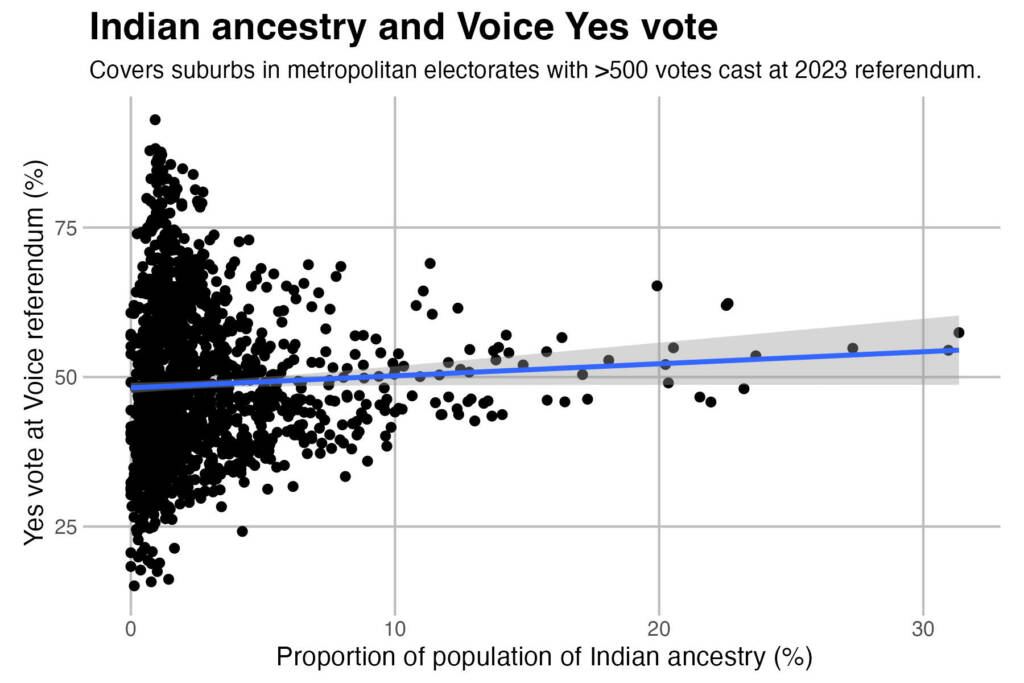 This trend line is quite shallow, but it's interesting to see those dots with 10%+ ancestry. You can see that most of them voted Yes, and those voting No had slim majorities.
It's always risky to try and draw conclusions from this sort of data – I'm always careful with the ecological fallacy. But I think there's reason to think there's something real here. I've generally focused on suburbs that have quite a high proportion of people in the group being analysed – I'm not trying to draw conclusions by comparing suburbs with a 4% Indian population with those with a 1% population.
It gets more difficult to do this analysis for groups that make up smaller parts of the national population, particularly when they are spread around the country. But for the sake of completeness, I also performed the same analysis for Chinese-Australian populations. This next chart shows no trend in either direction in the nine seats with the most people of Chinese ancestry.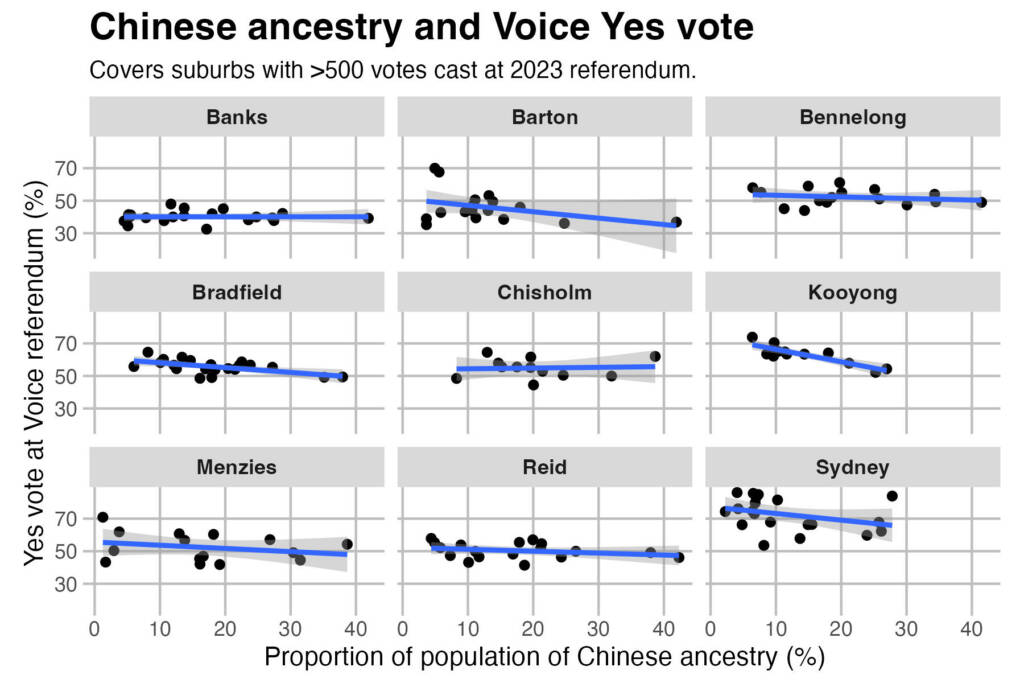 This next chart shows the top 15 suburbs for Chinese ancestry. Only three voted Yes, while most of the others had a Yes vote in the 40s. So they generally were more supportive of the referendum than the national average, but not by very much.