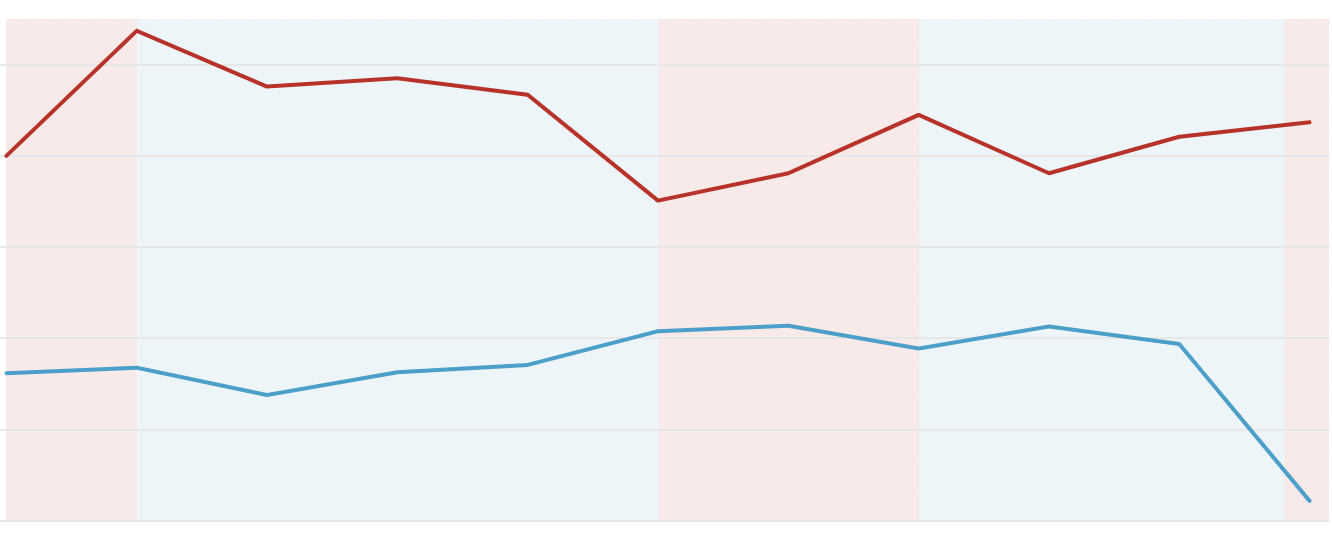 This isn't the first time I've discussed the significant shift away from the Coalition in urban Australia, but in today's post I wanted to zoom out a little and look at the historical perspective, and look at how much more polarised Australia has become between city and country since last Saturday's election.
The Australian Electoral Commission classifies electorates into four categories: inner metropolitan, outer metropolitan, provincial and rural. These categories are not perfect but they have been using them for a long time, and can give you a sense of long-term shifts.
I believe that this new Labor government is proportionately the most metropolitan government Australia has seen in the last thirty years, and probably for quite a lot longer, while the Coalition has dropped from metropolitan seats making up about half its members to less than a third.
In yesterday's post I demonstrated how the Coalition's losses were mostly concentrated in inner metro electorates, spilling over into a few outer metro neighbouring seats, with just one loss in a provincial seat, and on current numbers a potential gain in rural Gilmore.
This graph shows this data over a longer time period, showing the numbers for the four geographic categories since 1993. I found this categorisation data back to 2001 and was able to stitch it together myself back to 1993.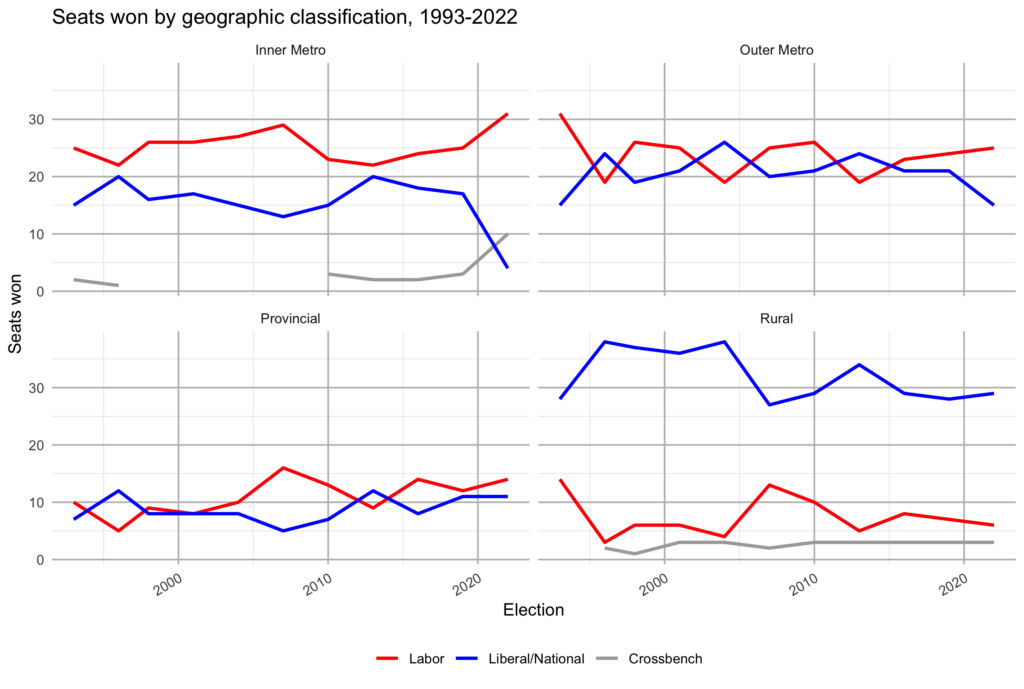 Labor now holds the largest number of inner metropolitan seats in the last thirty years, while their seat count in outer metropolitan Australia is roughly in line with the last Labor government and the 1998-2001 period, but not as strong as in 1993.
The more interesting story is in looking at the Coalition, had a relatively steady number of inner metro electorates until this year's collapse, mostly at the hands of the crossbench.
The first crossbenchers elected in 1990 and 1993 were from inner metro seats (North Sydney and Wills), but from 1998 until 2010 crossbenchers were entirely present in rural electorates. The number of rural independents has remained steady at three at every election bar one since 2001.
There has also been a breakthrough in crossbenchers in outer metro Australia at this election, which doesn't appear on the above chart. Nor do the two outer metro crossbenchers elected in 1996.
As a different perspective, I wanted to look at how many seats each of the major parties won in each part of the country as a proportion of their total seat count. For this case, I have collapsed the categories down into Metropolitan and Provincial & Rural. The metropolitan category makes up just under 60% of the entire country, with 87-90 metropolitan electorates at each election.
Assuming a Labor victory in Macnamara, 73.7% of Labor seats are in metropolitan areas. This is not a record. This proportion was higher in 1996, 1998, 2001, 2004 and 2013. This is a list of every Labor defeat in the last thirty years, barring the last two. Labor did particularly well in regional Australia in 2016 while Malcolm Turnbull did well in the cities. But this is the most metropolitan Labor party in government.
Indeed the story looks even more dramatic if you look at Labor's results in just rural seats, since they do quite well in the Hunter, Illawarra and Geelong. Labor won 14 rural seats in 1993, 13 in 2007 and 10 in 2010. They're now on track for just 6-7 rural seats in 2022.
The Coalition has been a majority metropolitan party just at three elections in the last three decades, and they won government just once in that time. They were narrowly a majority-metro party in 2007 and 2010, and were 51.3% metropolitan under Malcolm Turnbull in 2016.
Assuming that the Coalition wins Gilmore and retains Deakin, they will be left with a parliamentary membership which is two thirds provincial and rural.
What does this mean for the future? Well, I think this has implications for the Coalition's paths back to power. They don't have much room to grow in rural Australia, and any path back to power will have to involve winning more support in urban seats, if not the "teal" inner city seats where they were beaten so badly this year.
Barnaby Joyce can crow about the success of the Nationals in holding their ground, but they can never win government on their own - the power of the Nationals depends on their ability to form alliances with urban conservatives to form a majority, and right now the options in urban seats don't look great for the Coalition. But that will be something I focus on, coming up soon.
Finally, enjoy this big chart showing the results of the first chart more clearly. It was a bit too big to present up front.