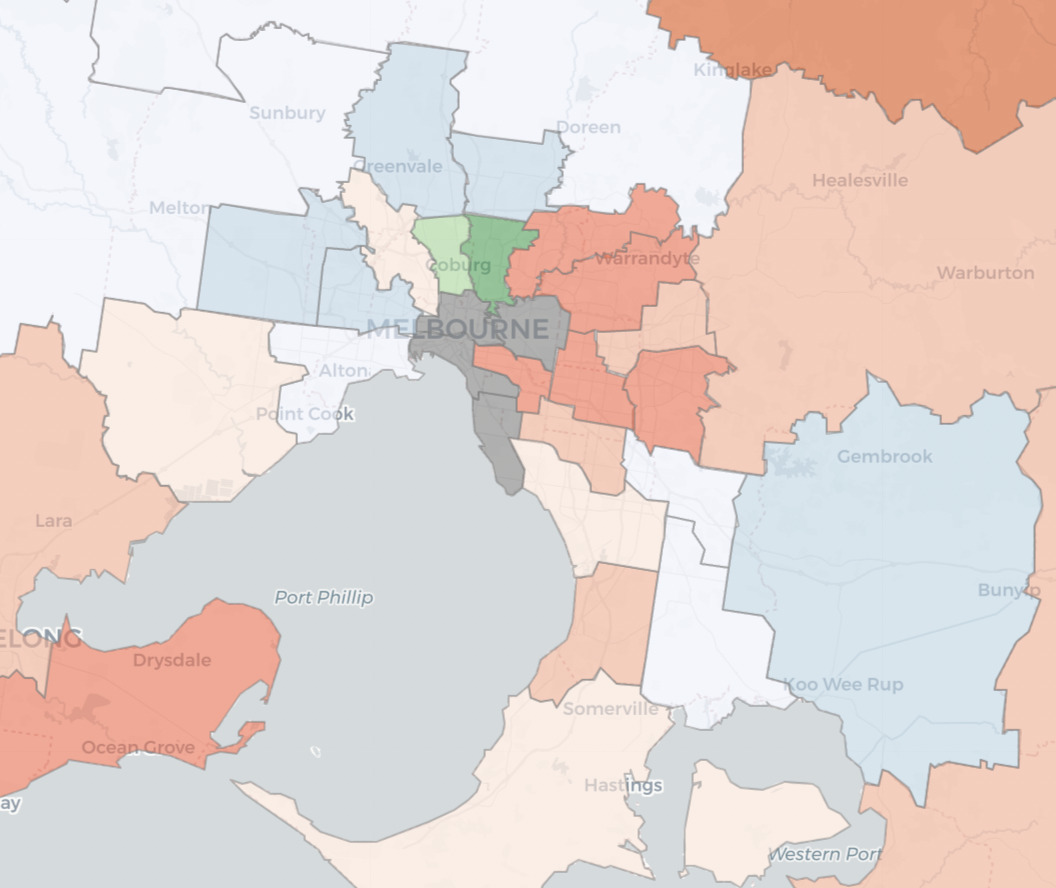 Wow! Okay so where are we at on Sunday morning?
With my work in the Guardian we have called 132 seats. There's a handful I haven't called (such as Parramatta and Werriwa) that can probably be called once the pre-poll vote comes in.
| | | | |
| --- | --- | --- | --- |
| | Decided | Leading | Total |
| Labor | 70 | 9 | 79 |
| Coalition | 51 | 5 | 56 |
| Crossbench | 11 | 5 | 16 |
| Total | 132 | 19 | 151 |
When I went to bed last night, Labor was leading in 75 seats, but they are now leading in 79.

Of those nine seats where Labor is leading, I am close to calling Tangney, Parramatta and Werriwa. The other six seats are Lyons, Sturt, Gilmore, Bennelong, Deakin and Lingiari. Labor needs to win two of those six for a majority.
I am also close to calling Curtin and Fowler, and I have only hesitated to call North Sydney for the independent because of the possibility of Labor overtaking Tink in the distribution of preferences.
At the moment, including undecided seats, I count 22 seats that have either changed hands or the incumbent party is currently behind. That includes:
8 Labor gains and 4 Labor leading
4 Independent gains and 3 independent leading
1 Greens gains and 2 Greens leading
Labor's 12 potential gains include 4 WA seats, 3 NSW seats, 3 Victorian seats, 2 South Australian seats, and no gains in Queensland or Tasmania.
Independent gains include 4 in Sydney, 2 in Melbourne and one in Perth.
All of the Greens gains are in Brisbane.
I've made a map with three layers. The first layer shows the two-candidate-preferred swing in the 128 seats with a valid swing. We don't have TCP swing in seats where they have had to reset the count, and we also don't have swings in new independent seats.
The next layer shows the current prediction (called seats in a dark colour, leading seats in a lighter colour), and the final layer highlights the seats that have changed hands.
There is a repeated trend of Labor gaining larger swings in more inner-city electorates while gaining small swings or even losing ground in outer suburbia.
In Melbourne, Labor suffered small swings to the Liberal Party in large parts of the city, specifically the northern, western and outer south-eastern suburbs, but gained very large swings in the eastern suburbs. The Liberal Party has lost a contiguous block of four electorates in eastern Melbourne, but this could extend to six electorates if they lose Deakin and Menzies.
That pattern of outer suburban swings against Labor is not so obvious in other cities, although the Liberals did gain swings in most Tasmanian seats, and they did gain swings in Lindsay and Werriwa.
The swings to Labor are certainly more muted in the western suburbs of Sydney compared to seats closer to the city, and of course the Liberal Party suffered big swings to independents in the eastern and northern suburbs. In particular I noticed that, if Labor wins Bennelong, the Liberal Party no longer holds any seats on the harbour front or on the Parramatta River, having lost Bennelong, Reid, Wentworth and North Sydney.
If Labor wins Sturt, where they lead by 0.6%, the Liberal Party will be left with no seats in Adelaide. The swings here match the pattern elsewhere, with the Labor-friendly northern suburbs having the smallest swings.
The swings are massive across Perth, but particularly large in inner-city Perth and Tangney, along with outer suburban Pearce.
The Greens gains in inner city Brisbane also fit with the trend, but even in neighbouring seats like Moreton and Lilley, Labor had larger swings.
That's it for now, I'm planning a few blog posts for today and tomorrow.