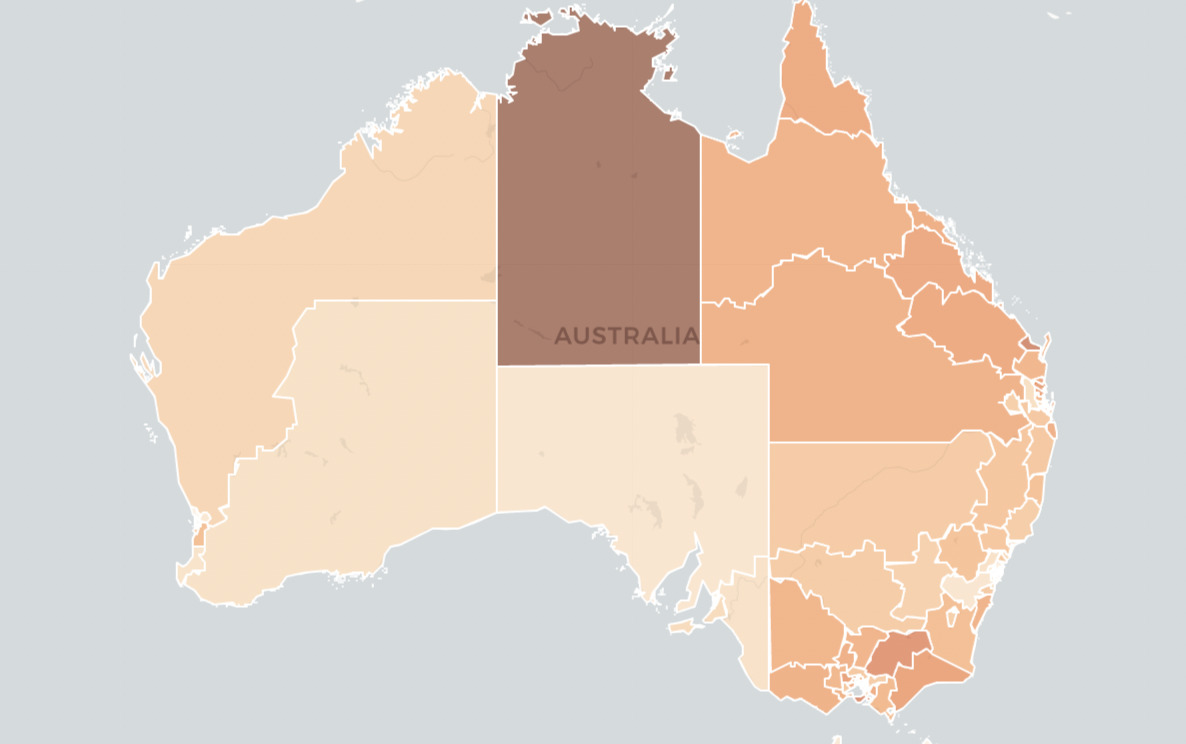 This is a follow-up to Monday's blog post, which explored the trends away from election day voting at the federal level, and how those trends have been accelerated by the COVID-19 pandemic.
For this blog post, I'm splitting up the 2019 vote between votes cast on election day and those cast earlier, and looking at which seats have higher rates of early voting.
First up, let's remix the first chart from Monday's post to merge together the categories into 'election day' and 'early'. These figures don't quite add up to 100%, because provisional votes account for between 0.2% and 0.7% of the total and I don't believe I can say whether provisional votes were cast before or on election day.
The election day vote was almost 90% of all votes in 2001, but by 2019 it had dropped to 57.7% in 2019.
It's hard to imagine that number stays above 50% in 2022, considering recent trends.
Next up, this map shows the proportion of the vote cast early in each electorate in 2019. This is based on my redistributed vote data so it uses the 2022 electoral boundaries in Victoria and Western Australia. This dataset only includes formal votes, so while I would normally use the total turnout, this ignores informal votes.
Lingiari stands out by a wide margin, with 72.9% of the vote cast before election day. About a third of the vote in Lingiari was pre-poll, but another third was cast through remote polling teams in small settlements.
Indeed I did a chart for a blog post last week on diversity of booth results by seat, and Lingiari had the smallest number of ordinary polling places of any electorate in the country.
Hinkler in Queensland ranked second with 63%, and Flinders was third with 60.8%.
33 out of 151 electorates had a majority of their votes cast early. Ballarat was a tie, with neither group having a majority, while the election day vote was the majority in 117 seats.
Moore in Western Australia had the lowest rate of early voting, with 24.8% voting early, followed by Franklin in Tasmania and Adelaide in South Australia. The ten seats with the lowest early voting rates are all in the three smallest states. You have to scroll all the way to Newcastle, which is ranked 33rd for the lowest rate of early voting, to find a seat outside of the three least populous states and suburban Sydney. The early voting rate in Newcastle was 33.5%.
Looking at the map, I see some general trends. Regional Queensland and Victoria appear to have higher rates of early voting than regional New South Wales. Brisbane and Sydney have lower rates of early voting than regional neighbours, but that doesn't appear to be as true of Melbourne.
It also appears that Western Australia, South Australia and Tasmania have lower rates of early voting, and those trends are true when you sum up the state totals.
| | | | |
| --- | --- | --- | --- |
| State | Early (%) | Election day (%) | Unknown (%) |
| NT | 60.43 | 39.16 | 0.41 |
| VIC | 48.73 | 50.98 | 0.28 |
| QLD | 48.03 | 51.67 | 0.29 |
| ACT | 43.65 | 56.01 | 0.35 |
| NSW | 37.94 | 61.77 | 0.29 |
| SA | 33.08 | 66.45 | 0.47 |
| WA | 33.06 | 66.45 | 0.48 |
| TAS | 29.18 | 70.49 | 0.33 |
I suspect the differences between states have something to do with how liberal each state is in regards to pre-poll voting. Tasmania, Western Australia and South Australia do have higher rates of election day voting, compared to Queensland and the ACT.
That's it for today. I'll be back tomorrow looking at who these different groups of voters cast their vote for.