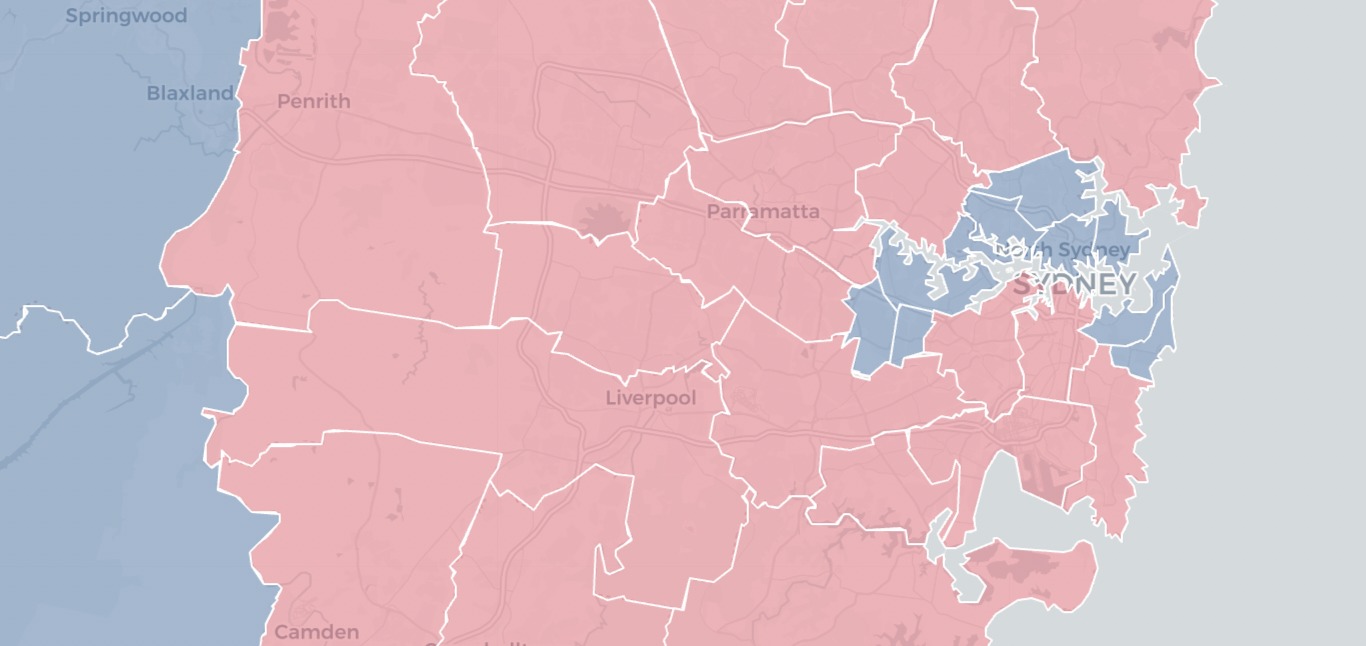 Australia has a party system. Each state has its own party system, which usually closely resembles the federal system but with its own variety. And in many local councils a local party system exists. It may have familiar features, but each works a bit differently, and in many places has evolved to have differences from how people vote at a state and federal level.
This post is a bit different to my last few in that it's not really based on data that I can easily throw on a chart or a map. It's mostly based on research I did when I was working on my council election guides for the 25 most populous councils in New South Wales.
As part of that guide, I tried to understand the factional balance of each council by looking at the voting trends at recent mayoral and deputy mayoral elections. These don't tell you everything about how a council works, but they give a basic picture of the main alliances on the council and how they usually operate. Most councils now hold mayoral and deputy mayoral elections once every two years (even those that directly elect the mayor still hold deputy mayoral elections amongst the councillors) so you can see how things shift over time.
There is a wide variety between councils: some are dominated by the two major parties, with others featuring local major parties or other mixtures. Some are very rigid, while others are more fluid. I'll run through a few examples in this post, and I'll link to the profiles so you can read more.
These trends likely apply to other smaller councils but I've focused on the 25 with a population greater than 100,000. All but one feature parties in their elections (the exception being Ku-ring-gai, who I will get to), but that is also true for numerous other councils. And even those without partisan contests undoubtedly still have factional divides and alliances, but they are more difficult to analyse without party cues. There's also a difference between factions on a council and political parties – voters may not know which faction they are voting for in a non-partisan election, or understand who else that candidate is allied with, whereas parties make that clearer.
The first thing to understand is that New South Wales council elections now all use proportional representation, most with at least three councillors per ward, although a handful of councils have two per ward. 60% of the Big 25 councils use 3-member wards, but some elect as many as fifteen in one electorate (g'day Campbelltown). The district magnitude (DM) makes a big difference to how proportional the result is, and thus the party system, and I'll come back to DM in another post.
Party systems with 3-member wards tend to revert to a result where each of the two major parties in that local area wins one seat, with the third seat being in play. The side that can win third seats in the most wards will usually control the council (either by winning a second seat for that party, or by an ally winning that seat).
One-party majorities are rare but do happen. Labor currently holds a majority on four of the Big 25 councils: Blacktown, Campbelltown, Canterbury-Bankstown and Newcastle. Labor did not win a majority in Campbelltown in 2016, but gained a majority at a by-election the next year after an independent ally died and they won the subsequent by-election. Labor also won a majority of seats on Cumberland council in 2017 but quickly lost their majority when a Labor councillor defected to become mayor with the support of the Liberals and independents.
The Liberal Party holds a majority in The Hills and has a majority on Hornsby council with the mayor's casting vote. Clover Moore's local party won a majority on the City of Sydney council in 2016 but lost that majority (barring the use of her casting vote) in 2017.
More typically, a council has two major parties, and a crossbench with the balance of power. The 3-councillor wards tend to encourage this arrangement. It's relatively easy for a major party to win one seat in each ward, but with quotas of 25% it's a big ask to win two. So you usually end up with major parties of similar size, and a crossbench.
The 2016-17 amalgamations imposed a structure of five wards of three councillors each on most councils, including all of those in urban NSW. You'll find a lot of these councils have two parties with 4-6 seats each: Inner West, Northern Beaches, Parramatta, Central Coast (before it's sacking), Randwick and Georges River all follow this trend. A few more have a leading party on seven seats out of fifteen: Sutherland, Bayside come to mind, as does Penrith although it has a different ward structure.
When I say "major party", I'm not necessarily talking about Liberal and Labor, although in every case at least one of those two parties is major. The Greens are one of the major parties in the Inner West, with the Liberal Party as a minor party ally for Labor.
There are also local parties that only exist in one council. The best example is Your Northern Beaches, which hold six seats to the Liberal Party's five. There are also a number of other parties that call themselves "Independents" which operate as parties, both on council and at election time, within the confines of one council: the Shoalhaven Independents, the Newcastle Independents and the Clover Moore team.
These parties don't always last. The Independent Lake Alliance used to dominate Lake Macquarie, and their former mayor Greg Piper remains in state parliament, but they have dwindled down to a single seat after two bad elections. A party called Shire Watch used to be the anti-Liberal major party in Sutherland.
In plenty of places, a state major party will run as a local minor party. Labor ran in the Northern Beaches in 2017, but did not elect a single councillor. The Liberal Party were the backbone of a broad conservative alliance which ran Newcastle from 2012 until a mayoral by-election in 2014, but now only hold a single seat. And the Liberal Party holds just two seats in the Inner West, and until a recent breakdown had supported a Labor mayor for four years.
In Shoalhaven, the mayor leads a team of four Greens councillors, while Labor effectively acts as a minor party ally, while a larger group of conservative independents hold the council majority in opposition to the mayor. I will return to the topic of directly-elected mayors in minority.
In those councils without a single-party majority, power is effectively in the hands of the crossbench. It's more common than not that the crossbench has a reasonably stable alliance with a major party that creates a dynamic of government and opposition, but there are exceptions.
Both Labor and Liberal took the mayoralty at times in the fluid Central Coast council in the three years before the council was suspended. On Sutherland council, a single independent shares the balance of power alongside seven Liberals and seven Labor, and has alternated between supporting Labor and Liberal.
While a majority of councils are driven by Liberal vs Labor conflict with a crossbench, some are more fluid. Penrith council is run by a supermajority of both major parties working together, alternating leadership roles on the council and locking out the small number of independents.
Labor has led Georges River council in minority, but on a lot of issues the councillors break down into factions that don't match the Labor/Liberal divide.
Likewise in Fairfield, which effectively spawned a third main party in 2017, when the mayor Frank Carbone left Labor to run as an independent, on a ticket that featured a former Liberal state MP and another former Liberal candidate. This centrist alliance won four seats, including one in each ward plus the mayoralty, with Labor falling one seat short of a majority.
Despite Labor holding six out of thirteen seats alongside an ex-Labor mayor, the council is more fluid, with Labor and Liberal councillors regularly not voting along party lines.
Finally there is Ku-ring-gai. It is the only council in this 25 where neither major party ran (nor did any other party). It's also the only council which has 2-member wards, which is interconnected with the council's make-up. I'm going to return to Ku-ring-gai in a future blog post, but it's certainly one worth watching.
I don't have a new map for this post, but I thought I'd drop in the index map I included in my election guide. For the big 25 councils (in pink) I've included my description of who is currently in power on the council.