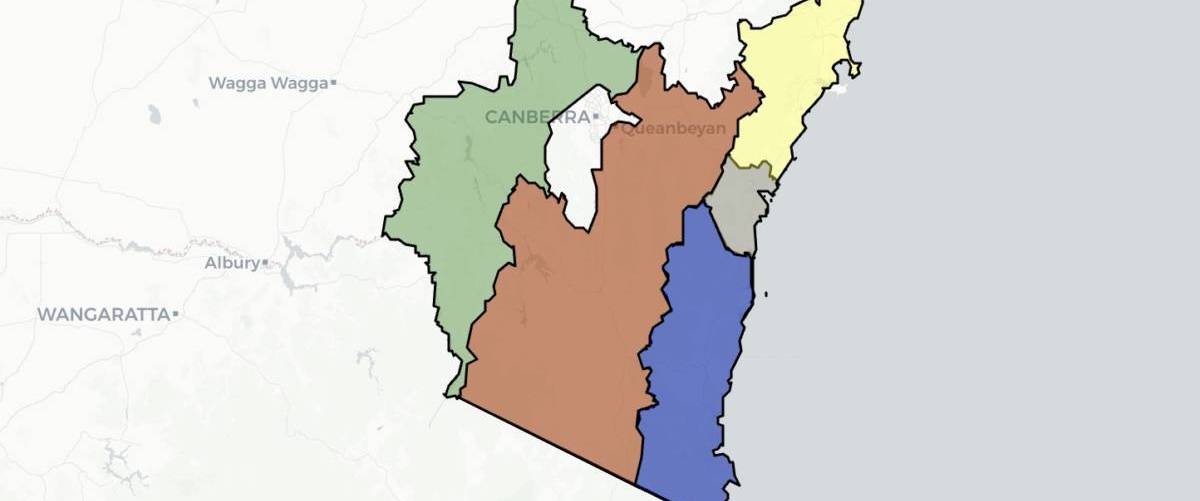 The resignation of NSW premier Gladys Berejiklian on Friday under a cloud of investigation by the Independent Commission Against Corruption has now led to two of her ministers also announcing their pending resignations, not just from cabinet but from the parliament. This means we will see at least three NSW state by-elections in the coming months.
I have now prepared a guide to all three seats which is free for all to check out:
Transport minister Andrew Constance announced his resignation on Sunday, while Nationals leader and deputy premier John Barilaro stepped down on Monday. Constance is planning to run for the federal Labor marginal seat of Gilmore (more on that at the end of this post) while Barilaro has ruled out any federal tilt.
Berejiklian holds the north shore seat of Willoughby, which should be reasonably safe barring a strong independent, but the other two seats could be in play.
These two seats are next door to each other in the south-eastern corner of New South Wales. Constance's seat of Bega has been Liberal-held since its creation in 1988 but is reasonably marginal, and the overlapping areas voted strongly for Labor at the most recent federal contests. Barilaro's seat of Monaro covers the areas immediately inland from Bega, including the city of Queanbeyan on the outskirts of Canberra. Monaro was won by Labor in 2003 and 2007, and Barilaro only barely held on in 2015 before building up his margin in 2019.
It's not clear when these by-elections will be held. Berejiklian specifically said she plans to resign her seat only after consulting with the NSW Electoral Commission about when it would be safe to hold a by-election. We can assume all three will be held simultaneously.
There is a NSW local government election due to be held on December 4, so we can assume that it would be considered just as safe to hold state by-elections by that date. If they wish to avoid holding both on the same day it will be hard to fit these by-elections in before February 2022, so they may be some time away.
There are also reports of other government MPs considering resignation, which may add to the 'Super Saturday' numbers. There were four by-elections held simultaneously in October 2008, and three held in September 2005 after the retirement of Bob Carr.
Sounds like more MPs could go in next few days. A couple considering federal tilts, others ready for retirement. Super Saturday by-elections likely to be held as same day as delayed council elections on December 4. @9NewsAUS

— Chris O'Keefe (@cokeefe9) October 3, 2021
The NSW state government doesn't exactly have seats to spare at the moment. The government won 48 seats in the lower house in 2019, just one more than the minimum for a majority.
Two of those MPs have now moved to the crossbench thanks to scandals, but can be generally relied upon to vote with the government. If the government lost two more seats, they would be in minority, and there would be the potential for a motion of no confidence to pass with the support of the three independents, three Greens and three Shooters, Fishers and Farmers MPs (along with Labor).
If such a motion was passed, there would be time for a new government to be formed, and if this fails an early election could be held to resolve the situation.
That's not to say that would happen, but a string of by-election losses would make NSW politics a lot more interesting.
One final thought: Constance's announcement also has implications for the very marginal Labor federal seat of Gilmore.
My guide to Gilmore is free for everyone to access (sign up for $5 a month on Patreon to access every other seat), and it's worth a read.
I've made a map showing the overlap between Gilmore and Constance's state seat of Bega. The bottom fifth of Gilmore overlaps with the top quarter of Bega, specifically Batemans Bay and surrounding areas in the northern half of Eurobodalla Shire. This includes Constance's home. So it isn't a perfect fit, but he is a local in the electorate.
The map also shows the federal seat of Eden-Monaro and the state seat of Monaro. It shows that a majority of Eden-Monaro will be experiencing two by-elections in a year and a half, with the exception of Yass, Tumut and Tumbarumba. That's before you factor in the local government elections, the 2019 state election or either the previous or next federal election, so they'll be voting five times in just over three years.