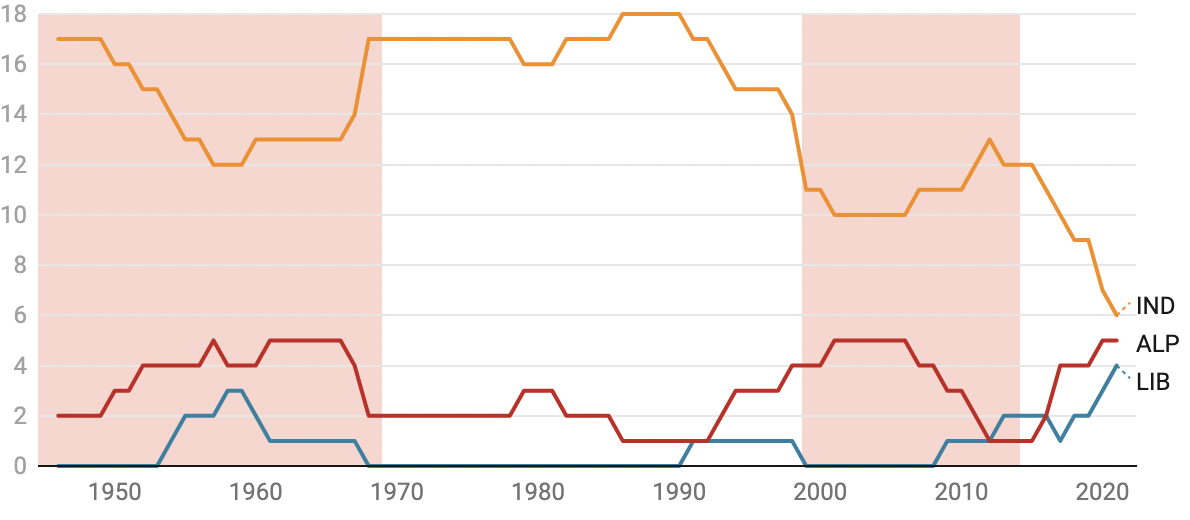 With the final results now in from the Tasmanian state election, I wanted to go back to a post I wrote in early April about the role of parties in the Legislative Council.
The chamber has historically been dominated by independent members, but the two major parties have held a majority of seats since 2020.
Well that number has increased by one again in 2021, with a retiring conservative independent being replaced by a Liberal MLC in Windermere.
This means there are now just six independent MLCs, down from a recent peak of 13 in 2012. Independents held every seat in the chamber as recently as 1990.
The Liberal Party now holds four seats in the chamber, exceeding their three in 1958 and 1959.
This change does not alter the centre of the chamber, since Dean leaned heavily to the right. There remains a bloc of four centre-left independents who can combine with Labor for a majority. This is a gross simplification – for a more detailed picture check out Kevin Bonham's latest blog post about upper house voting patterns, which went up after my last post on this topic.
One other thing I found interesting was the final margins of victory in the two contested races.
Labor's Craig Farrell was re-elected in Derwent with just 55.65% after preferences. New Liberal MLC Nick Duigan polled 54.14% after preferences in Windermere. In both cases the second-placed candidate was also a member of one of the major parties.
This would result in both these electorates as being classified as "marginal" in a more conventional party system. In contrast, Tasmania has a long history of independents holding their seats by wide margins.
I wonder if we are heading towards an era not just of more party members in the upper chamber, but of more Liberal vs Labor contests, and more close contests. I suspect the benefits of incumbency will decline if most members are political party members, more tied to broader political issues.
That's it for Tasmania for now, remember to tune back in in April 2022 for the next round of elections.