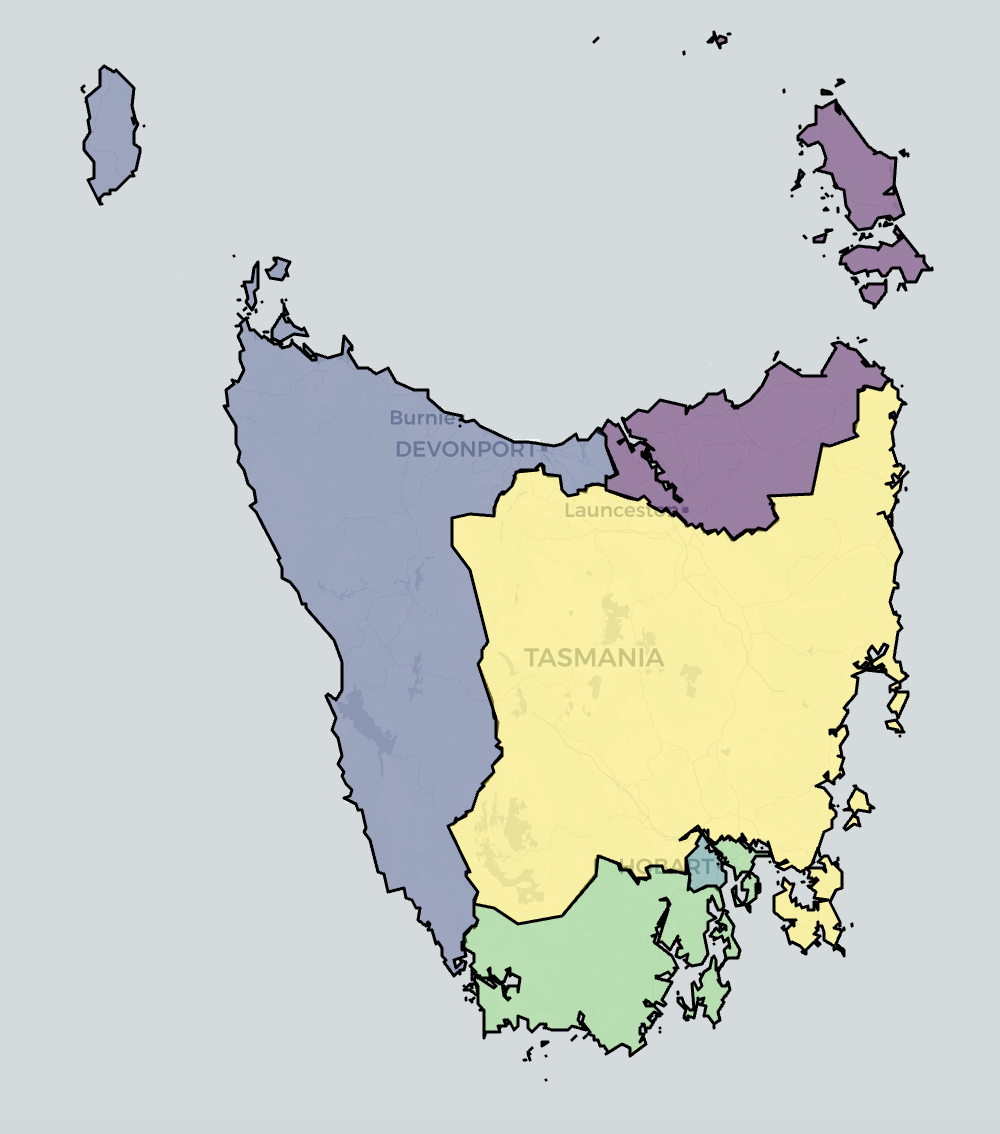 11:10pm – We have received a few pre-poll booths but there really isn't much information. I'm going to wrap up now and I'll return in the morning with an update on the state of the count.
The only race really worth watching at this point is Clark. At the moment the Liberals appear to be on track to win two seats, and thus retain their slim parliamentary majority. If they hold that seat, it leaves just one seat for independents Kristie Johnston and Sue Hickey to fight over, and Johnston is well out in front of Hickey (0.67 quotas vs 0.54) at the time of writing.
Apart from Clark, at the moment it seems most likely that every other seat will stay with the party who won it in 2018, although there's some doubt over the second Labor seat in Bass.
That's it for now, I'll be back in the morning.
10:04pm – I haven't checked out the upper house in a while. Craig Farrell is on 48.6% in Derwent so should win re-election. Liberal candidate Nick Duigan is still leading in Windermere but his lead has reduced significantly. He is on 37.8%, with Labor's Geoff Lyons on 26.5% and independent Will Smith on 21.8%. It's hard to pick that race.
9:28pm – As is traditional, most election day votes have been counted and we now wait for pre-poll votes. I'm going to go off and write a council guide and then come back for the second wave.
8:58pm – William has pointed out that his projections are based solely on the election-day vote. We don't know how the large early vote will affect the count in Clark. It's entirely plausible the Liberal vote could fall enough to be in danger of losing their second seat to an independent.
8:51pm – It's been pointed out that the Greens did outpoll the Liberals in Denison in 2002.
8:44pm – TLDR of the previous post:
Liberals look likely to win a majority, but it's not certain, and it won't be a large majority. The most likely seat count would leave them with 13 seats, the same number as in 2018.
Labor has lost votes and the Greens have gained votes. Labor looks set to lose one seat. There is a chance Labor could lose a second and the Greens could gain one but it's more likely that won't happen.
It looks like either Sue Hickey or Kristie Johnston will win a seat in Clark. That seat will likely be at the expense of Labor.
8:42pm – A summary of where we stand:
Braddon and Lyons – both look set to produce status quo results: 3 Liberal, 2 Labor.
Franklin – looks set to produce status quo result – 2 Liberal, 2 Labor and 1 Greens
In Bass, the Liberals are projected to receive 3.59 quotas, with Labor on 1.53 and Greens on 0.57. That probably means Labor or the Greens will win the last seat, but you can't rule out the Liberal. That seat in play is currently held by Labor.
Clark is complex and will remain complex. The three parties have each retained one seat. The Liberals are projected to poll almost two quotas, with Labor and the Greens each trailing with about one quarter of a surplus on top of their single seat. Johnston and Hickey are each on about 0.6 quotas. This looks like a result where the Liberals win two seats, Labor and the Greens win one each, and the last seat goes to an independent.
The Liberals either need to win a second seat in Clark (seems likely) or a fourth seat in Bass (seems unlikely) to win a majority. Labor looks set to lose one seat in Clark, and could lose a second seat in Bass.
8:36pm – There's a small swing to the Liberals in Lyons, and a larger swing to the Greens and away from Labor. The Liberals should poll just a bit above 3 quotas, with Labor just below two. Looks set to be a status quo result.
8:22pm – There is a very slight swing to the Liberals in Braddon, and a slight swing away from Labor. There's a 1.8% swing towards the Greens, but they are still on a very low vote. Overall Braddon looks set to remain as it was in 2018, with three Liberals and two Labor.
8:21pm – Before we move on to Braddon and Lyons, it's worth discussing how the Greens vote tends to be concentrated and how that will hinder their ability to win second seats. Labor and Liberal candidates tend to run their own campaigns and the vote for each party's candidates tends to be reasonably even, with popular figures getting a boost.
But the Greens designate a clear lead candidate who gets most of the vote. In Clark right now, the Greens have 1.56 quotas, and 1.18 of those quotas is sitting with Cassy O'Connor.
The next best polling Greens candidate, Vica Bayley, is on just 0.19 quotas.
This can cause two problems: if you win a second seat, that second seat can largely be allocated based on chance. In 2008, when the Greens won a surprise second seat in Molonglo in the ACT, the Greens vote for the two support candidates to Shane Rattenbury was split almost evenly, producing a close contest between two candidates with basically no name recognition. By the time this opportunity arose again in 2020, the Greens had picked a clear number two in Kurrajong (the successor to Molonglo) and encouraged voters to choose her over the safe Rattenbury.
But the bigger problem is when a concentrated vote can stop a party from winning that extra seat. If 1.56 quotas was split reasonably evenly, that would mean two Greens candidates would be competitive. But instead a full quota will be used up on O'Connor, and there will be less available for her fellow Greens candidate to compete with the others in the race.
7:57pm – We can't rule out the possibilities for the Liberals to make gains in the north which may offset the result in Clark. A 3.3% swing in Bass puts the Liberals on 3.6 quotas, while Labor has dropped to 1.4 quotas. The Poll Bludger projection suggests this massive gap will shrink slightly, but it's not way off. Meanwhile the Greens are on 0.74 quotas, but projected to receive 0.54 quotas, which is slightly less than in 2018.
On these numbers, I think it'd be more likely that Labor would retain their second seat, but the Liberals are not far off gaining a seat.
7:51pm – Let's talk about Franklin. This electorate is currently represented by two Labor, two Liberal and one Greens.
The Liberal Party vote has collapsed, in part because of the absence of former premier Will Hodgman. The party managed 2.88 quotas in 2018 but only won two seats, so they have a long way to fall before they would be in danger of losing a seat.
At the moment the Liberal vote is down 7.2%, to 2.47 quotas. The Labor vote is down 0.6% to 1.8 quotas (although Poll Bludger predicts they will end up just above 2 quotas). The Greens vote is up 5% to 1.4 quotas (which William predicts will drop to about 1.2 quotas).
On those numbers, a substantial swing to the Greens will see no change in the seats. But worth watching.
7:42pm – I missed the fact that the Greens are currently second in Clark. I don't think the Greens have ever overtaken a major party in an entire electorate in a Tasmanian election.
7:41pm – The other race in play in the upper house is in Derwent. At the moment, incumbent Labor MLC Craig Farrell is neck-and-neck with Liberal challenger Ben Shaw, trailing by just six votes, 44.6% to 44.8%. Then there is 10.5% for Animal Justice, which will decide the seat. I would guess those votes would favour Labor but really who knows. That's off ten booths so things could shift but it remains close.
7:40pm – This is the first time in Tasmanian history that seats in both the lower and upper house have been up for election on the same day. In the seat of Windermere on the outskirts of Launceston, currently held by retiring conservative independent Ivan Dean, Liberal candidate Nick Duigan is leading with 44.1% of the primary vote, followed by conservative independent Will Smith on 24%. It looks very likely that the Liberals will gain this seat, and certain that the seat will stay with the conservative minority. That would reduce independents to just six out of fifteen seats in the upper house, the lowest level in history, after parties gained a majority just last year.
7:37pm – The most interesting race to watch is Clark. Both major parties are down – the Liberals are down 5.4%, and Labor is down a massive 22.6%. This leaves the major parties with 1.8 and 1.1 quotas respectively. The Greens are up 3% to 1.5 quotas.
But then there are independents Sue Hickey and Kristie Johnston. Hickey is on 0.59 quotas, with Johnston 0.65 quotas.
So that means only three seats are clear (one each for the three parties) with a second Liberal, Hickey, Johnston and an outside chance for a second Green all in play.
This is all based off just seven booths, so there's a long way to go.
7:23pm – Although it's worth noting that the Liberal Party is still over two quotas in both Franklin and Clark. It is Labor who are in the most danger right now of losing a Clark seat.
7:22pm – The picture has changed a lot – it looks like William has been working out some bugs. Overall there is now a small swing to the Liberal Party and the Greens and away from Labor. It looks like there's swings to the Liberal Party in Bass, Braddon and Lyons, but their vote is down substantially in Clark and Franklin. That Franklin swing has mostly gone to the Greens, while in Clark it has mostly flowed to independents.
If the Liberals hold their three seats in the three northern seats, they would still need two seats each in the two southern seats to hold their majority. That seems far from certain.
6:48pm – Tonight I'm going to be primarily watching the raw results via Poll Bludger who has an excellent results tool with all the key information if you're an elections analyst.
6:47pm – We're starting to get some early results. We've got about 2-4% of the vote reported in each electorate. So far we've seen substantial swings away from the Liberal Party in four out of five electorates (all except Braddon). So far Labor has gained substantial swings in three electorates, but have lost some ground in Braddon and lost a lot of votes in Clark. So overall this suggests a swing in Labor's direction, but it's still early days.
6:00pm – Polls have just closed in the Tasmanian state election, along with the Legislative Council elections for the divisions of Derwent and Windermere.
I don't expect to have a lot to report until about 7pm. Until then, take one more chance to check out my election guide.