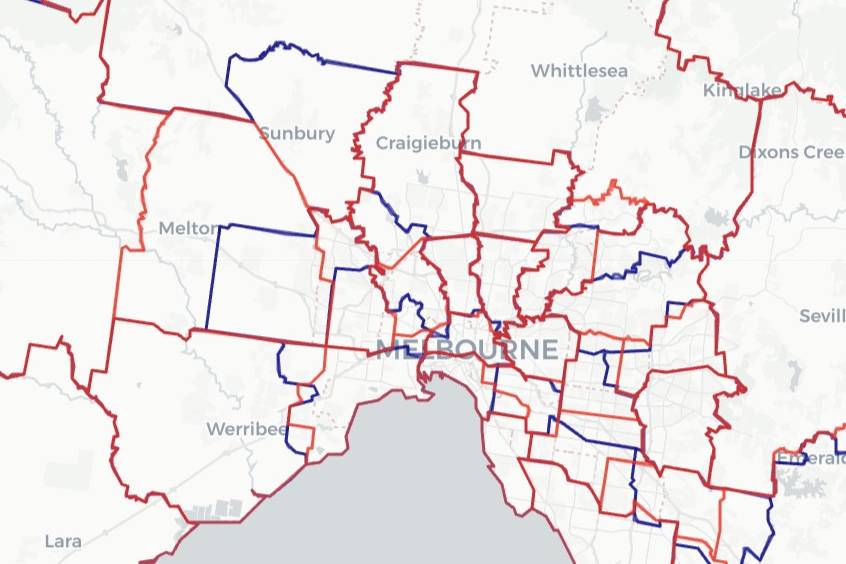 I have finally completed my maps of the draft electoral boundaries for Victoria and Western Australia for the next federal election, three weeks after the boundaries were released.
You can download the Google Earth files from my maps page. This is the fourth set of federal boundaries I've added to the collection for each state, covering every federal election back to 2004 for Victoria and 2001 for Western Australia.
This map shows the old and new boundaries for Victoria – blue for 2022, red for 2019 – and when you hover over an area it shows you the name of the new electorate for that area.
12.6% of electors in Victoria were moved to a new seat (including 2.4% moved into the new seat of Hawke).
Fifteen seats did not gain any extra electors, which a bunch of other seats only experiencing minor changes.
Apart from Hawke, the seats most affected by the redistribution were Gorton (41% of electors are new to the seat), Fraser (40%), Hotham (39%) and Bruce (38%).
While the changes were most dramatic in the north-west of Melbourne, there were some seats in the south and east which were significantly affected, including Chisholm, Menzies and Higgins.
The name "Stirling" has been abolished, but I would argue that Stirling has actually been merged with Cowan. Only about 44% of electors in the new Cowan were already part of the seat, about 43% came from Stirling with the remainder coming from Perth.
A number of other seats in the northern suburbs of Perth have been substantially changed. Just 59% of electors in Pearce were contained in the seat on the old boundaries. The equivalent number is 63% in Hasluck and 76% in Perth.
Changes on the south side were less dramatic. No extra voters were added to Fremantle, and very few were added to Canning and Forrest (which is admittedly not part of the Perth area). Tangney, Burt and Swan contain 80-86% of their previous population.