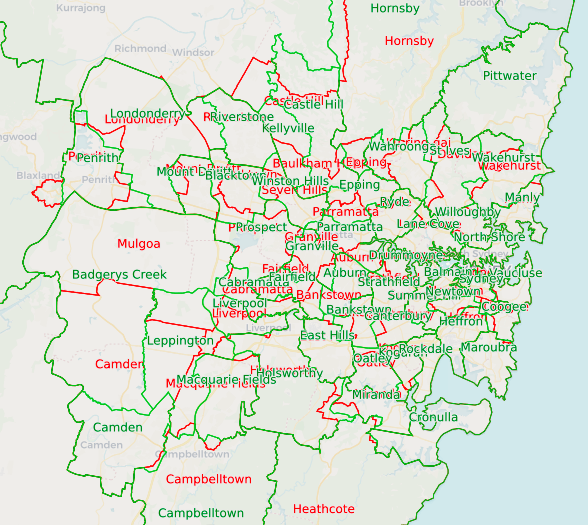 It's taken some time, but I have now finalised my map of the New South Wales draft electoral boundaries for the 2023 and 2027 state elections.
The boundaries were released in early November and I blogged about them at the time, but it's taken me until now to finish my Google Earth map, which has allowed me to produce the interactive map below.
Green lines represent the 2023 boundaries, while red lines represent the 2015-2019 boundaries. You can toggle each layer on and off.
I've published the full list of seat margin estimates below the fold, and you can download the Google Earth map from my maps page.
Most of the changes took place in the Sydney region, with seats outside that area changed less dramatically. The seat of Bankstown was effectively abolished, with the name transferred to the neighbouring seat of Lakemba, so the name "Lakemba" has been retired. This seat was replaced with Leppington in the south-west of Sydney.
About 561,000 enrolled voters, out of a total of 5.3 million, have been shifted into a new seat. That's 10.55% of the total electorate. 32 out of 93 electorates either lost no voters or a tiny number of voters. 27 electorates did not gain voters. 14 seats had no significant change.
I estimate that seven seats changed their name. It's worth mentioning Castle Hill: while the seat has retained its name I believe that Kellyville is a successor to the old seat of Castle Hill and the name Castle Hill is now applied to a seat which has primarily replaced Baulkham Hills. Both seats were dramatically redrawn.
The seats that have changed the most by margin are Auburn and Parramatta. Auburn has become 4.3% better for Labor, thanks to the removal of the suburbs around Sydney Olympic Park and the addition of South Granville. Parramatta then becomes 4.3% worse for its Liberal incumbent Geoff Lee, with the inclusion of those areas around Olympic Park and the loss of the northern end of his seat to Epping. Lee's margin is cut from a comfortable 10.6% to a much tighter 6.3%.
Conveniently the NSW Electoral Commission publishes two-candidate-preferred counts at the booth level for all match-ups in each seat, which means I have to do a lot less guesswork in seats where the Greens made the top two. But there was still four seats which required some estimates.
In Cabramatta and Dubbo, where independents came second in 2019, I simply ignored the extra areas added to each seat. In Sydney, I chose to add in the Greens vs Coalition counts for the areas added from Heffron, Newtown and Port Macquarie as a proxy for Alex Greenwich, which increased his margin by 0.2% compared to what it would look like if I ignored those areas. A substantial part of Newtown around Surry Hills was moved into Sydney and I suspect those voters will be quite supportive of Greenwich, so it was worth trying to factor in that change.
The seat of Murray, won in 2019 by the Shooters, Fishers and Farmers, has gained the former Jerilderie council area from Albury, where the Shooters did not run. I have ignored those voters and thus the margin is unchanged.
I should also note that Antony Green and William Bowe did their own estimates at the time the boundaries were released. Antony covering the most interesting seats and William providing two-party-preferred figures. I don't see much of a change between our models. The biggest change is in Oatley where I give the Liberal Party 0.7% more than Antony, in Heffron and Hawkesbury where I give the Liberal Party 0.7% more than William, and in Cootamundra where I give the Nationals 2.1% less than William. William also gives Labor 1.1% more in the new seat of Leppington.
| | | | |
| --- | --- | --- | --- |
| Electorate | Old boundaries | New boundaries | Incumbent party |
| Albury | 16.0 | 15.9 | LIB vs ALP |
| Auburn | 9.1 | 13.4 | ALP vs LIB |
| Badgerys Creek (Mulgoa) | 11.3 | 9.7 | LIB vs ALP |
| Ballina | 5.4 | 4.9 | GRN vs NAT |
| Balmain | 10.0 | 10.0 | GRN vs ALP |
| Bankstown (abolished) | 13.8 | 0.0 | ALP vs LIB |
| Bankstown (Lakemba) | 22.4 | 20.5 | ALP vs LIB |
| Barwon | 6.6 | 6.6 | SFF vs NAT |
| Bathurst | 17.9 | 17.9 | NAT vs ALP |
| Bega | 6.9 | 6.9 | LIB vs ALP |
| Blacktown | 17.7 | 16.6 | ALP vs LIB |
| Blue Mountains | 14.9 | 13.6 | ALP vs LIB |
| Cabramatta | 12.9 | 12.0 | ALP vs IND |
| Camden | 7.6 | 7.4 | LIB vs ALP |
| Campbelltown | 17.0 | 16.3 | ALP vs LIB |
| Canterbury | 13.0 | 15.6 | ALP vs LIB |
| Castle Hill (Baulkham Hills) | 18.7 | 22.4 | LIB vs ALP |
| Cessnock | 19.3 | 19.8 | ALP vs NAT |
| Charlestown | 12.4 | 13.0 | ALP vs NAT |
| Clarence | 14.5 | 14.5 | NAT vs ALP |
| Coffs Harbour | 10.8 | 10.8 | NAT vs ALP |
| Coogee | 1.6 | 2.1 | ALP vs LIB |
| Cootamundra | 27.1 | 24.5 | NAT vs ALP |
| Cronulla | 19.6 | 19.6 | LIB vs ALP |
| Drummoyne | 15.0 | 13.7 | LIB vs ALP |
| Dubbo | 2.0 | 2.0 | NAT vs IND |
| East Hills | 0.5 | 0.1 | LIB vs ALP |
| Epping | 12.4 | 10.9 | LIB vs ALP |
| Fairfield | 17.9 | 16.6 | ALP vs LIB |
| Gosford | 7.3 | 7.1 | ALP vs LIB |
| Goulburn | 3.5 | 3.1 | LIB vs ALP |
| Granville | 7.6 | 8.8 | ALP vs LIB |
| Hawkesbury | 17.5 | 17.0 | LIB vs ALP |
| Heathcote | 5.0 | 2.1 | ALP vs LIB |
| Heffron | 15.1 | 15.0 | ALP vs LIB |
| Holsworthy | 3.3 | 6.2 | LIB vs ALP |
| Hornsby | 16.3 | 16.8 | LIB vs ALP |
| Keira | 19.7 | 18.3 | ALP vs LIB |
| Kellyville (Castle Hill) | 24.7 | 23.0 | LIB vs ALP |
| Kiama | 12.0 | 12.0 | LIB vs ALP |
| Kogarah | 1.8 | 0.3 | ALP vs LIB |
| Lake Macquarie | 22.1 | 23.4 | IND vs ALP |
| Lane Cove | 14.3 | 14.7 | LIB vs ALP |
| Leppington (New seat) | 0.0 | 1.5 | ALP vs LIB |
| Lismore | 1.3 | 1.8 | ALP vs NAT |
| Liverpool | 16.7 | 17.6 | ALP vs NAT |
| Londonderry | 6.5 | 3.9 | ALP vs LIB |
| Macquarie Fields | 14.8 | 14.8 | ALP vs LIB |
| Maitland | 13.2 | 14.7 | ALP vs LIB |
| Manly | 12.9 | 13.1 | LIB vs GRN |
| Maroubra | 8.5 | 8.4 | ALP vs LIB |
| Miranda | 14.6 | 14.2 | LIB vs ALP |
| Monaro | 11.6 | 11.6 | NAT vs ALP |
| Mount Druitt | 16.4 | 18.2 | ALP vs LIB |
| Murray | 3.5 | 3.5 | SFF vs NAT |
| Myall Lakes | 9.2 | 9.2 | NAT vs ALP |
| Newcastle | 17.7 | 17.6 | ALP vs LIB |
| Newtown | 13.8 | 11.5 | GRN vs ALP |
| North Shore | 11.1 | 11.1 | LIB vs IND |
| Northern Tablelands | 32.8 | 33.3 | NAT vs ALP |
| Oatley | 10.5 | 7.4 | LIB vs ALP |
| Orange | 15.2 | 15.2 | SFF vs NAT |
| Oxley | 14.9 | 15.4 | NAT vs ALP |
| Parramatta | 10.6 | 6.3 | LIB vs ALP |
| Penrith | 1.3 | 0.8 | LIB vs ALP |
| Pittwater | 22.4 | 22.4 | LIB vs ALP |
| Port Macquarie | 20.3 | 20.1 | NAT vs ALP |
| Port Stephens | 5.8 | 5.8 | ALP vs LIB |
| Prospect | 10.7 | 8.8 | ALP vs LIB |
| Riverstone | 6.3 | 6.2 | LIB vs ALP |
| Rockdale | 9.5 | 10.0 | ALP vs LIB |
| Ryde | 9.0 | 9.0 | LIB vs ALP |
| Shellharbour | 18.3 | 18.6 | ALP vs LIB |
| South Coast | 10.6 | 10.6 | LIB vs ALP |
| St Ives (Davidson) | 25.5 | 24.7 | LIB vs ALP |
| Strathfield | 5.0 | 5.3 | ALP vs LIB |
| Summer Hill | 16.5 | 17.1 | ALP vs GRN |
| Swansea | 10.6 | 10.6 | ALP vs LIB |
| Sydney | 11.8 | 13.4 | IND vs LIB |
| Tamworth | 29.5 | 27.9 | NAT vs ALP |
| Terrigal | 12.3 | 12.3 | LIB vs ALP |
| The Entrance | 5.2 | 5.3 | ALP vs LIB |
| Tweed | 5.0 | 5.0 | NAT vs ALP |
| Upper Hunter | 2.6 | 0.6 | ALP vs NAT |
| Vaucluse | 19.3 | 19.7 | LIB vs GRN |
| Wagga Wagga | 15.5 | 15.5 | IND vs NAT |
| Wahroonga (Ku-ring-gai) | 20.5 | 19.1 | LIB vs ALP |
| Wakehurst | 21.0 | 21.8 | LIB vs ALP |
| Wallsend | 25.4 | 25.9 | ALP vs LIB |
| Willoughby | 21.0 | 20.7 | LIB vs ALP |
| Winston Hills (Seven Hills) | 6.4 | 5.4 | LIB vs ALP |
| Wollondilly | 13.8 | 14.2 | LIB vs ALP |
| Wollongong | 21.4 | 22.4 | ALP vs LIB |
| Wyong | 12.4 | 12.8 | ALP vs LIB |