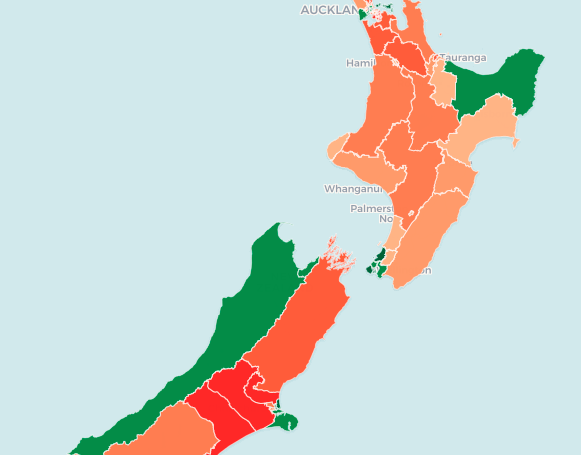 The results of the New Zealand election were finalised yesterday, with the reporting of the special votes.
The final result saw the National Party lose two seats, with Labour gaining a 65th seat, and the Māori Party gaining a second seat.
But today I'm more interested in the results of the referendums held alongside the election.
The first referendum, on voluntary euthanasia, was very decisive, but the second referendum on legalising cannabis, was very close.
The ordinary vote count gave 46.4% of the vote to the "yes" case, but the special votes broke strongly in favour of "yes", winning 60.3%. This led to a final figure of 48.8% for "yes" and 51.2% for "no".
This sort of split leads to an interesting map when show the results by electorate, which I've done below.
There's a weird quirk in the vote counts. Ordinary votes are listed based on which general electorate the vote was cast in, including votes cast in Māori electorates. Votes cast as special votes are instead grouped by the electorate the person is enrolled in, with Māori electorates listed separately. I have combined these totals ignoring the Māori electorate special votes, which is not perfect but gives you a sense of the geographic trends.
Most rural electorates voted "no", although there were "yes" wins in Northland and Whangarei in the north, West Coast-Tasman in the south, and East Coast in the east.
The "yes" case did much better in the cities. Yes won in five out of six seats in Wellington, including 67% in Rongotai and over 70% in Wellington Central. Three of five seats in Christchurch voted yes, although the margins did not get to the levels seen in Wellington. There was also a solid yes win in Dunedin and a narrow yes win in Nelson.
The "yes" case did not do so well in Auckland. It did very well in the inner city seats of Auckland Central and Jacinda Ardern's electorate of Mount Albert, but "no" won a majority of seats, including some reasonably big margins in the south-east of the city.