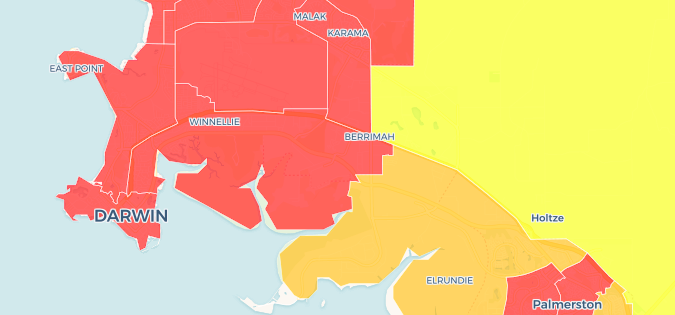 We expected election day to be a smaller factor in the Northern Territory election, and now we have the data to back it up.
Most, if not all, votes from election day have now been counted, along with most pre-poll votes. We are still waiting for straggling postal votes to be reported, but most seats have counted most of the postal votes which had arrived by last Friday (although weirdly no postal votes have been counted for Mulka).
This means we have some sense of how the turnout has compared to 2016 and 2012 overall, and in the vote categories.
At the moment the turnout sits at 69.9% of enrolment. This compares to 74% in 2016 and 76.9% in 2012. It seems unlikely that turnout will reach 74% – this would require almost 5800 votes to be admitted to the count.
At the moment, we appear to have most results for ordinary, absent and pre-poll votes although it's possible some votes are missing. The results are made a bit messy as there were no "ordinary" votes on the day in four remote seats (Arafura, Barkly, Gwoja and Mulka) even though some of the mobile votes may have been cast on election day. For our purposes I am treating mobile votes as "cast before the day" nonetheless.
10,242 postal votes were issued. The NTEC published data the day before the election about how many votes were 'admitted', which in most seats is a slightly larger number than the number of postals counted so far. 3,816 postal votes have been counted so far, compared to 3,953 'admitted' by the day before the election.
No postal votes have been counted in Mulka, and less than 80% of those admitted in Arafura, Arnhem and Barkly. 85% of those admitted have been counted in Katherine. Over 95% of those admitted have been counted in every other seat.
So I expect some more postal votes are sitting around to be counted, and more will arrive over the coming week or so, but it won't be that many. Certainly we won't get another 6000-odd postals, which we'd need to exceed the 2016 turnout.
Still, despite the numbers being incomplete, we can look at the total vote as a proportion of enrolment and see how big the shift has been over the last eight years.
| | | | | | | |
| --- | --- | --- | --- | --- | --- | --- |
| Election | Ordinary | Pre-poll | Absent | Mobile | Postal | Other |
| 2012 | 47.3% | 10.7% | 8.9% | 6.7% | 2.7% | 0.6% |
| 2016 | 28.1% | 26.8% | 7.8% | 7.8% | 3.2% | 0.3% |
| 2020 | 12.7% | 39.9% | 7.2% | 7.4% | 2.7% | 0.0% |
Less than one in five NT voters cast a vote on election day.
I was a bit surprised to see the numbers of mobile and postal votes drop – although another 700 postal votes would bring the number up to the 2016 level.
About 50% of voters in the NT cast a vote before election day, which amounts to over 71% of those whose votes have been counted so far.
We'll see how the rest of the vote plays out as counting finishes, in particular to see how big the postal vote gets.