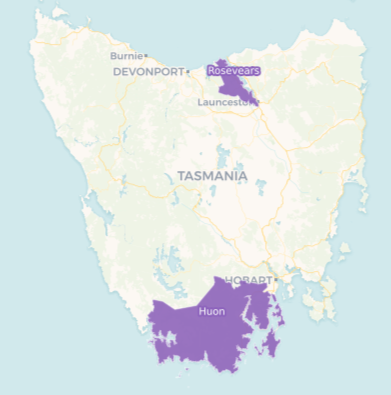 The next election in Australia will be taking place two weeks from tomorrow. It is the most peculiar of Australia's regular elections: the Tasmanian upper house election.
Tasmania's upper house consists of fifteen members, each representing a separate electorate. It's the only upper house elected by single-member electorates. But it is peculiar because of its election timing. Two or three seats are put up for election every year, with the whole chamber refreshing over a six-year cycle.
This year the two seats are Huon and Rosevears. Both are seats which contain a small part of an urban area and a larger rural heartland. Huon covers the south-western corner of the state, including the Huon Valley, Bruny Island and the southern edge of Hobart. Rosevears covers a small part of Launceston and moves up the West Tamar area to the north-west of Launceston.
These elections were originally scheduled for May 2 but were delayed to August 1 due to the COVID-19 pandemic.
Huon is held by right-wing independent Robert Armstrong, who won the seat in 2014 after his predecessor Paul Harriss resigned early to run successfully as a Liberal candidate in the overlapping lower house electorate. Armstrong is running again, and is being challenged by both the Greens and Labor.
Rosevears is held by centre-left independent Kerry Finch, who has held the seat for three terms. Finch is retiring, and the seat is being contested by all three big parties along with a number of independents.
I have written guides for both seats. You can also see the location of each seat within Tasmania on the following map.
These races are usually hyper-local and difficult for those of us outside the area to cover, so if you have insights please jump into the comments of each seat guide and share your knowledge.
If you're interested in knowing more, Tasmanian psepho-blogger Kevin Bonham has also written his own detailed guides to both contests: Huon and Rosevears.