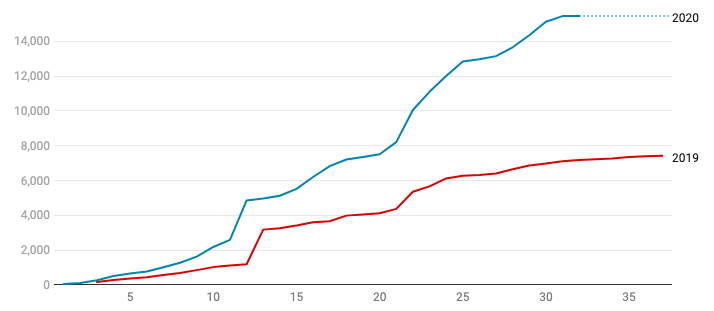 We've entered the last week of early voting before this Saturday's by-election in the south-east NSW seat of Eden-Monaro. We have quite a bit of data about who is casting an early vote, and it tells us that there has been a big increase in postal votes, but it looks like the increase in pre-poll votes will only be slight.
The AEC publishes daily statistics on the number of postal vote applications received per day (not the number of actual postal votes which have been returned: many of these votes won't arrive until after the election, and voters are not obliged to use a postal vote after making an application). They also publish statistics on the number of votes cast at each pre-poll centre per day. These statistics cover up to the end of Friday 25 June.
By this point in the 2019 election, most postal vote applications (PVAs) had been received, and so far in this by-election more than twice as many PVAs have been received.
15,448 PVAs have been received in 2020, compared to 7181 at this point in 2019, and a final total of 7428. A total of 5969 postal votes were actually cast in Eden-Monaro in 2019.
If the current trajectory continues, you'd expect about 500 more PVAs to be received by Wednesday.
The AEC also breaks down the PVA data by how the application was received. Political parties are permitted to conduct their own postal vote campaigns and receive forms to their campaigns. They then pass on those forms to the AEC. They are able to then communicate directly with those postal voters who made an application through their campaign.
In 2019, just over 1800 PVAs came from the Liberal Party, compared to just 41 from the ALP. In 2020, the Liberal Party has submitted over 2666 PVAs, but Labor has submitted 4168. This suggests a big change in Labor strategy, possibly due to the seat being a pivotal by-election, but also likely as a response to COVID-19 and a greater demand for postal votes. This may mean more Labor voters will be casting postal votes, but it also may simply mean that Labor will have a much better sense of who is using postal voting and can campaign directly to them in the dying days.
There is a less dramatic but still interesting story in the pre-poll data. It's worth noting that the pre-poll data does not tell us which electorate someone is entitled to vote in: it just tells us which centre they voted at. Some voters at Eden-Monaro pre-poll centres would be enrolled elsewhere, and some Eden-Monaro voters would have cast a pre-poll vote elsewhere. That isn't a factor in the by-election.
Overall, 41,355 pre-poll votes were cast within Eden-Monaro in 2019, and 37,808 of those votes were for Eden-Monaro. Once you factor in absentee pre-poll votes, the total pre-poll vote in 2019 was 44,015.
There was much greater opportunity to vote pre-poll in the first week of voting in 2020 than there was in 2019. In 2019, you could only vote in week one at Queanbeyan. There was no voting in Tumut, Yass, Bega, Cooma, Merimbula, Narooma or Jindabyne. In 2020, Bega and Jerrabombera (a new Queanbeyan-era booth) were open from day one, and nearly every pre-poll booth opened on Thursday. Only Yass and Jindabyne waited for week two.
You can see how the availability of voting options affected the day-by-day vote count.
The pre-poll vote in 2020 jumped significantly on day 4 (Thursday of week one) when most pre-poll centres opened. 2019 had an even bigger spike on day 6 (Monday of week two). Ever since Tuesday of week two, the two numbers have moved together very closely.
This means that the 2020 pre-poll total has remained consistently about 3,000 votes ahead of the 2019 total for most of week two. But you need to bear in mind that 3,000 more votes were cast in pre-poll votes in 2019 than were included in the day-by-day count.

So at the moment it seems most likely that the pre-poll vote will end up in roughly the same place as 2019. The lack of absent pre-poll votes will likely cancel out the spike in in-area pre-poll votes in the first week of voting.
Finally, let's take this information and factor in the breakdown of the total vote by category from the 2019 election:
| | | |
| --- | --- | --- |
| Candidate | Votes | % |
| Ordinary | 53,876 | 50.6 |
| Pre-poll | 44,015 | 41.3 |
| Postal | 5,969 | 5.6 |
| Absent | 1,983 | 1.9 |
| Hospital | 457 | 0.4 |
| Provisional | 205 | 0.2 |
Eden-Monaro was already one of the seats with the largest proportion of votes cast at pre-poll in 2019, so even without an increase in pre-poll voting it will still make up a very large part of the total.
Absent votes won't be cast at a by-election. At the moment it looks like pre-poll will be about the same share, while postal votes may end up being around twice as big (say 11% of the total).
If pre-poll holds on to 41% of the vote and postal voting jumps to 11%, that would mean a majority of votes would be cast before election day.
That's all for now. I will keep an eye on these numbers and will post an update later in the week. We may well see a big spike in pre-poll voting above the 2019 numbers.
Finally, you can also read Antony Green's blog post about these statistics.