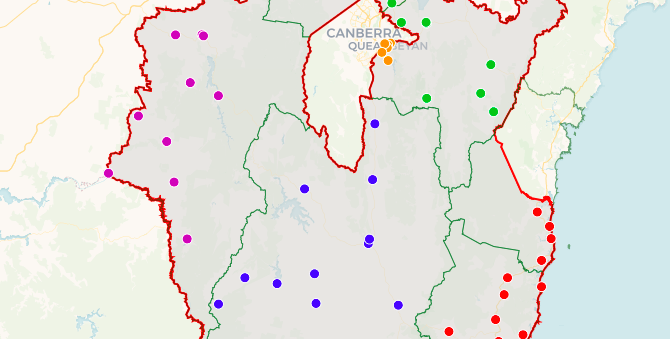 The triggering of a federal by-election yesterday for the seat of Eden-Monaro will be a test for the major parties, but also will likely be the first test of how our voting will be affected after the peak of the Covid-19 pandemic in Australia.
Read my guide to the Eden-Monaro by-election.
Australia has been lucky to have the pandemic hit during a relatively quiet period for elections. It did coincide with council elections and state by-elections in Queensland, and it forced the delay of Tasmanian upper house elections originally scheduled for tomorrow. But apart from these there are no more elections scheduled until a rush of elections from August to October, which includes one state election and two territory elections.
It's not clear how quickly the by-election will be held – the government has some discretion to delay – but when it is eventually held it seems likely that some things will change compared to past elections. We saw a massive surge in postal and pre-poll voting at the Queensland council elections. Eden-Monaro already had a high rate of pre-poll voting, with over 41% of all votes cast via pre-poll in 2019.
I will return to the theme of how Covid-19 may affect how we vote in a future post, but it is also worth pointing out that there isn't actually much evidence of the disease in the community at the moment, and particularly in the council areas which make up Eden-Monaro.
This handy chart by Nick Casmirri organises NSW local government areas by region and colour-codes them by the recency of Covid-19 cases.
Several improvements with today's NSW LGA chart update (data up to 29/4)

Green = no cases since 8/4
Blue = no cases since 15/4
Yellow = cases reported since 15/4
Red = 'contact not identified' or 'under investigation' cases since 15/4 pic.twitter.com/F4xePkOafT

— Nick Casmirri (@ncasmirri) April 30, 2020
There have been no cases in the last three weeks throughout the Snowy Monaro, Snowy Valleys and Yass Valley council areas which make up the western end of the council. No cases have been reported for two weeks in Bega Valley. There have been more recent cases in the Queanbeyan area but even those are not of an unknown origin.
So unless we see a second wave of cases, it seems likely that there won't actually be an immediate health crisis coinciding with a by-election, but I would still expect changes in how voters and campaigns behave out of an abundance of caution.
In addition to being a moment in the Covid-19 story, this by-election is a critical moment in federal politics.
You would have seen a lot of people talk about how no government has won a by-election from an opposition since 1920, but I don't think that statistic really tells us much.
There just haven't been that many by-elections overall, and they tend to be in relatively safe seats. Most by-elections are caused by the sitting member choosing to retire, and that doesn't tend to happen in marginal seats.
Let's look at the by-elections held over the terms of the current government and the last Labor government.
Labor faced five by-elections in Coalition seats in its first term in government. All were held by senior Howard government ministers and all took place in the first year of the government. They tended to be safe seats, with the most marginal being Gippsland, which was held by the Nationals by a margin of 5.9%. Labor contested Gippsland, suffered a negative swing, then sat out the other four. No by-elections were held for the remaining five years of the government, with MPs particularly avoiding resignations during the tight hung parliament after the 2010 election.
Three by-elections were held during the first term of the Coalition government, one of which was in the Labor-held seat of Griffith. There was a swing of 1.25% away from Labor with the departure of longstanding local member Kevin Rudd, leaving Labor with a 1.8% margin. The by-elections held in the last term were mostly held due to section 44 citizenship problems, which makes them quite different.
So in the last thirteen years we only have one case of a marginal opposition-held electorate being contested by the government, in Griffith, and in that case there was a swing to the government, one that would be big enough to win Eden-Monaro. It's just not enough of a sample to say "this is a thing that doesn't happen".
As to Eden-Monaro: it's obvious that Mike Kelly had a strong personal vote. It doesn't seem worth the trouble to try and quantify it, but something in the area of 5% seems plausible. Remember that he only held Eden-Monaro by less than 1% in 2019.
So this seat really could go either way, and it would be silly to call this by-election one way or the other.
It's worth noting that this is quite possibly the single electorate hit hardest by last summer's bushfires. The south coast was hit hard, but so was the Snowy Mountains and areas to the west including Tumut. The electorate also includes the towns of Queanbeyan and Yass which surround Canberra. They were not directly threatened by fires, but Canberra experienced worse and longer-lasting bushfire smoke than any other major city. We could well see big shifts thanks to voters judging the performance of Scott Morrison during those fires.
This will also be the first political test for the federal government since the onset of the Covid-19 pandemic, so this could also play out in either direction.
Finally I should note that the choice of candidate for the Coalition parties could have a big impact. This electorate covers the state electorates of Monaro and Bega, which are held respectively by the Nationals leader (and deputy premier) and the deputy Liberal leader, arguably the two most important figures in the state government outside of Gladys Berejiklian.
It seems unlikely that Andrew Constance will run, but Monaro MP John Barilaro appears to be seriously considering a run. The Nationals came a distant fourth in Eden-Monaro in 2019, and have never held the electorate at a federal level, but that could change if such a prominent figure were to run.
If Barilaro runs (win or lose) that will trigger a state by-election in his state seat, which looked very marginal before a 9% swing to him at the 2019 state election.