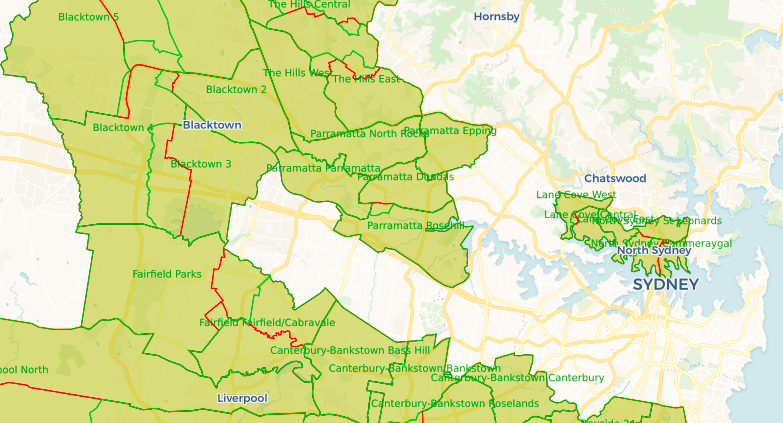 I've previously posted about the new boundaries for wards in 18 NSW councils.
I have now finished redistributing the vote totals between wards in these councils – or at least those where partisan elections were conducted.
In this post I will run through which councils are included in the analysis and examples of wards with large changes (whereas some have experienced only very minor changed), and then post a table with all ward changes.
I have excluded Dungog, Greater Hume and North Sydney since no party members ran in these three councils. In the case of Wollondilly, Labor ran in one ward but no-one ran anywhere else, so I have not bothered to include it in the table.
Many of these changes were slight and thus produced slight changes. There were tiny changes between the Bankstown and Roselands wards of Canterbury-Bankstown and it produced very small vote changes. Likewise a small population moved from Rosehill to Dundas wards of Parramatta and produced a miniscule vote change. In both cases the three remaining wards were unchanged.
Two wards were radically redrawn in Bayside council. Labor previously had about 40% in both wards, and failed to win a second seat in either. They now have a 5% gap between ward 3 and ward 4, which might help them win a second seat in ward 3 without threatening their one seat in ward 4.
Every ward in Blacktown was changed significantly, but in most cases it didn't have a big impact. Labor won two out of three seats in every ward in 2016. They have been hit hardest by the redistribution in wards 4 and 5, where their vote was highest and thus they have the least danger of losing a seat. This flowed through to a boost in wards 2 and 3.
It's surprising how little change there was in Camden considering what a large piece of North ward was removed. I suspect estimating margins based on 2016 votes is not particularly relevant in the North ward due to the tremendous population growth, which I'll return to in another post.
The transfer of voters from the South ward of Liverpool council to the North ward has moved the Labor vote closer together, which likely makes it harder for Labor to win a third seat on the North ward.
Labor has gained a slight boost in ward 1 of Newcastle council which could aid an effort to pick up a second seat there, although they are still some way off.
Fairfield has replaced their three old four-member wards with two new six-member wards. There is a large gap between a vote in excess of 50% in the Fairfield/Cabravale ward (which could bring them close to winning a fourth seat there) while they are on 37% in the Parks ward, which is about 5% off winning a third seat.
Shellharbour was broken up from a single at-large election of seven councillors to four wards of two councillors each. The vote is split reasonably evenly, with Labor polling over the quota of 33.3% in two wards and very close to a quota in the other two wards. The Liberal vote is highest at 22% in the south and west wards, which could be enough to win two seats, or no seats, depending on the distribution of the 'other' vote, which elected three councillors in 2017.
Ward
ALP old
LIB old
GRN old
Others old
ALP new
LIB new
GRN new
Others new
Bayside 1
64.0
23.8
0.0
12.2
No change
Bayside 2
47.7
29.1
20.5
2.7
No change
Bayside 3
39.7
25.6
13.3
21.3
42.3
24.8
10.1
22.8
Bayside 4
40.0
25.2
0.0
34.8
37.5
26.0
3.7
32.8
Bayside 5
38.5
32.8
0.0
28.7
No change
Blacktown 1
43.0
39.6
0.0
17.5
42.9
39.8
0.0
17.3
Blacktown 2
45.9
26.8
9.4
17.9
46.2
26.8
9.2
17.8
Blacktown 3
49.2
21.9
7.5
21.4
50.1
21.8
7.2
20.8
Blacktown 4
62.9
23.9
1.0
12.3
61.5
24.6
1.4
12.5
Blacktown 5
59.5
19.1
8.3
13.1
58.5
20.3
7.6
13.7
Camden Central
23.7
22.9
0.0
53.4
24.3
28.2
0.0
47.5
Camden North
28.4
50.5
0.0
21.0
28.9
50.3
0.0
20.8
Camden South
22.5
21.7
0.0
55.8
22.6
22.1
0.0
55.3
Ctby-Bkstwn Bankstown
54.9
37.6
0.0
7.5
55.2
37.3
0.0
7.5
Ctby-Bkstwn Bass Hill
54.8
28.3
0.0
17.0
No change
Ctby-Bkstwn Canterbury
36.8
23.3
19.5
20.3
No change
Ctby-Bkstwn Revesby
38.6
30.5
9.0
21.9
No change
Ctby-Bkstwn Roselands
55.1
28.1
12.5
4.3
54.9
28.7
12.1
4.4
Fairfield Cabravale
64.7
16.2
7.4
11.7
Ward merged
Fairfield Fairfield
44.3
17.9
6.9
31.0
Ward merged
Ffld Fairfield/Cabravale
New ward
54.5
16.5
7.0
22.0
Fairfield Parks
34.8
20.4
4.4
40.4
37.2
20.2
5.2
37.5
Lane Cove Central
14.5
40.7
0.0
44.8
15.5
41.0
0.0
43.6
Lane Cove East
0.0
36.3
0.0
63.7
No change
Lane Cove West
26.8
39.2
0.0
34.0
27.2
38.8
0.0
34.1
Liverpool North
45.1
31.1
6.0
17.9
44.2
32.0
6.0
17.9
Liverpool South
36.7
39.3
5.4
18.7
37.2
38.7
5.4
18.8
Newcastle 1
35.1
14.6
21.6
28.7
36.0
14.1
21.3
28.7
Newcastle 2
34.0
22.7
17.2
26.1
33.3
22.7
17.4
26.6
Newcastle 3
44.6
16.0
15.0
24.5
44.9
15.4
15.0
24.7
Newcastle 4
47.3
13.0
10.3
29.4
47.5
13.0
10.1
29.4
Parramatta Dundas
31.6
35.0
0.0
33.4
31.9
34.8
1.0
32.3
Parramatta Epping
23.5
32.7
12.0
31.8
No change
Parramatta North Rocks
37.8
48.2
0.0
14.0
No change
Parramatta Parramatta
30.0
32.1
13.3
24.6
No change
Parramatta Rosehill
33.7
33.3
12.0
21.0
33.6
33.4
11.7
21.4
Port Stephens Central
14.9
0.0
0.0
85.2
16.1
0.0
0.0
83.9
Port Stephens East
7.9
0.0
0.0
92.1
No change
Port Stephens West
28.6
0.0
0.0
71.4
28.2
0.0
0.0
71.8
Shellharbour at-large
32.8
18.0
0.0
49.3
New wards created
Shellharbour East
New ward
31.6
14.4
0.0
54.0
Shellharbour North
New ward
34.8
12.9
0.0
52.4
Shellharbour South
New ward
33.2
22.0
0.0
44.8
Shellharbour West
New ward
31.5
22.4
0.0
46.1
Shoalhaven 1
15.9
0.0
23.7
60.4
14.0
0.0
23.4
62.7
Shoalhaven 2
0.0
0.0
21.5
78.5
2.6
0.0
21.3
76.2
Shoalhaven 3
17.2
0.0
18.1
64.7
16.5
0.0
18.3
65.2
The Hills Central
22.0
58.8
0.0
19.1
22.1
61.7
0.0
16.3
The Hills East
20.3
57.9
11.1
10.7
20.7
57.0
9.8
12.5
The Hills North
19.8
69.9
0.0
10.3
19.2
70.2
0.0
10.6
The Hills West
31.4
62.2
0.0
6.4
No change
Wollongong 1
38.9
25.7
22.3
13.2
38.9
25.7
22.3
13.2
Wollongong 2
34.7
33.0
19.4
12.9
34.5
32.9
19.6
12.9
Wollongong 3
50.0
17.5
9.0
23.5
49.4
18.3
9.3
23.0