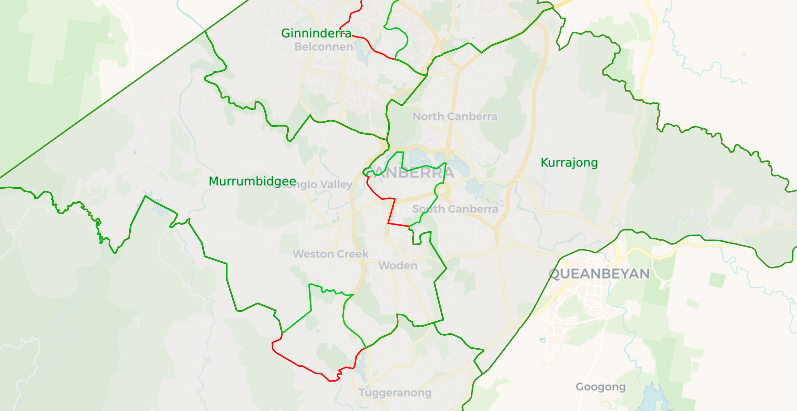 Along with the Northern Territory, Western Australia and Brisbane City Council, the ACT has also been redrawing its electoral boundaries for the local Legislative Assembly, with the boundaries finalised in July.
In this post I'll share a map showing the changes to the electoral boundaries, along with my estimates of the vote percentages for the bigger parties in each electorate before and after the redistribution.
I was close to publishing the draft electoral boundaries and finalising my vote estimates back in early June right before I went on parental leave, but while I was away from the site Elections ACT announced that the final map would not feature any changes compared to the draft map, so that work can apply to the final version.
All five electorates were modified, with two seats gaining territory, two losing territory, and the seat of Murrumbidgee gaining and losing territory.
The Belconnen-area electorate of Ginninderra took in some territory from the Gungahlin-area electorate of Yerrabi, but these two seats did not exchange any territory with the remainder of the electorates.
The other three electorates all effectively shifted slightly north. The Tuggeranong-area electorate of Brindabella expanded north to take in half of the suburb of Kambah from Murrumbidgee. Murrumbidgee then shifted north to take in Yarralumla and Deakin from the central electorate of Kurrajong. This brings Murrumbidgee right up to Capital Hill and Lake Burley Griffin.
My redistribution vote estimates are my first test of a new formula I've used for distributing special votes in a way which reflects the different voting trends in different parts of an electorate. I might go into more detail about how this works down the track.
Labor received a boost in three out of five electorates, doing particularly well by picking up almost 1.4% in Kurrajong.
The Greens boosted their support in both of their current electorates but experienced little change in Ginninderra, their best prospect for winning another seat.
The Liberals did particularly well in Murrumbidgee, while they were knocked back badly in Kurrajong.
Pre-redistribution
Post-redistribution
Electorate
Labor
Liberal
Greens
Labor
Liberal
Greens
Brindabella
34.06
41.50
5.39
34.23
41.33
5.39
Ginninderra
41.24
32.22
9.77
41.08
32.59
9.71
Kurrajong
38.48
30.99
18.76
39.85
28.82
19.76
Murrumbidgee
34.49
42.80
10.64
32.99
44.53
10.73
Yerrabi
43.92
35.83
7.09
44.55
35.64
6.76
You can download the Google Earth map file for the 2020 boundaries from my maps page, along with every ACT Legislative Assembly map dating back to the first electorates in 1995.