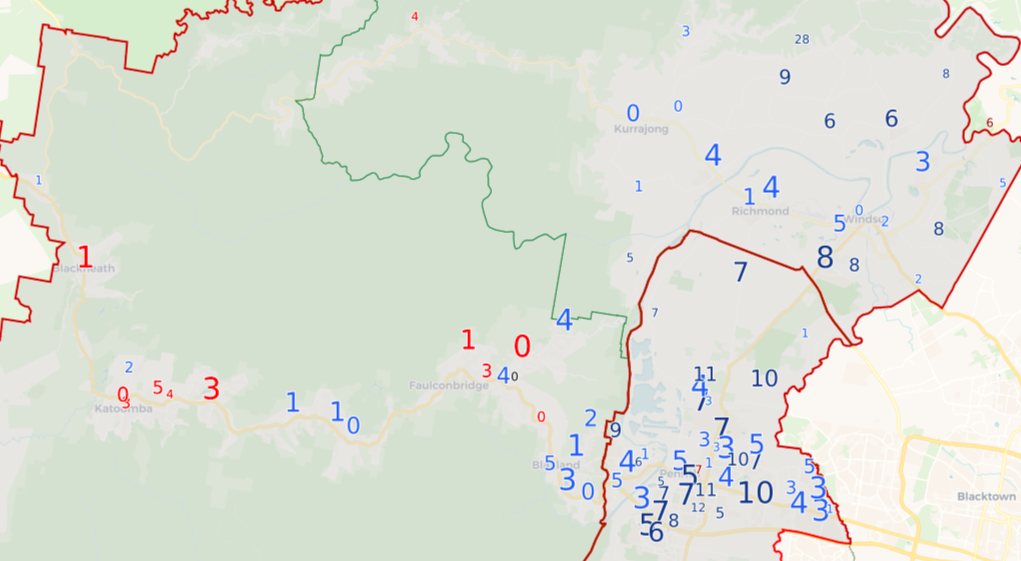 I'm writing this post on Tuesday evening. Earlier today Labor MP Susan Templeman narrowly pulled ahead in the seat of Macquarie by just 27 votes. Who knows who will be leading when this post goes up on Thursday morning.
I've always found Macquarie to be a fascinating electorate, because it has long been marginal despite the constituent parts of the electorate not being particularly marginal in themselves.
The electorate covers the Blue Mountains and Hawkesbury council areas on the western and north-western fringe of Sydney. About 55% of election-day votes cast in this electorate in 2016 were cast in the mountains.
I divided this electorate into three areas in my pre-election guide, with the Blue Mountains split between lower mountains and upper mountains. I had the Labor two-party-preferred vote at 68.8% in the upper mountains, 57.4% in the lower mountains and just 41.1% in the Hawkesbury area.
I have produced a map showing the two-party-preferred vote in this electorate, as well as neighbouring Lindsay, below the fold.
The electorate of Lindsay recorded a 6.5% swing to the Liberal Party following the removal of local member Emma Husar, and is an interesting comparison to Labor's results in the Blue Mountains.
You can toggle this map to show the swings at the two-party-preferred level, rather than the totals. In some ways that's a more interesting map.
The upper mountains are quite distinct from western Sydney and in some ways are similar to more Greens-friendly educated communities on the NSW north coast or in the inner city, while the lower mountains more resemble the western suburbs. Hawkesbury is a Liberal-voting area, but more like Liberal-voting enclaves in Western Sydney such as the Hills district than the Liberal heartland of the North Shore.
The trend in Macquarie reflects what we've seen in a lot of places. Labor gained small swings in most of the upper mountains, while the Liberals gained small swings in the lower mountains and some large swings in parts of the Hawkesbury region.
It's interesting to compare these swings to those in Lindsay, which saw bigger swings than in the lower mountains. I tend to think that is evidence that there was something specific about Lindsay which led to such a large swing, but I admit to not having done the deeper analysis to justify such a claim.
The count in Macquarie will likely end up in a recount, and whoever wins it's bound to be a close seat at the next election, and will continue to be as long as the Labor-voting mountains and the Liberal-voting Hawkesbury are joined together.