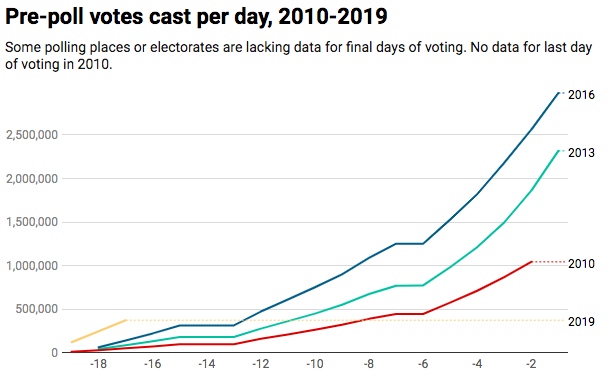 One of the developing stories this week has been the continuing increase in pre-poll voting at this year's election. The AEC publishes daily updates with the number of votes cast at each pre-poll centre per day, allowing us to track how many people are choosing to vote early. In this post I'll run through what the stats look like after three days of voting (data up to date as of the end of voting Wednesday).
As of the end of voting on Wednesday, 375,793 voters had cast a ballot using pre-poll. The equivalent figure was only 143,611 in 2016, 89,761 in 2013 and 53,474 in 2010, although I should note that voting started on a Tuesday at the last two elections, so I'm comparing three days of voting to just two.
This chart shows the cumulative number of pre-poll votes cast per day at each election. You can see that the same number of voters hadn't cast their vote for five more days in 2016, seven more days in 2013, or nine more days in 2010.
It's worth noting that this data isn't perfect. Some booths are missing data for the final days of the campaign, although it appears the early days are more complete. The total number of votes doesn't quite add up to how many pre-poll votes were cast. For example, in 2016 the daily counts add up to 107,000 less than the actual total. But the trend overall gets close to the final result, and the early days seem more complete.
If you compare the total pre-poll vote so far to the first three days of voting, there have been 67% more votes cast. If you compare to the votes cast by the first Wednesday of voting, there have been 162% more votes cast.
Just over 3 million pre-poll votes were cast in 2016, out of a total of 13.5 million votes, which was 22.8% of the total. If the current increase stays at 67%, you'd expect five million votes to be cast via pre-poll, which could be over one third of the national total.
The other point of interest is the breakdown of the vote by seat. Some seats naturallywill have more pre-poll votes than others for reasons that have nothing to do with the outcome – different geography and demography, as well as convenient placement of pre-poll booths, can have an impact. I don't know whether seats with a big spike in pre-poll votes compared to the last election may be places where you'd expect something exceptional to happen on election day, but I thought they'd at least be interesting to examine.
Bear in mind that I have not been able to adjust for redistributions, and in some seats there is obviously a big impact caused by the addition of a new convenient polling place. There are 7 seats where less votes have been cast over the first three days of voting. One of these, Fenner, is down 1.3% despite losing about a third of its population in a redistribution. The other six are Parramatta, Parkes, Solomon, Melbourne, Maranoa and New England. The latter has only recorded 63% of the 2016 vote.
The following are the ten seats with the biggest increase in the pre-poll vote over the first three days:
Braddon – 309%
Lyons – 270%
Mayo – 241%
Flinders – 231%
Cowper – 206%
Hume – 199%
Dunkley – 191%
Swan – 183%
Flynn – 178%
Boothby – 176%
Almost every seat on this list either a conventional marginal seat or a seat with a strong independent challenge (Flinders and Cowper). Only in Hume is the incumbent considered relatively safe.
The trend towards more pre-poll voting has been continuing not just in Australia but in similar countries for well over a decade. It has increased at a faster pace in some jurisdictions where the electoral commission is more open to early voting (Victoria rather than New South Wales).
I'm personally not that concerned about the increase in pre-poll voting, even if it does make it harder to do some of the analysis I specialise in. In the end I don't think the decision-point for the population needs to be concentrated on one day rather than a few weeks, and the majority of people make up their minds well in advance. While it is difficult for smaller parties and independents to staff the pre-poll booths, I'm not sure that's a good reason to reduce the availability of the ballot.
Having said that, I think it would make sense to reduce pre-poll down to two weeks, which is the case for most (possibly all?) state elections. This was recommended by the Joint Standing Committee on Electoral Matters after the last election.
I'll keep watching the pre-poll data over the next week and may report back on how it is tracking, and it's sure to come up in one of my upcoming podcast episodes.