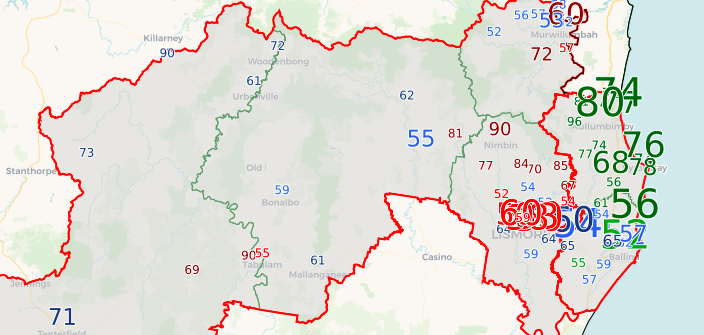 Lismore has turned out to be one of Labor's only gains at the recent state election. Labor outpolled the Greens on primary votes by 1.42%, which is expected to be enough to hold on after preferences, producing a two-party-preferred outcome of 51.5%.
The neighbouring seat of Ballina was also interesting, although it didn't end up being close. Greens MP Tamara Smith increased her margin to 5%, thanks to a 1.8% swing.
I thought I would bring these two together on a map. The primary layer of the map shows the two-candidate-preferred vote in each seat (Labor in red, Greens in green, Nationals in blue). You can toggle to see the swings.
Firstly in Lismore, Labor's win was entirely based on the Lismore council area, winning a majority in every booth in the Lismore urban centre, but not by a huge amount. This city makes up a majority of the seat's population, so it's not surprising it would look like this. The Nationals won a scattering of rural booths across the electorate, but there would be a quite a lot of Nationals voters in those light-red Lismore-area booths.
Tamara Smith in Ballina gained ground across the seat, but gained the most ground in the towns of Ballina and Brunswick Heads. The Greens appear to have hit a ceiling in the Byron Bay area, where the Nationals gained a small swing in two booths.
Smith still loses a number of the booths in Ballina Shire, with the Nationals still easily winning in the Alstonville area.