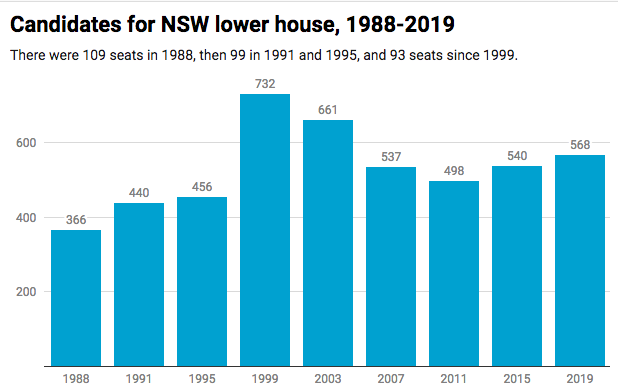 Nominations closed yesterday for the 2019 NSW state election, with an increase in lower house candidates but a decrease in upper house candidates compared to the 2015 election.
568 candidates nominated for the Legislative Assembly. This is an increase from 540 in 2015 and 498 in 2011, but this is less than the record nomination numbers of 732 in 1999 and 661 in 2003.
Ten candidates nominated in Murray and Penrith, and nine nominated in Barwon. Only three candidates (Liberal, Labor and Greens) stood in the seats of Riverstone and South Coast. 6.1 candidates nominated on average per seat.
Labor and the Greens are the only parties to run a full ticket. The Liberal Party is standing in 73 seats, with the Nationals running in twenty. There is no seat where both parties are running.
Quite a few minor parties are running in a substantial number of seats. Three other parties are running over 40 candidates each: Sustainable Australia running 55, Animal Justice running 48 and Keep Sydney Open running 42. Interestingly we had no Keep Sydney Open candidates on the list before nominations were declared, and there is practically no information about who they are.
The Shooters, Fishers and Farmers, who traditionally did not run lower house candidates, are now running in 25 seats. There's also 19 Australian Conservatives candidates, 18 Christian Democrat candidates, 12 One Nation candidates and 10 Liberal Democrats candidates.
Of these parties, only the Animal Justice Party is running more women than men: they are running 31 women, 16 men and one person who I couldn't identify. 46% of Labor candidates are women, as are 44% of Greens candidates and 25% of Coalition candidates.
There has been a slight reduction in the candidate numbers for the upper house, with 346 candidates, down from 394 in 2015. It is still the second-highest ever number of candidates. The large candidate numbers is largely due to the requirement that a group of candidates must nominate 15 candidates in order to get a box above the line.
NSW Legislative Council candidates 1978-2019. Most groups 81 in 1999 on a triple decked 'tablecloth' ballot paper. Most candidates 394 in 2015. 21 Columns with 346 candidates in 2019. More info on Council https://t.co/JJ7jnymqC4 … #nswvotes pic.twitter.com/bRxSGU1rpW

— Antony Green (@AntonyGreenABC) March 7, 2019
There are 21 columns on the upper house ballot, down from 25 in 2015. It's still more groups than we saw in 2003, 2007 and 2011.
I have published the full list of lower house candidates here. Let me know if I have miscategorised any candidates – there's quite a few with no public information. Thanks to Nick Casmirri for doing most of the research on this candidate list.