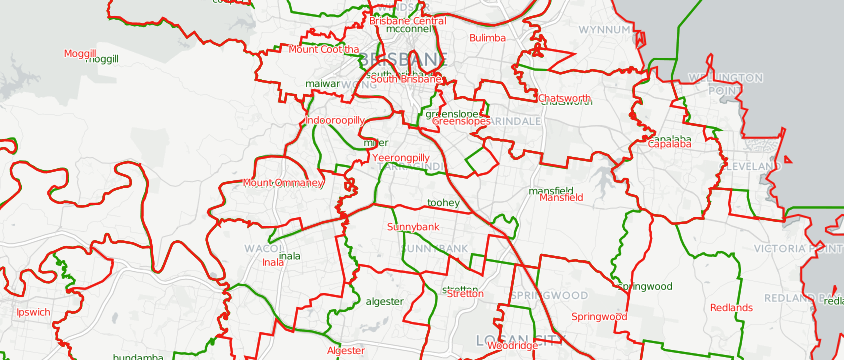 The first draft of Queensland's new state electoral map was released this morning, after a broad outline was leaked last night.
The redistribution is the first in almost a decade, and the redistribution will see four additional seats created in the Assembly. The combination of these factors has meant that the changes are quite dramatic.
Five new seats have been created, while two inner-city seats have been merged.
At least three prominent MPs face a significantly tougher task in winning re-election. Labor minister Steven Miles and LNP frontbencher Scott Emerson represent neighbouring seats of Mount Coot-tha and Indooroopilly. The two seats have both been abolished and replaced by the seat of Maiwar – a seat with a margin of approximately 2.8% for the LNP. They now face the choice of a tough contest or looking for a safer seat elsewhere.
Shane Knuth, a member of Katter's Australian Party, represents Dalrymple in north Queensland. That seat has been broken apart, with a majority of the seat going into the new seat of Hill – but only 60% of that seat is areas previously contained in Dalrymple.
There are eighteen seats, including Hill and Maiwar, where the incumbent MP currently represents less than 70% of their new seat's population.
The five new seats are Bancroft, in northern Brisbane; Bonney, on the Gold Coast; Jordan, in the Ipswich area; Macalister on the Gold Coast-Logan boundary and Ninderry on the Sunshine Coast. Some would count Hill as a new seat, but I think it's an obvious successor to Dalrymple.
Numerous seats have been renamed, with the Commission moving away from the norm where state electorates are named after localities. The Commission instead chose to name a dozen seats after distinguished Queenslanders, following the practice of the Australian Electoral Commission, who traditionally name seats after people. The range of individuals selected for this honour are more diverse than those with federal electorates named in their honour – less politicians, and a lot more women.
This map shows the old and new Queensland state boundaries – red represents the 2009-2015 boundaries, while green represents the draft boundaries released today. Below the map I've also posted my own estimates of the margin in each seat. I'm sure others will do more precise analysis, but I thought I should nail my colours to the mast and post my own estimates.
| | | | |
| --- | --- | --- | --- |
| Seat | Margin | Seat | Margin |
| Pumicestone | ALP vs LNP 50.2% | Whitsunday | LNP vs ALP 50.7% |
| Mansfield | ALP vs LNP 50.6% | Hill | LNP vs KAP 50.8% |
| Bundaberg | ALP vs LNP 50.8% | Tibrogargan | LNP vs ALP 51.4% |
| Maryborough | ALP vs LNP 50.8% | Toowoomba North | LNP vs ALP 51.6% |
| Mount Ommaney | ALP vs LNP 51.1% | Redlands | LNP vs ALP 51.8% |
| Springwood | ALP vs LNP 51.3% | Aspley | LNP vs ALP 52.5% |
| Mundingburra | ALP vs LNP 51.6% | Bonney | LNP vs ALP 52.6% |
| Cooper | ALP vs LNP 53.0% | Chatsworth | LNP vs ALP 52.7% |
| Barron River | ALP vs LNP 53.3% | Everton | LNP vs ALP 52.7% |
| McConnel | ALP vs LNP 53.5% | Maiwar | LNP vs ALP 52.8% |
| Keppel | ALP vs LNP 53.9% | Gaven | LNP vs ALP 52.8% |
| Mirani | ALP vs LNP 54.0% | Hinchinbrook | LNP vs ALP 53.7% |
| Ferny Grove | ALP vs LNP 54.4% | Caloundra | LNP vs ALP 54.7% |
| D'Aguilar | ALP vs LNP 55.1% | Theodore | LNP vs ALP 55.1% |
| Greenslopes | ALP vs LNP 55.3% | Lockyer | LNP vs ON 55.2% |
| Townsville | ALP vs LNP 55.7% | McMaster | LNP vs ALP 55.5% |
| Stretton | ALP vs LNP 55.7% | Burleigh | LNP vs ALP 55.6% |
| MacAlister | ALP vs LNP 55.9% | Clayfield | LNP vs ALP 55.7% |
| Thuringowa | ALP vs LNP 56.1% | Currumbin | LNP vs ALP 55.7% |
| Bulimba | ALP vs LNP 56.1% | Coomera | LNP vs ALP 55.9% |
| Capalaba | ALP vs LNP 56.2% | Oodgeroo | LNP vs ALP 56.1% |
| Logan | ALP vs LNP 56.2% | Hervey Bay | LNP vs ALP 56.5% |
| Murrumba | ALP vs LNP 56.5% | Kawana | LNP vs ALP 57.7% |
| Miller | ALP vs LNP 56.7% | Noosa | LNP vs GRN 57.8% |
| Cook | ALP vs LNP 56.8% | Burnett | LNP vs ALP 58.1% |
| Cairns | ALP vs LNP 57.5% | Moggill | LNP vs ALP 58.2% |
| Kurwongbah | ALP vs LNP 57.5% | Gympie | LNP vs ALP 58.6% |
| Redcliffe | ALP vs LNP 57.6% | Toowoomba South | LNP vs ALP 59.1% |
| Algester | ALP vs LNP 57.7% | Southport | LNP vs ALP 60% |
| Bancroft | ALP vs LNP 57.8% | Maroochydore | LNP vs ALP 60.4% |
| Toohey | ALP vs LNP 57.8% | Mudgeeraba | LNP vs ALP 60.7% |
| Nudgee | ALP vs LNP 58.6% | Mermaid Beach | LNP vs ALP 61% |
| Stafford | ALP vs LNP 58.9% | Gregory | LNP vs ALP 61.5% |
| Ipswich West | ALP vs LNP 59.0% | Scenic Rim | LNP vs ALP 61.7% |
| Jordan | ALP vs LNP 59.6% | Callide | LNP vs PUP 62.2% |
| Lytton | ALP vs LNP 59.6% | Broadwater | LNP vs ALP 62.8% |
| Mackay | ALP vs LNP 59.7% | Buderim | LNP vs ALP 63% |
| Sandgate | ALP vs LNP 59.8% | Warrego | LNP vs ALP 65% |
| Morayfield | ALP vs LNP 61.5% | Condamine | LNP vs ALP 66.9% |
| Gladstone | ALP vs IND 62.6% | Nanango | LNP vs ALP 67.4% |
| Mulgrave | ALP vs LNP 62.8% | Southern Downs | LNP vs ALP 69.2% |
| South Brisbane | ALP vs LNP 63.5% | Surfers Paradise | LNP vs ALP 69.6% |
| Rockhampton | ALP vs LNP 63.9% | Ninderry | LNP vs ALP 71.4% |
| Waterford | ALP vs LNP 64.4% | | |
| Ipswich | ALP vs LNP 65.2% | | |
| Inala | ALP vs LNP 69.7% | | |
| Woodridge | ALP vs LNP 74.1% | Nicklin | IND vs LNP 57.0% |
| Bundamba | ALP vs LNP 74.5% | Traeger | KAP vs LNP 65.8% |