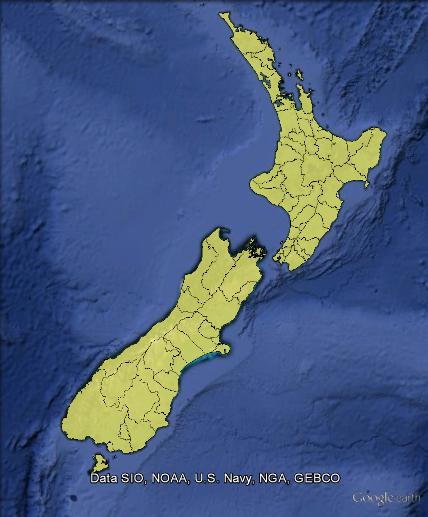 As part of my project to cover the 2014 New Zealand general election in more depth, I've just completed a Google Earth map of New Zealand's Territorial Authorities, or local councils.
New Zealand's local council elections are currently being held by postal ballot, and will conclude tomorrow, on Saturday 12 October. The election will cover elections for New Zealand local territorial authorities, as well as the regions and district health boards across the country.
New Zealand's north and south islands are covered by 66 territorial authorities: 43 on the north island and 23 on the south island. New Zealand is also covered by 16 regional councils: five of which are the same as the territorial authorities.
I haven't been able to complete the map of the 16 regions, but will do so in coming days.
Download the Google Earth map of New Zealand local councils here.
The most interesting election taking place in New Zealand is the election for Auckland Council. In the lead-up to the last election in 2010, all of the local councils in the Auckland region were merged together to form a 'super-city'.
In Auckland (and, it seems, most of the country), national political parties do not contest local elections, but alliances are formed that roughly align with right and left. In Auckland, incumbent centre-left mayor Len Brown is again leading the CityVision ticket, which seems to have the support of Labour and Green Party activists.
Interestingly, while New Zealand general elections are held using proportional representation, most local councils still use 'first past the post' to elect their council. Councils can choose between FPP and Single Transferable Vote (STV), which is similar to Australia system of proportional representation using preferences. STV is the only form of PR that works without political parties, and is gradually gaining popularity amongst NZ councils.
In Christchurch, Lianne Dalziel, Labour MP for Christchurch East, has resigned her seat to run for the Christchurch mayoralty. The seat has traditionally been safe for Labour, but the Nationals topped the party vote in the seat in 2011. Christchurch East has experienced a massive population drop since the last census, largely due to the Christchurch earthquakes.
Christchurch East will vote in a by-election on November 30 to fill the seat, and I plan on doing a profile of this seat. We will also be seeing a draft redistribution of New Zealand's electoral boundaries in November, which I plan on covering as well.