Brisbane City Council stands out from all other local government in Australia. Unlike all other capital cities, Brisbane is governed by a single local government, one that covers approximately one million people.
Brisbane elections are more like state elections than most local council elections, particularly in other capital cities. Brisbane's city council  is elected by twenty-six single-member wards. These wards are only slightly smaller than a state electorate. The Council is led by a Lord Mayor who is directly elected.
This stands Brisbane apart from all other councils in Australia. While most other Queensland councils have a similar electoral system, their size doesn't compare to Brisbane.
In many ways the City of Brisbane resembles a big American or Canadian city in the way that it is governed: large wards elected without proportional representation, a single government with a large budget and mandate, and a directly elected Mayor. Brisbane City elections are also dominated by political parties: in contrast most Australian council elections are dominated by independents, with political parties only dominating some urban councils in Sydney and Melbourne.
The Lord Mayor of Brisbane also has by far the biggest individual mandate for any single-member elected position in Australia. Over 500,000 people voted in the Brisbane mayoral ballot on Saturday. In comparison, approximately 90,000 people vote in each electorate at a federal election. Only Senators representing mainland states have more constituents, and they share those constituents with eleven other Senators.
The LNP's Campbell Newman won the Lord Mayoralty off the ALP in 2004, with 52.5% of the two-candidate vote, but the ALP maintained a majority of councillors. In 2008, Newman was re-elected with a swing of over 13%, with the LNP gaining control of the council. Newman resigned as Lord Mayor in 2011 after he was elected as Leader of the Liberal National Party on a state level, and he was succeeded as Lord Mayor by Graham Quirk.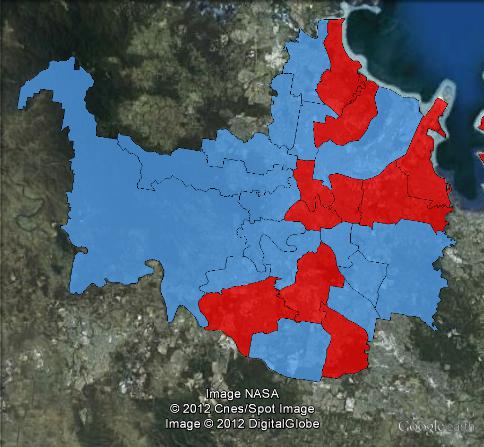 The overall result on Saturday wasn't dramatic. It was a big win for the LNP, but not quite as dramatic as the massive wipe-out that the ALP suffered at the March state election. The result also demonstrated that Brisbane voters clearly are able to differentiate between electing their local councillor and voting for a Mayor.
In the Mayoral ballot, Liberal National incumbent Graham Quirk won with a two-party result of 68.3%. This was a swing of over 2% to the LNP compared to Campbell Newman's second big win in 2008.
When Newman had first won the mayoralty in 2004 he only won a majority in 12 of 26 wards. In 2008, he won all 26. In 2012, Quirk won a majority in 25 wards, with the ALP eking out a majority in the southwest Brisbane ward of Richlands.
The Greens' candidate, Andrew Bartlett, won 10.7% of the vote, a swing of 2.3% compared to 2008. The Greens gained a swing in all but two of the wards. While this is a substantial swing compared to 2008, it was only a 0.6% swing compared to Drew Hutton's 10.1% result in 2004.
The result was quite different when it comes to the wards. Overall the results were:
Liberal National – 56.8% (+4.2%) – 18 wards (+2)
Labor – 32.3% (-5.0%) – 7 wards (-3)
Greens – 8.5% (-1.3%)
Others – 2.4% (+2.1%) – 1 ward (+1)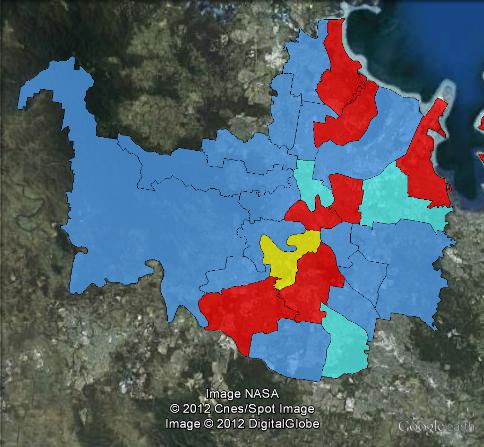 The LNP maintained their majority on the council with a swing towards them. The LNP gained the ALP's wards of Central, Doboy and Karawatha. The LNP lost the ward of Tennyson to independent ex-LNP councillor Nicole Johnston.
The Greens vote on the surface went down, but this is entirely due to a reduced number of Greens candidates. In 2008, the Greens stood in 23 wards. In 2012, the Greens only stood in 18 wards. When comparing the vote in those 18 wards where the Greens stood in 2012, the Greens vote increased by 0.02% – effectively the same result.
Overall this was a decisive endorsement of the Liberal National Party, with a very large majority for Graham Quirk in the mayoral vote, and a very solid LNP majority on the council.