Incumbent MLCs
David Koch (Liberal), since 2006. Previously MLC for Western 2002-2006.
David O'Brien (Nationals), since 2010.
Jaala Pulford (Labor), since 2006.
Simon Ramsay (Liberal), since 2010.
Gayle Tierney (Labor), since 2006.
Geography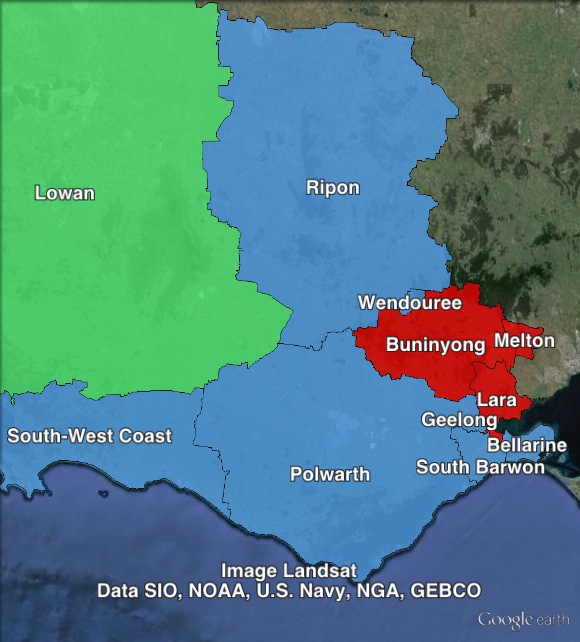 Western Victoria covers the greater Geelong region and stretches west to the South Australian border. In addition to Geelong, the region covers Ballarat, Warrnambool, Horsham, Colac, Bacchus Marsh, Melton and Torquay.
Six of the seats in the region are held by the Liberal Party, four are held by the ALP and one is held by the Nationals.
The Liberal holds two of its seats comfortably: South-West Coast (11.9%) and Polwarth (13.8%). The Liberal Party holds four marginal seats, ranging from 0.1% in Wendouree to 4.9% in South Barwon.
The ALP holds Melton and Lara with solid 14% margins, and holds Buninyong and Geelong by smaller margins.
The sole Nationals seat, Lowan, is a very safe seat, with a 22% margin.
Redistribution
Changes were relatively minor in Western Victoria. Nine out of eleven seats in the region kept their existing names, and the region didn't gain or lose any seats. Despite these relatively minor changes, three marginal Labor seats were redrawn into marginal Liberal seats.
No changes were made to the South-West Coast electorate in the corner of the region. Relatively minor changes were made to Polwarth and Lowan, as well as to the Geelong-area seats of Geelong, Lara and South Barwon.
The seat of Melton, on the western fringe of Melbourne, contracted to a much smaller geographic area but kept most of its previous voters.
Significant changes were made to three seats in the Ballarat area. Ripon shifted north to take in areas previously contained in the abolished seat of Swan Hill. Ripon was previously a Labor seat with a 2.7% margin, but now has a 1.6% Liberal margin.
The seat of Ballarat East, which also covers rural areas to the east of the city, shifted southward and was renamed Buninyong. These changes had little impact on the seat's margin.
The seat of Ballarat West, which is entirely contained within the Ballarat urban area, underwent only minor changes in its boundaries but was renamed Wendouree, and the changes flipped the seat's margin from 1.1% for Labor to 0.1% for the Liberal Party.
Overall, the region's changes increased the Liberal/National vote by 1%, and cut the Labor vote by 0.7%. The Greens vote dropped by 0.4%.
History
The Eastern Victoria region was created in 2006, when proportional representation was introduced.
At the 2006 election, the Liberal Party and Labor each won two seats, and the fifth seat was won by the Democratic Labor Party's Peter Kavanagh. The Nationals ran a separate ticket from the Liberal Party.
In 2010, Kavanagh lost his seat to Nationals candidate David O'Brien, who was running on a joint ticket with the Liberal Party.
Liberal MLC John Vogels retired, and he was replaced by fellow Liberal Simon Ramsay.
2010 result
2010 election
Redistribution
Party
Votes
%
Quota
%
Quota

Liberal/National

184,446
43.34
2.600
44.35
2.661

Labor Party

162,807
38.25
2.295
37.55
2.253

The Greens

43,525
10.23
0.614
9.81
0.589
Family First
14,165
3.33
0.200
3.27
0.196
Country Alliance
11,399
2.68
0.161
2.77
0.166
Democratic Labor Party
9,252
2.17
0.130
2.15
0.129
On primary votes, the Liberal Party won two seats, and the ALP also won two seats. Sitting Democratic Labor Party MLC Peter Kavanagh won only 2.2% of the vote.
After the election of the first four candidates, and the exclusion of minor candidates, there were six candidates remaining, with Kavanagh in last place:
Marcus Ward (GRN) – 0.611 quotas
David O'Brien (NAT) – 0.593
Richard Morrow (ALP) – 0.294
Joshua Reimer (FF) – 0.200
Miles Hodge (CA) – 0.164
Peter Kavanagh (DLP) – 0.132
Kavanagh's preferences flowed to Hodge, pushing the Country Alliance ahead of Family First:
Ward (GRN) – 0.613
O'Brien (NAT) – 0.595
Morrow (ALP) – 0.295
Hodge (CA) – 0.284
Reimer (FF) – 0.203
The elimination of Reimer pushed the Country Alliance ahead of Labor:
Ward (GRN) – 0.614
O'Brien (NAT) – 0.599
Hodge (CA) – 0.475
Morrow (ALP) – 0.296
Labor preferences then flowed overwhelmingly to the Greens, but it was not enough to give them the seat:
Ward (GRN) – 0.899
O'Brien (NAT) – 0.601
Hodge (CA) – 0.477
At this point, the Country Alliance candidate was eliminated, and his vote (almost half of a quota) flowed strongly to the Nationals, electing O'Brien over Ward:
O'Brien (NAT) – 1.067
Ward (GRN) – 0.902
Hodge (CA) – 0.002
The final margin of victory for the Nationals candidate over the Greens was 2.75% of the total vote, or 0.165 quotas, with a small batch of Country Alliance votes yet to distribute.
Candidates
A – Catriona Thoolen – Palmer United Party
B – Barry Newton – Family First
C – Kathy Francis – Cyclists Party
D – Garry Thomas – Voice for the West
E – Garry Kerr – Country Alliance
F – Michael Keane – Rise up Australia
G – Jayden Millard – Sex Party
H – Anne Foster – Australian Christians
I – Philip Gluyas – People Power

J –

Liberal

/

National

Simon Ramsay (Liberal)
Josh Morris (Liberal)
David O'Brien (Nationals)
Jennifer Almeida Reis (Liberal)
Donna Winfield (Nationals)

K – Andy Meddick – Animal Justice
L – Mark Thompson – Liberal Democrats
M – Nicole Bourman – Shooters and Fishers

N –

Labor

Jacinta Ermacora
John Stewart
Dale Edwards

O –

 Lloyd Davies – Greens
P – Mark Farrell – Democratic Labour
Q – James Purcell – Vote 1 Local Jobs
Ungrouped
Preferences
Assessment
The Coalition managed to win three seats in Western Victoria in 2010, but only by a small margin. A slight uptick in the combined centre-left vote will likely put the left in a position to win a third seat (likely the Greens candidate). In 2006, the Labor/Greens vote would have been enough to elect the Greens candidate, but the ALP chose to preference the DLP's Peter Kavanagh.