Incumbent MLCs
Danny O'Brien (National), since 2014†.
Edward O'Donohue (Liberal), since 2006.
Andrew Ronalds (Liberal), since 2014*.
Johan Scheffer (Labor), since 2006. Previously MLC for Monash 2002-2006.
Matt Viney (Labor), since 2006. Previously Member for Frankston East 1999-2002, MLC for Chelsea 2002-2006.
*Ronalds filled a vacancy caused by the resignation of Philip Davis in February 2014.
†O'Brien filled a vacancy caused by the resignation of Peter Hall in March 2014.
Geography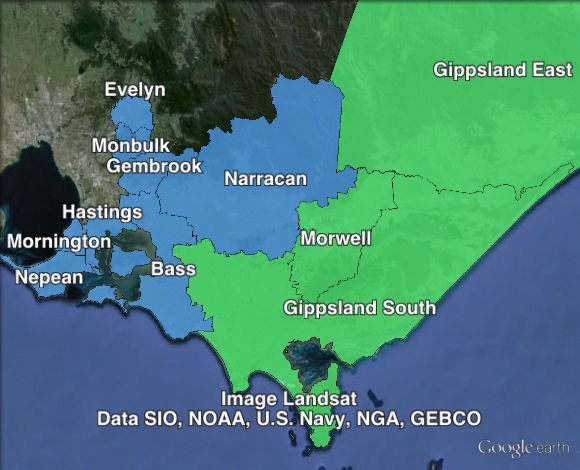 Eastern Victoria covers regional and rural areas to the east of Melbourne all the way to Gippsland, as well as some seats on the south-eastern fringe of Melbourne.
Eight out of eleven seats are held by the Liberal Party, while the other three are held by the Nationals.
Most seats in the region are reasonably safe.
The seat of Monbulk on paper is a very marginal Liberal seat with a 1.1% margin, but is actually held by Labor MP James Merlino, who won a third term in 2010. The electoral redistribution flipped Monbulk from a marginal Labor seat with a 1.9% margin to a 1.1% Liberal margin.
With the exception of Monbulk, the other ten seats are held with margins ranging from 8.8% in Gembrook to 23.1% in Gippsland East.
Five seats cover areas well away from Melbourne: Morwell and Narracan in the Latrobe Valley, Gippsland East and Gippsland South in the Gippsland area, and Bass on the eastern side of Western Port.
The electorates of Hastings, Mornington and Nepean all cover areas on the Mornington Peninsula at the south-eastern edge of the Melbourne urban area. Evelyn, Gembrook and Monbulk cover semi-urban areas on the eastern fringe of Melbourne.
Redistribution
Changes to the Eastern Victoria region were relatively minor. All eleven electorates in the region survived the region, and all eleven remained in the region after the redistribution.
Two seats, Gippsland East and Gippsland South, underwent no changes in boundaries.
The electoral redistribution shifted the margin in Monbulk from ALP 1.9% to Liberal 1.1%, which was probably the most significant shift in the region due to the redistribution.
Across the whole region, the Liberal/National vote increased by 0.3%, while the vote for the Greens dropped by 0.15%.
History
The Eastern Victoria region was created in 2006, when proportional representation was introduced.
Eastern Victoria has produced the same result at both the 2006 and 2010 election – two Liberal, two Labor and one National. The five original MLCs elected in 2006 all continued to serve until early 2014, when Nationals MLC Peter Hall and Liberal MLC Philip Davis both resigned from Parliament.
2010 result
2010 election
Redistribution
Party
Votes
%
Quota
%
Quota

Liberal/National

219,990
52.82
3.169
53.10
3.186

Labor Party

118,141
28.37
1.702
28.39
1.703

The Greens

43,425
10.43
0.626
10.28
0.617
Family First
13,626
3.27
0.196
3.28
0.197
Country Alliance
13,032
3.13
0.188
3.01
0.181
Democratic Labor Party
8,243
1.98
0.119
1.94
0.116
On primary votes, the first three Coalition candidates (two Liberals, one National) were elected, as well as one Labor candidate.
After the exclusion of independent candidates and lower-ranked major party candidates, the preference count was:
Matt Viney (ALP) – 0.700 quotas
Samantha Dunn (GRN) – 0.622
Linden Stokes (FF) – 0.199
Andrew Jones (CA) – 0.192
Rosemary Hopgood (LIB) – 0.163
Walter Ius (DLP) – 0.120
DLP preferences flowed to the Country Alliance, pushing Jones ahead of Stokes. Liberal preferences also flowed to the Country Alliance, creating the following situation:
Viney (ALP) – 0.702
Dunn (GRN) – 0.624
Jones (CA) – 0.456
Stokes (FF) – 0.205
Stokes' exclusion saw Jones of the Country Alliance to push ahead of the Greens' Dunn.
Viney (ALP) – 0.706
Jones (CA) – 0.647
Dunn (GRN) – 0.626
Most Greens preferences were distributed, and overwhelmingly favoured Labor, re-electing Viney.
Viney (ALP) – 1.293
Jones (CA) – 0.655
Dunn (GRN) – 0.020
Candidates
Sitting Labor MLCs Johan Scheffer and Matt Viney are not running for re-election.
A – Meg Paul – Voluntary Euthanasia
B – Jim McDonald – Liberal Democrats
C – Ange Hopkins – Sex Party

D –

Andrea Millsom – Greens
E – Jeffrey Bourman – Shooters and Fishers
F – Sarah Taylor – Palmer United Party
G – Yvonne Gentle – Rise Up Australia

H –

Liberal

/

National

Edward O'Donohue (Liberal)
Danny O'Brien (Nationals)
Andrew Ronalds (Liberal)
Laetitia Jones (Liberal)
Brenton Wight (Nationals)

I –

Labor

Harriet Shing
Daniel Mulino
Ian Maxfield
John Anderson
Sorina Grasso

J – Ash Belsar – Australian Christians
K – Trudie Morris – Family First
L – Kristin Bacon – Animal Justice
M – Gary Jenkins – Democratic Labour
N – Linton Young – People Power
O – Nick Burke – Cyclists Party
P – Andrew Jones – Country Alliance
Ungrouped

Rhonda Crooks
Christine Sindt
Jean-Michel David
Jeff Bartram
Preferences
Assessment
Eastern Victoria is very strong for the Coalition, with the Coalition winning over three quotas.
At the end of the count, the combined Labor/Greens vote was approximately 2.29 quotas – a long way short of the vote necessary for a third centre-left candidate (likely from the Greens) to win a seat. You would need to see a swing of over 10% from right to left to see three left-wing candidates elected in Eastern Victoria.
While the first Greens candidate came close to the second Labor candidate after preferences, the Greens would likely need to benefit from a large swing to win a seat off the ALP.