The English region of Yorkshire and the Humber covers the metropolitan areas of West and South Yorkshire, including Sheffield, Leeds, Doncaster, Rotherham, Huddersfield, Barnsley and Bradford. The region also covers the largely rural North Yorkshire, the City of York, Hull, the East Riding of Yorkshire, and parts of northern Lincolnshire on the southern shore of the Humber.
Labour is dominant in the urban areas of South Yorkshire, West Yorkshire and Humberside. In South and West Yorkshire there are two Liberal Democrats MPs, one Conservative, and 35 Labour MPs. Labour holds all four seats in southern Humberside and all three seats in Hull. The Conservatives dominate in rural East Yorkshire and North Yorkshire.
While most seats in the region are straight Labour-Tory contests, there is a cluster of seats in South Yorkshire where Labour's main rival is the Liberal Democrats, including all of Sheffield.
The redistribution abolished a Labour seat in both West Yorkshire and South Yorkshire. North Yorkshire's eight constituencies were dramatically redrawn, creating the seat of York Outer as a notionally Liberal Democrat seat, and abolishing a third Labour seat.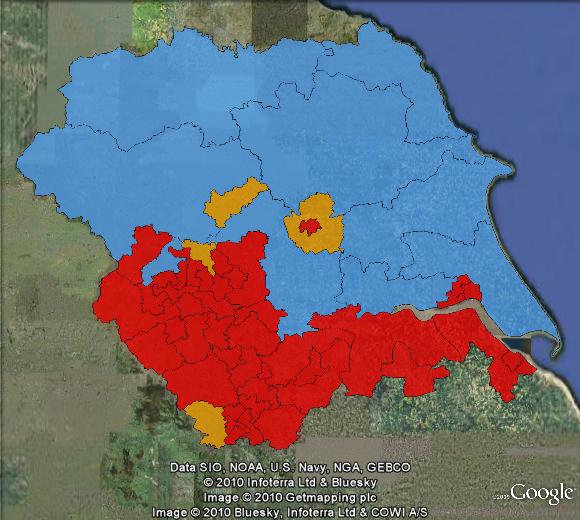 Recent history
1987 – 33 LAB, 23 CON
1992 – 34 LAB, 22 CON
1997 – 47 LAB, 7 CON, 2 LD
2001 – 47 LAB, 7 CON, 2 LD
2005 – 44 LAB, 9 CON, 3 LD
Labour managed to hold 60% of the seats in the region at the 1987 election, despite the large Conservative majority nationally. In 1992 Labour gained one more seat off the Conservatives.
At the 1997 election, Labour wiped out all Conservative seats in South and West Yorkshire, with the Liberal Democrats winning Sheffield Hallam, the only non-Labour seat in the metropolitan region. The Lib Dems won a second Conservative seat in North Yorkshire, leaving only seven Conservative seats.
The 2001 election produced the same result, with Labour winning 47, the Tories winning seven and the Lib Dems winning two.
In 2005, Labour lost three seats. They lost the North Yorkshire seat of Scarborough & Whitby to the Conservatives and the West Yorkshire seats of Leeds North West to the Lib Dems and Shipley to the Conservatives.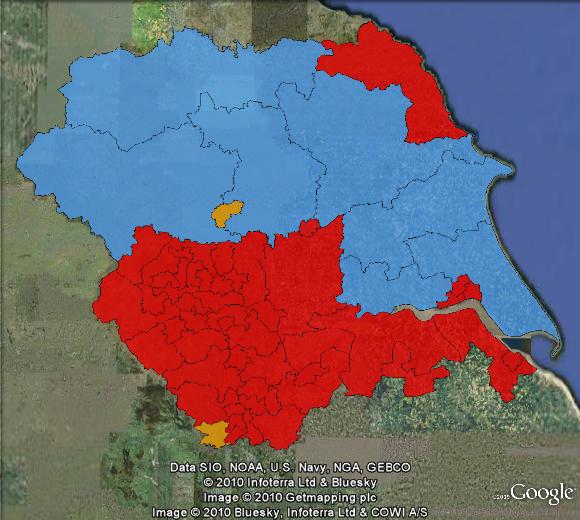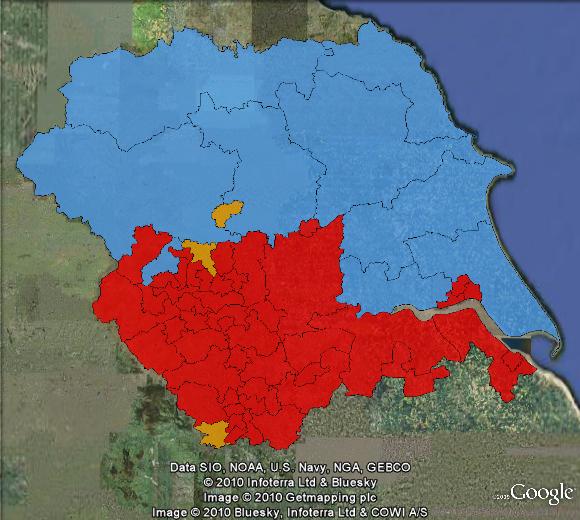 The key seats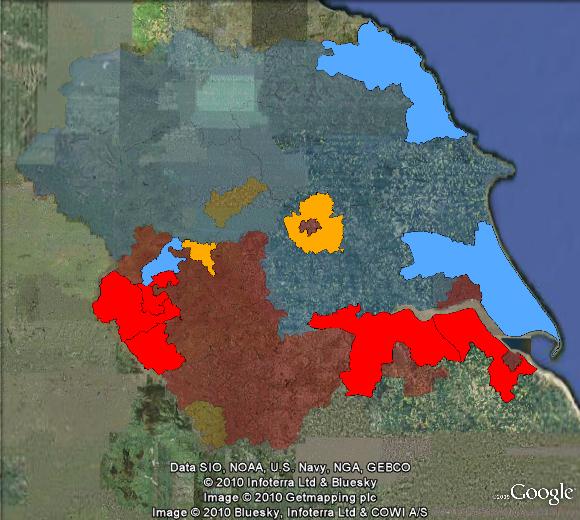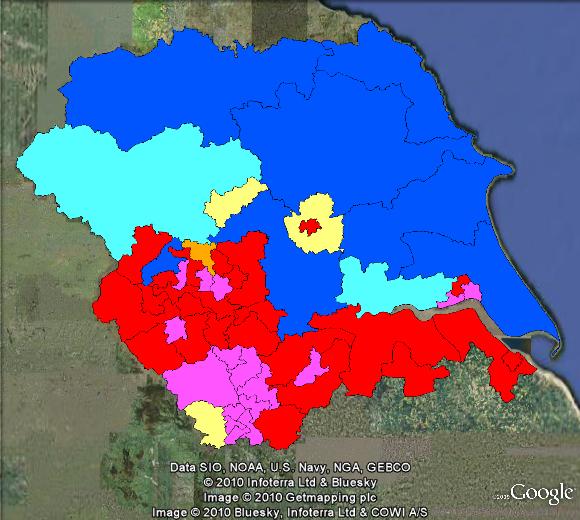 Elsewhere: profiles of the election in Yorkshire at The Guardian and UK Polling Report.