Scotland is heavily dominated by Labour, who hold most seats in the central belt between Edinburgh and Glasgow. More remarkably, the primary opposition in Scotland doesn't come from the Conservatives, but from the Liberal Democrats and the pro-independence Scottish National Party. The Conservatives only hold one seat, after losing all of their seats at the 1997 election. At the 2005 election, Labour won 40 seats, the Liberal Democrats won 11, and the SNP won 6, along with one Conservative and the Speaker, Michael Martin.
Labour has suffered a number of setbacks in Scotland since 2005. The SNP beat Labour at the 2007 Scottish election and formed a minority government in the Scottish Parliament. The SNP also topped the poll in Scotland at the 2009 European election. Labour also lost two seats at by-elections in the last term, losing Dunfermline & West Fife to the Lib Dems in 2006 and Glasgow East to the SNP in 2008. Labour, however, managed to hold on to Glenrothes at another by-election in 2008, and gained Glasgow North East at a 2009 by-election after the resignation of Speaker Michael Martin, a former Labour MP who had served as an independent since his election to the Speakership in 2000.
Unlike the rest of the UK, Scotland's most recent redistribution took place prior to the 2005 election. Scotland's number of seats was cut from 72 to 59 following the creation of the Scottish Parliament.
Recent history
1987 – 50 LAB, 10 CON, 7 LIB, 3 SNP, 2 SDP
1992 – 49 LAB, 11 CON, 9 LD, 3 SNP
1997 – 56 LAB, 10 LD, 6 SNP
2001 – 55 LAB, 10 LD, 5 SNP, 1 CON, 1 other (Michael Martin)
2005 – 40 LAB, 11 LD, 6 SNP, 1 CON, 1 other
Even at the lowest point for Labour during the Thatcher years, they held well over half of Scotland's seats. Almost half of the delegation for the SDP-Liberal Alliance in 1987 came from Scotland, and this was repeated for the Liberal Democrats in 1992. At the 1997 election, the Tory vote collapsed in Scotland, with all eleven Conservatives losing their seats. The Scottish National Party doubled their seat numbers to 6.
The SNP lost the seat of Galloway & Upper Nithsdale, on the English border, to the Conservatives in 2001. Former Labour MP Michael Martin had been elected Speaker in 2000, and he was re-elected as an independent in 2001.
At the 2005 election, 13 Scottish seats were abolished. Labour lost fifteen seats, while all other parties actually gained seats. The Lib Dems and the SNP each gained a seat, while the sole Tory MP and Martin were returned.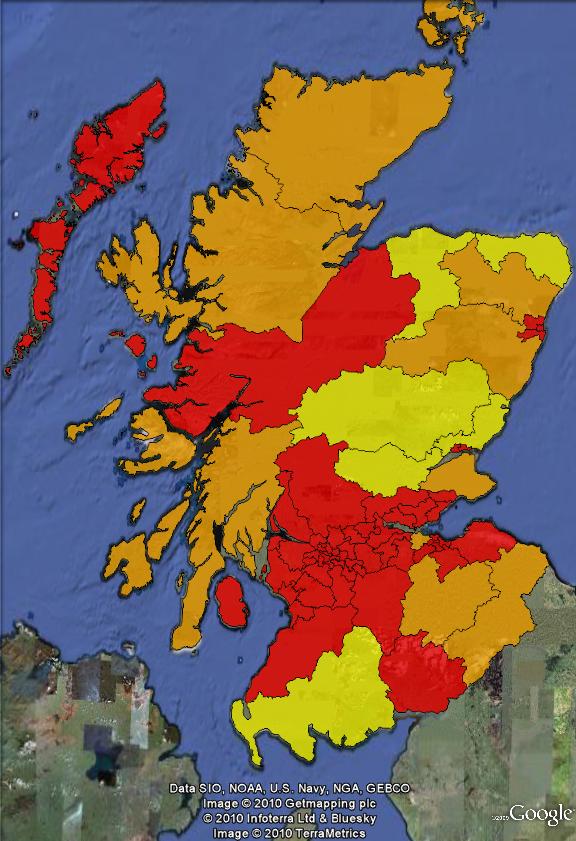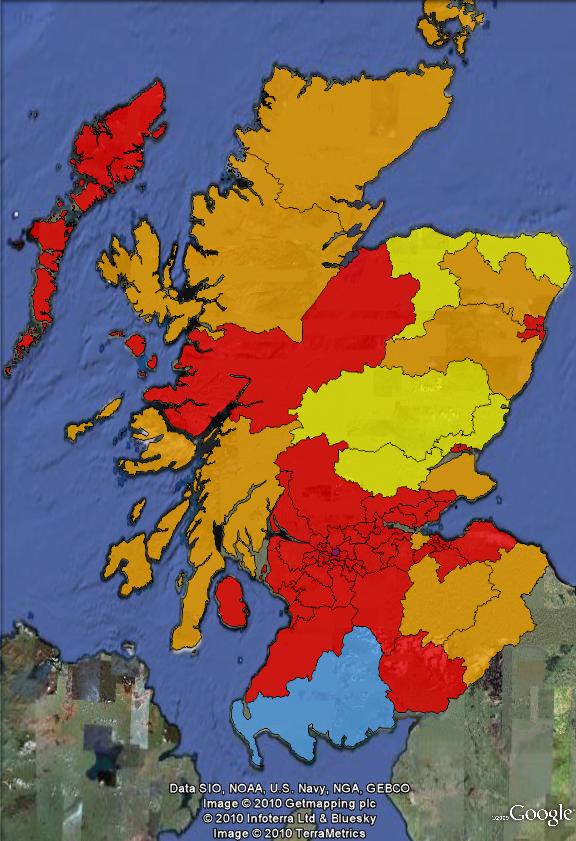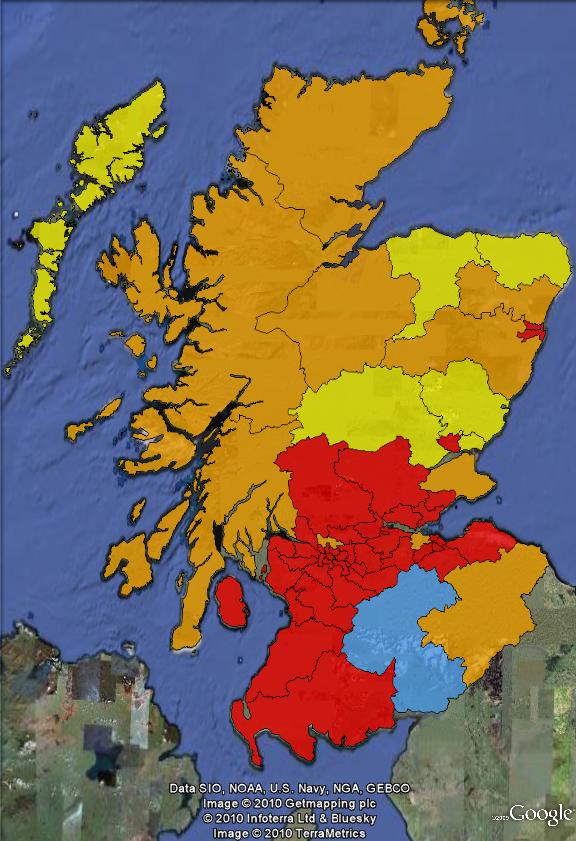 The key seats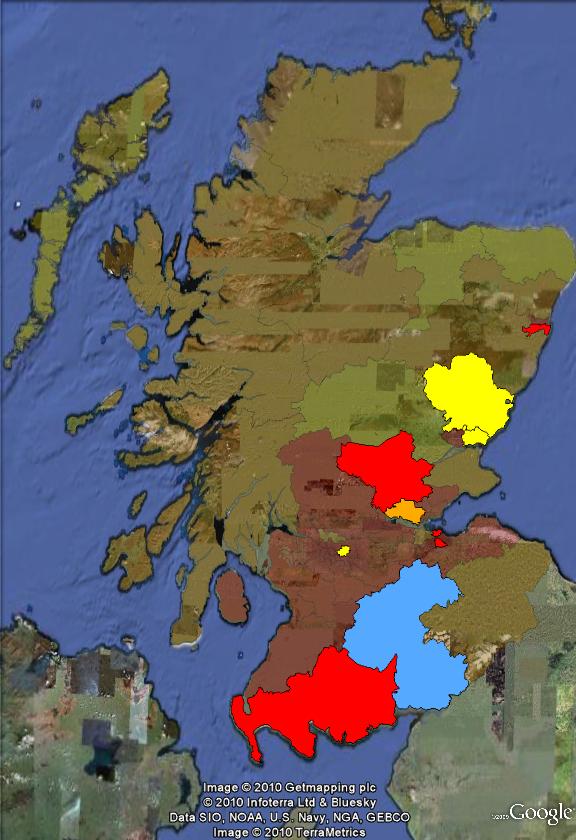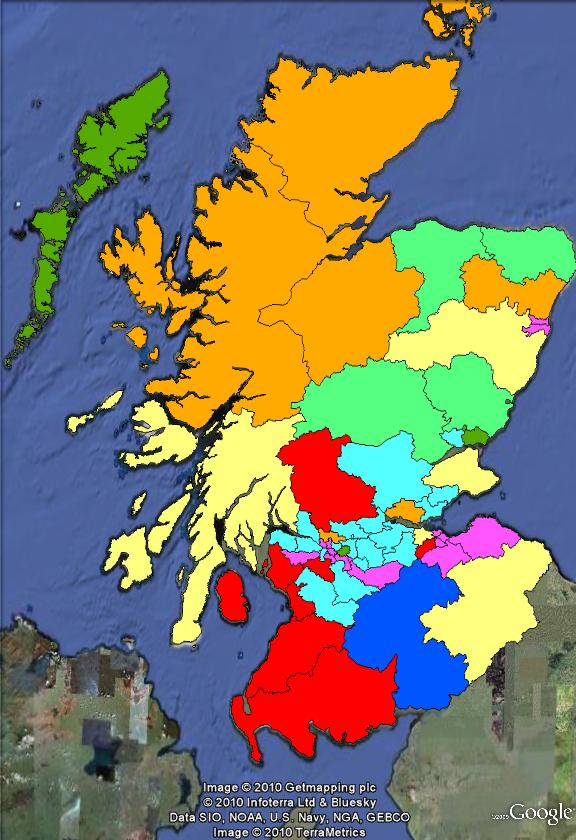 Elsewhere: profiles of the election in Scotland at The Guardian and UK Polling Report.