MANA 6.21% vs LAB
Incumbent MP
Hone Harawira, since 2005.
Other local MPs
Kelvin Davis (

Labour

), since 2014. Previously list MP 2008-2011. Davis filled a vacancy on Labour's party list with the retirement of Shane Jones in May 2014.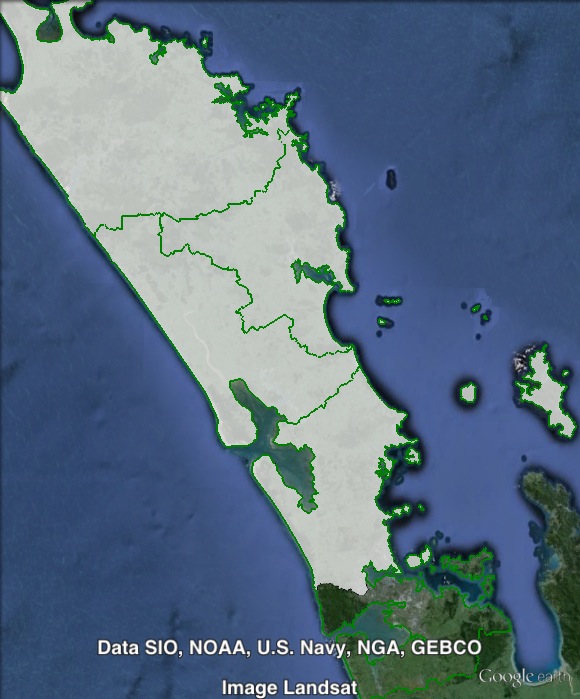 Geography
Northland and northern and western suburbs of Auckland. Te Tai Tokerau covers all of those parts of New Zealand to the north and west of Auckland, as well as northern and western suburbs of Auckland. These suburbs include the Te Atatu area, Massey, and the Northcote and North Shore area. Further north, Te Tai Tokerau includes the Rodney area, Northland and Whangarei.
Te Tai Tokerau covers the entirety of Far North, Kaipara and Whangarei council areas, as well as northern parts of Auckland Region.
Redistribution
No change.
History
The electorate of Te Tai Tokerau has existed with its current name since the 1996 election, but is effectively a successor of the Northern Maori electorate that existed from 1868 to 1996. Prior to the 1996 election, the number of Māori electorates was fixed at four: Northern, Southern, Eastern and Western.
Northern Maori was held by Labour continuously from 1938 until 1990.
Bruce Gregory won the seat at the 1980 by-election, and was re-elected in 1981, 1984, 1987 and 1990.
At the 1993 election, Gregory was challenged by New Zealand First's Tau Henare. Henare defeated Gregory, becoming New Zealand First's second member of Parliament, in addition to Winston Peters who had formed the party earlier in 1993 after retaining his seat as an independent at a by-election.
In 1996, the MMP reforms allowed for an increase in the number of Māori seats, and Northern Maori was renamed Te Tai Tokerau. Henare retained the seat for New Zealand First, and his party also won the four other Māori seats, for a total of six electorate seats and eleven list seats (including Peters' electorate seat in Tauranga).
Labour candidate Joe Hawke won a seat on the party list. He was re-elected as a list-only candidate in 1999 before retiring in 2002.
After the 1996 election, Henare joined the cabinet as Minister for Māori Affairs, along with other portfolios.
In 1998, the coalition between National and New Zealand First fell apart, and Winston Peters withdrew the party from government. Henare, however, left the party along with a number of other MPs and chose to remain in a support role with the National-led government. Henare formed a new party: Mauri Pacific, which included five former NZ First MPs.
At the 1999 election, Henare's vote collapsed, and he came third in Te Tai Tokerau. The seat was won by Labour candidate Dover Samuels.
Henare's party, Mauri Pacific, polled less than 0.1% of the vote, and all of the party's MPs lost their seats. After his defeat, Henare joined the National Party, running unsuccessfully in 2002. Henare was elected as a National list MP at the 2005 election, and won re-election in 2008 and 2011.
Labour list MP Dover Samuels won his seat at the 1996 election, before winning Te Tai Tokerau in 1999.
Following the 1999 election, Samuels was appointed to the ministry. He stood down in 2000, before returning to the ministry in 2002. He served as a minister until 2007.
Samuels won a second term in Te Tai Tokerau in 2002, with over 50% of the candidate vote, and a margin of 34.2%.
At the 2005 election, Samuels was challenged by Māori Party candidate Hone Harawira, and Harawira won easily. Harawira polled over 52% of the vote, and outpolled Samuels by a 19% margin. Samuels returned to Parliament as a list MP. Samuels served out one more term on the list, and retired at the 2008 election.
In 2008, Harawira was challenged by Labour candidate Kelvin Davis, and he increased his margin to 32.5%. Davis won a seat on the Labour Party list.
After the 2008 election, the Māori Party chose to go into alliance with the National Party, and the party's two co-leaders took on ministerial roles in the new government.
During the 2008-2011 term, Harawira's confrontational, aggressive and radical positions attracted criticism, and set him apart from his four Māori Party colleagues in the Parliament. Harawira also criticised the party's relationship with the National Party.
In early 2011, a complaint from a fellow Māori Party MP, Te Ururoa Flavell, resulted in his suspension from the Māori Party caucus. He then resigned from the party after a party body recommended his expulsion.
After a few months as an independent, Harawira announced the formation of the Mana Party, and his intention to resign from Parliament to run in a by-election as a Mana candidate.
Harawira won the June 2011 by-election, defeating Labour and Māori Party candidates. His vote dropped from 62% to 49%, with an additional 8.8% flowing to the Māori Party candidate. The main opposition came from Labour list MP Kelvin Davis, who polled 40.2%.
At the 2011 election, Harawira was re-elected in Te Tai Tokerau, with 43.3% of the vote. This gave him a margin of only 6.2% over Labour's Kelvin Davis. Harawira's party did not win enough party votes to gain any additional list seats, although the party's candidate came second in the Māori Party electorate of Waiariki.
Labour list MP Kelvin Davis ran again in Te Tai Tokerau, but failed to retain his list seat. He returned to Parliament in May 2014 when a vacancy arose for a Labour list MP.
In 2014, Hone Harawira's Mana Party announced an alliance with the Internet Party, led by former Alliance minister Laila Harré and founded and funded by Kim Dotcom. As long as Harawira retains Te Tai Tokerau, the alliance will qualify for list seats, which should allow additional Internet Party and Mana candidates to win seats on the party list.
Candidates
Kelvin Davis (

Labour #18

), list MP.
Clinton Dearlove (Independent)
Hone Harawira (Mana #1), Member for Te Tai Tokerau
Te Hira Paenga (Māori #4)
Assessment
The result in Te Tai Tokerau will be critical to whether the Internet/Mana alliance wins seats in Parliament. If this party wins enough votes to win a few list seats, their inclusion in Parliament could have a significant impact on the prospects for the centre-left to form a majority. Because of this, the centre-left will likely be stronger if Harawira wins, then if he loses to Labour's Kelvin Davis.
Despite this equation, Labour and Green both reject any deal with Harawira or Kim Dotcom, and it appears Labour will be working hard to take back Te Tai Tokerau.
The Māori Party will be struggling to be a contender in Te Tai Tokerau – they are likely to face a struggle to retain their three existing seats, but will also be hoping to take away Mana Party votes as Harawira's position has weakened significantly. The Māori Party almost doubled its vote from 8.8% to 16.6% between the 2011 by-election and the general election.
The Labour Party topped the party vote, with 34.7%, followed by Mana on 24.5% and then the Māori Party, New Zealand First, National and Green.
2011 election results
Electorate Votes
Party Votes
Candidate
Party
Votes
%
Swing
Votes
%
Swing
Hone Harawira
Mana
8,121
43.31
+43.31
4,844
24.49
+24.49
Kelvin Davis

Labour

6,956
37.10
+7.66
6,855
34.65
-10.98
Waihoroi Shortland
Māori
3,114
16.61
-45.35
2,208
11.16
-19.61
Maki Herbert
Legalise Cannabis
559
2.98
-1.08
229
1.16
+0.08
New Zealand First
1,950
9.86
+2.44

National

1,814
9.17
-0.17

Green

1,704
8.61
+5.1
Conservative
102
0.52
+0.52
ACT
46
0.23
-0.32
United Future
17
0.09
-0.03
Libertarianz
6
0.03
+0.01
Alliance
5
0.03
+0
Democrats
2
0.01
+0.01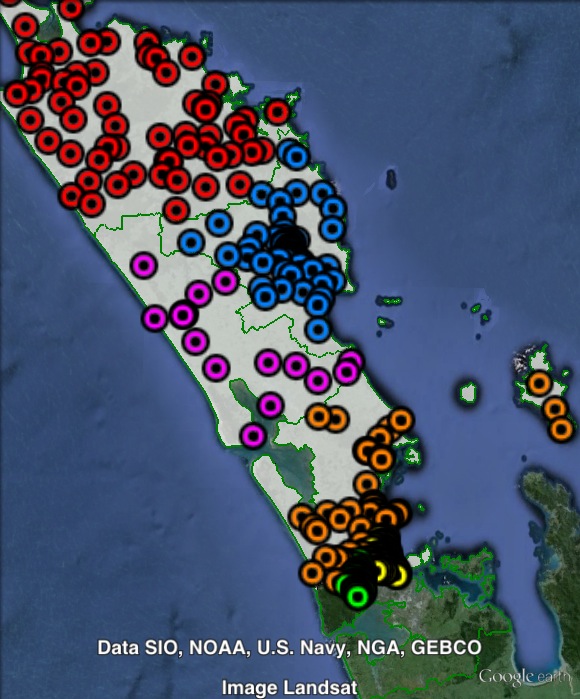 Booth breakdown
Booths in Te Tai Tokerau have been divided into six areas. Te Tai Tokerau covers three entire territorial authorities: Far North, Whangarei and Kaipara. Booths in these three council areas have been grouped together into three booth groups.
The remainder of the electorate lives in northern parts of Auckland Region. These booths have been split between those booths in rural areas north of the Auckland urban area ("Central"), and those in the northern suburbs and the western suburbs of Auckland.
A majority of the electorate's voters live in the Far North and Whangarei council areas, with only about 31% of ordinary votes being cast in the Auckland urban area.
Hone Harawira topped the poll in the two most populous areas: Far North and Whangarei. Harawira polled a majority of the electorate vote in the Far North, and 44.9% in Whangarei. Labour topped the poll in the other four areas, although they only managed to crack 40% of the electorate vote in the least populous area, Kaipara. Harawira's vote was lowest in the 'Central' area immediately northwest of Auckland.
The Māori Party candidate came third, with a vote ranging from 10.5% in the Far North to 28.7% in the conservative northern suburbs of Auckland, although even in Auckland North the Māori Party polled less than Hone Harawira.
On the party vote, Labour topped the poll in all six areas, ranging from 28.1% in Auckland North to 40.3% in Auckland West. The Mana Party vote peaked at 33.2% in the Far North, while the Māori Party vote ranged from 8.1% in Whangarei to 16.1% in Central.
Voter group
Electorate votes
Party votes
Total
% of votes
MANA
LAB
MAORI
LAB
MANA
MAORI
Far North
51.17
36.54
10.49
35.43
33.18
8.80
5,052
32.76
Whangarei
44.86
39.75
12.47
39.02
23.81
8.13
3,328
21.58
Auckland West
35.87
39.36
21.52
40.29
15.32
14.40
2,863
18.56
Auckland North
30.02
36.49
28.74
28.10
13.46
11.81
1,639
10.63
Central
28.79
38.38
28.18
25.46
11.24
16.14
990
6.42
Kaipara
36.20
45.93
13.72
35.45
15.79
9.91
627
4.07
Other votes
47.33
32.79
16.87
31.55
29.06
12.70
4,251
27.56