MAORI 18.45% vs LAB
Incumbent MP
Tariana Turia, since 2002. Previously list MP 1996-2002.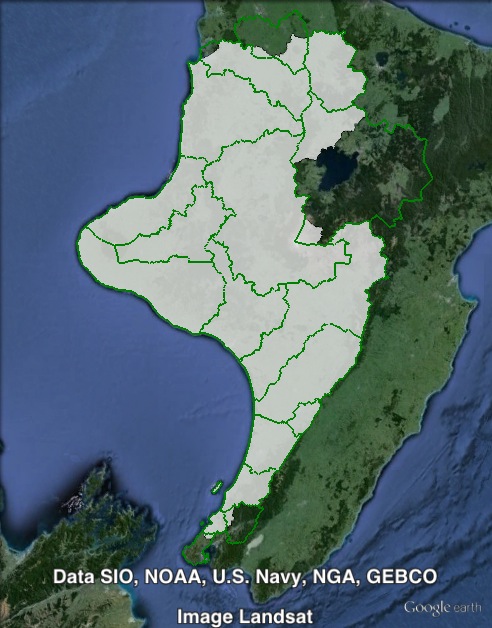 Geography
Western parts of North Island. Te Tai Hauāuru stretches from Waikato to the northern suburbs of Wellington. The seat covers Tokoroa, New Plymouth, Wanganui, Palmerston North and Porirua.
Redistribution
No change.
History
The electorate of Te Tai Hauāuru has existed since the 1996 election.
The seat was first won in 1996 by New Zealand First candidate Tuku Morgan. During his term in Parliament, he left New Zealand First and helped form the Mauri Pacific party, losing his seat at the 1999 election.
Te Tai Hauāuru was won in 1999 by Labour list MP Nanaia Mahuta.
A 2002 redistribution created a new electorate called 'Tainui' taking in northern parts of Te Tai Hauāuru, and the existing electorate shifted south.
Nanaia Mahuta shifted to Tainui. She won re-election there in 2005 and was appointed to the ministry after the 2005 election. Tainui was renamed as Hauraki-Waikato in 2008, and Mahuta won re-election in 2008 and 2011.
The redrawn Te Tai Hauāuru was won by Labour list MP Tariana Turia. Turia had held a list seat since 1996.
Turia had served as an Associate Minister since 1999, and in 2002 was given full ministerial responsibilities.
Turia fell out with her party during the foreshore and seabed controversy of 2004. Turia resigned from the Labour Party and formed the Māori Party, serving as the party's co-leader.
Turia resigned from Parliament in May 2004, triggering a by-election in Te Tai Hauāuru. At the July 2004 by-election, Turia ran as the Māori Party candidate. Turia polled over 90% of the vote in a field that included no candidates of any party then represented in Parliament.
Turia was re-elected in 2005 in the face of Labour opposition, winning the seat with a 29.5% margin. Her party also won an additional three seats.
In 2008, Turia increased her margin to 41.2%, and the Māori Party won five out of seven Māori electorates. Following the 2008 election, the Māori Party went into alliance with the National-led government, and Turia took on a number of ministerial portfolios. She has served as a minister continuously since the 2008 election.
In 2011, Turia's margin in Te Tai Hauāuru collapsed to 18.5%, and for the first time Turia won less than a majority of the vote. Her main opposition came, in order, from the Labour, Green and Mana parties.
In 2012, Turia announced that she would step down as co-leader of the Māori Party in 2014. In addition to stepping down as co-leader this year, she will be retiring from Te Tai Hauāuru at the 2014 election.
Candidates
Sitting electorate MP Tariana Turia will not be running for re-election.
Assessment
Te Tai Hauāuru is the safest electorate for the Māori Party, and in normal circumstances an 18.5% margin would be considered to be impregnable. With Turia retiring, however, the Māori Party will be tested about whether the vote is for individual candidates, or for the party as a whole. In addition, Māori electorates have a history of seeing massive swings over the last few elections. If the Māori Party has any long-term viability, it will need to demonstrate the ability to hand over its electorates to new candidates.
2011 election results
Electorate Votes
Party Votes
Candidate
Party
Votes
%
Swing
Votes
%
Swing
Tariana Turia
Māori
8,433
48.30
-22.28
3,829
21.05
-9.71
Soraya Waiata Peke-Mason

Labour

5,212
29.85
+0.43
7,645
42.03
-8.62
Jack Tautokai McDonald

Green

2,007
11.49
+11.49
2,031
11.17
+7.64
Frederick Timutimu
Mana
1,513
8.67
+8.67
1,499
8.24
+8.24
Jennifer Waitai-Rapana
Nga Iwi
178
1.02
+1.02
Robert Piriniha Wilson
Sovereignty Party
118
0.68
+0.68
New Zealand First
1,445
7.94
+2.73

National

1,421
7.81
+1.24
Legalise Cannabis
195
1.07
-0.15
Conservative
67
0.37
+0.37
United Future
25
0.14
+0.02
ACT
23
0.13
-0.27
Democrats
4
0.02
0.00
Libertarianz
3
0.02
+0.01
Alliance
1
0.01
-0.01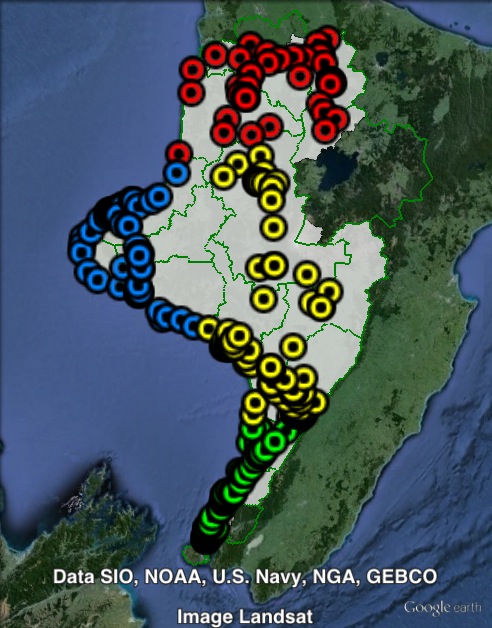 Booth breakdown
Booths in Te Tai Hauāuru have been divided into four areas, following local government boundaries:
Central – Horowhenua, Manawatu, Palmerston North, Rangitīkei, Ruapehu, Wanganui
North – Otorohanga, South Waikato, Taupo, Waipa, Waitomo
South – Kapiti Coast, Porirua, Upper Hutt, Wellington
West – New Plymouth, South Taranaki, Stratford
The electorate vote was won comfortably in all four areas by the Māori Party's Tariana Turia. Her vote ranged from 42.6% in the north to 50.9% in Central.
The Labour Party's candidate came second, with a vote ranging from 28.3% in Central to 34.8% in the north. The Green Party came third, with a vote ranging from 9.6% in the north to 12.1% in the west.
Labour won the party vote in Te Tai Hauāuru, with a vote ranging from 40.3% in Central to 45.2% in the north. The Māori Party vote came second, ranging from 17.8% in the north to 24.3% in Central.
Voter group
Electorate votes
Party votes
Total
% of votes
MAORI
LAB
GRN
LAB
MAORI
GRN
Central
50.90
28.31
11.18
40.31
24.32
11.15
6,083
34.84
South
47.07
31.82
11.48
44.17
18.95
11.42
4,748
27.19
West
48.84
29.35
12.11
41.25
20.80
11.63
2,576
14.75
North
42.58
34.78
9.57
45.22
17.55
8.91
2,090
11.97
Other votes
48.57
25.25
13.75
40.10
20.38
12.21
1,964
11.25