MAORI 5.31% vs LAB
Incumbent MP
Pita Sharples, since 2005.
Other local MPs
Shane Jones (

Labour

), list MP 2005-2014. Jones resigned from Parliament in mid 2014.
Geography
Tāmaki Makaurau is a Māori electorate covering most of the Auckland urban area. The electorate covers the Western beaches of Waitakere, Te Atatu, the Auckland Isthmus, and the eastern suburbs of Auckland as far as Manukau, Manurewa and East Tamaki.
Redistribution
No change.
History
A Māori electorate based on the Auckland urban area was first drawn for the 1999 election. The electorate was then named Hauraki, and stretched into regional areas to the east and south of Auckland. Hauraki lost its rural areas, and was renamed Tāmaki Makaurau, before the 2002 election. This seat was held by Labour from 1999 to 2005, and by the Māori Party since 2005.
John Tamihere won Hauraki in 1999, with 60% of the vote: four times as many as his closest rival. In 2002, he won over 73% in the redrawn Tāmaki Makaurau. Tamihere served as a minister in his second term, from 2002 to 2004.
Tamihere's closest rival in 2002 was Green candidate Metiria Turei, who polled 12.8% and won a seat on the Green Party list. After Turei won her first term in 2002, she has been re-elected three times and now serves as Green Party co-leader.
In 2005, Tamihere was challenged by Pita Sharples, co-leader of the newly-founded Māori Party, which had been formed in 2004 in protest at Labour's Foreshore and Seabed Act.
Sharples decimated Tamihere's 60.5% margin in 2005. Tamihere suffered a 32% swing, and Sharples won 52.4% to Tamihere's 41.2%. Tamihere did not stand on the Labour party list, so was knocked out of Parliament.
Sharples was one of four Māori Party members to win an electorate seat at the 2005 election. At the 2008 he was re-elected, along with his three colleagues. The Māori Party won a fifth seat in addition to the four won in 2005.
In Tāmaki Makaurau, Sharples defeated Labour list MP Louisa Wall in 2008. Wall had run unsuccessfully for both the party list and in Port Waikato in 2005, before filling a vacancy in Parliament in early 2008. Wall suffered a further 13.9% swing against Labour, in addition to the 32% swing against Tamihere in 2005, and was not successful in retaining her list seat.
Wall again filled a vacancy as a Labour list MP a few months before the 2011 election, and at that election won the general electorate of Manurewa for the Labour Party.
After the 2008 election, the Māori Party decided to support a National minority government, and Sharples and his fellow co-leader Tariana Turia took on ministries in the government. Sharples has served as Minister for Māori Affairs since 2008.
At the 2011 election, Sharples suffered a severe swing, but held on against Labour list MP Shane Jones. Sharples' 38.6% margin was cut to only 5.3%, due to a 25.6% swing against the Māori Party.
Jones had held a Labour list seat since 2005, and was re-elected in 2011. He stood for the Labour leadership in 2013, and retired in May 2014.
In mid-2013, Pita Sharples announced his retirement from Tāmaki Makaurau, and stepped down as the Māori Party's male co-leader, to be succeeded by his colleague Te Ururoa Flavell.
Candidates
Sitting electorate MP Pita Sharples is not running for re-election.
Marama Davidson (

Green #15

)
Raewyn Harrison (Independent)
Peeni Henare (

Labour

)
Rangi McLean (Māori)
Assessment
The Māori Party will need to win Tāmaki Makaurau if they are to maintain or increase their numbers in the Parliament, and the seat will be vulnerable with the retirement of Pita Sharples. The party's support levels have fallen since Sharples' big victories in 2005 and 2008. A 5.3% margin could certainly be overturned, particularly with the loss of Sharples' personal vote.
The lower turnout makes the party vote much less significant in Tāmaki Makaurau than in a general electorate: the total number of votes cast is about half of that in a general electorate. At the last election, Labour polled 41.5% of the party vote, with Māori, Mana, NZ First, Green and National all clustered between 8.4% and 14.5%.
2011 election results
Electorate Votes
Party Votes
Candidate
Party
Votes
%
Swing
Votes
%
Swing
Pita Sharples
Māori
7,120
40.40
-25.58
2,694
14.45
-14.16
Shane Jones

Labour

6,184
35.09
+7.75
7,739
41.50
-8.23
Kereama Pene
Mana
2,827
16.04
+16.04
2,551
13.68
+13.68
Mikaere Curtis

Green

1,491
8.46
+3.69
1,810
9.71
+5.67
New Zealand First
1,948
10.45
+4.56

National

1,569
8.41
+1
Legalise Cannabis
197
1.06
-0.08
Conservative
94
0.50
+0.5
ACT
28
0.15
-0.53
United Future
10
0.05
-0.08
Libertarianz
4
0.02
+0.01
Alliance
2
0.01
-0.01
Democrats
2
0.01
+0.01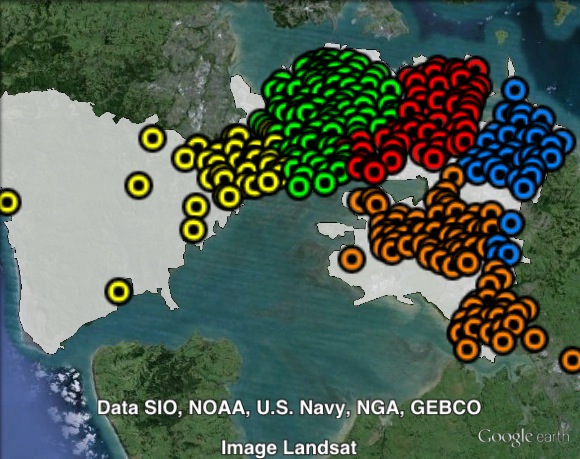 Booth breakdown
Booths in Tāmaki Makaurau have been divided into five areas. For convenience, booths have been broken up based on 2011 general electorate boundaries:
Central – Auckland Central, Epsom, Mt Albert, Mt Roskill
Inner East – Maungakiekie, 

Tāmaki

Outer East – Botany, Pakuranga
South East – Māngere, Manukau East, Manurewa, Papakura
West – New Lynn, Waitakere
The voting population of the electorate is not evenly distributed across these electorates: a majority of votes cast were in the south-eastern cluster.
The Māori Party topped the poll in four out of five areas, with a vote ranging from 41.4% in the inner east to 48.6% in the central parts of Auckland.
Labour won the largest vote in the South-East: 38.7% to 35.9%. Labour polled over 30% in four areas, and just under 30% in central Auckkland. The Mana Party came third, with a vote ranging from 10.6% in Central to 19.1% in South East.
On the party vote, Labour topped the poll everywhere, but did most strongly in the South East.
Voter group
Electorate votes
Party votes
Total
% of votes
MAORI
LAB
MANA
LAB
MAORI
MANA
South East
35.91
38.65
19.11
44.89
14.79
16.42
7,844
51.07
Central
48.58
29.54
10.62
34.34
13.40
9.59
2,779
18.09
Inner East
41.35
35.33
14.44
42.33
14.92
11.70
2,341
15.24
West
46.51
30.35
11.04
36.00
16.50
10.04
1,331
8.67
Outer East
43.00
35.49
15.02
37.48
12.98
10.71
1,065
6.93
Other votes
40.14
31.92
17.15
42.53
13.73
14.55
2,262
14.73