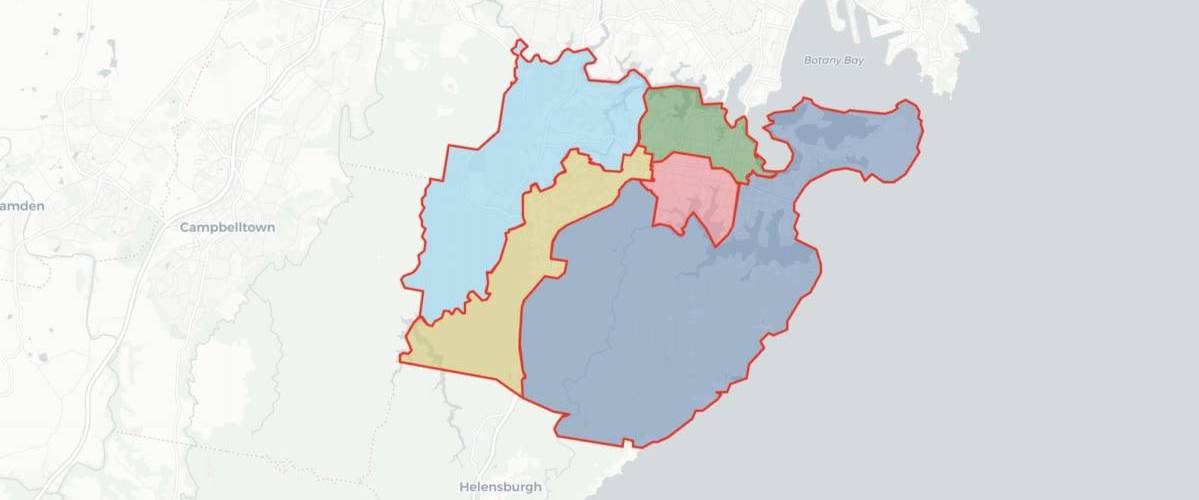 Sutherland Shire covers parts of southern Sydney, bordered by the Georges River on the north and west, the Pacific Ocean on the east and the Royal National Park (and the border with the City of Wollongong) on the south.
Sutherland has a population of about 231,000 people, as of 2019.
Wards
Sutherland is divided up into five wards, with each ward electing three councillors.
The five wards are named with letters from A to E.
A Ward covers the entire Pacific Ocean coastline, including the Kurnell peninsula and the suburbs of Cronulla, Woolooware, Port Hacking, Bundeena, Maianbar and part of Lilli Pilli. This ward also covers most of the Royal National Park, with its western border close to Waterfall and Heathcote.
B Ward covers the centre of the council, including the suburbs of Gymea, Miranda, Kirrawee, Yowie Bay, Gymea Bay and Grays Point, along with parts of Lilli Pilli and Caringbah South.
C Ward covers suburbs on the south side of the Georges River including Sylvania, Sylvania Waters, Caringbah, Oyster Bay and Kareela.
D Ward covers the Sutherland city centre and suburbs in the southwest of the shire, including Waterfall, Heathcote, Engadine, Yarrawarrah and Woronora Heights.
E Ward covers the western edge of the council, including a number of suburbs along the Georges River. Suburbs in E Ward include Menai, Alfords Point, Bangor, Illawong, Como, Bonnett Bay, Woronora and Barden Ridge.
| | | | |
| --- | --- | --- | --- |
| A Ward | Michael Forshaw (Lab) | Carol Provan (Liberal) | Marie Simone (Liberal) |
| B Ward | Jack Boyd (Labor) | Barry Collier (Labor) | Kent Johns (Liberal) |
| C Ward | Tom Croucher (Liberal) | Daniel Nicholls (Liberal) | Ray Plibersek (Labor) |
| D Ward | Greg McLean (Labor) | Carmelo Pesce (Liberal) | Diedree Steinwall (Lab) |
| E Ward | John Riad (Liberal) | Peter Scaysbrook (Lab) | Steve Simpson (Ind) |
History
Sutherland Shire has oscillated back and forth over recent decades between being controlled by an alliance of Labor and independents and being controlled by the Liberal Party.
In the council term from 1999 until 2004, Sutherland Shire was governed by an alliance of Labor and Shire Watch, a centre-left local independent alliance.
Labor's Ken McDonnell served as mayor from 1999 until 2000, then Shire Watch's Tracie Sonda held the mayoralty from 2000 until 2002, when she was succeeded by Labor's Phil Blight.
The Liberal Party improved its position at the 2004 election, winning seven seats. Labor won three seats and Shire Watch won four, with the last going to conservative independent Marie Simone.
Liberal councillors David Redmond and Kevin Schreiber each served as Mayor during the 2004-2008 term: Redmond from 2004 to 2006 and Schreiber from 2006 until the 2008 election.
The Liberal team did not run as party members in 2008, and instead all contested the election as independents. Four Liberals won seats in Sutherland Shire, along with friendly independent Craig McCallum. George Capsis' Community First team won another two seats, but Labor and Shire Watch won a majority, with five Shire Watch councillors and three Labor councillors.
Shire Watch's Lorraine Kelly held the mayoralty from 2008 until 2010, when it was handed back to Labor's Phil Blight.
The Shire Watch/Labor alliance broke down before the 2011 mayoral election, with Shire Watch councillor Carol Provan leaving the group and allying with the Liberal councillors, who helped elect her as mayor.
Shire Watch was devastated at the 2012 election. The Liberal Party won nine out of fifteen seats. Labor held their three seats, and only one Shire Watch councillor (Peter Towell) was re-elected. Two other independents were re-elected. Carol Provan, who had split with Shire Watch and was mayor at the time of the election, was re-elected as an independent. Councillor Bruce Walton, who had won a by-election in D Ward in 2010 on the conservative independent ticket of Craig McCallum, was re-elected while McCallum was defeated.
Sutherland swung back to the middle in 2016. Shire Watch was wiped out, with both major parties winning seven seats each. The final seat was won by independent Steve Simpson, who had been elected as a Liberal councillor in 2012.
The first mayoral election was a 7-7 tie, with Liberal councillor Pesce winning the tiebreaker. The same breakdown occured in the deputy mayoral election, but Labor's Scaysbrook won the tiebreaker. A Labor councillor had been missing, and the independent had voted for the Labor candidate on both ballots.
Simpson allied with the Liberals in 2018, allowing Pesce to win 8-7, and the Liberals then supported Simpson for deputy mayor, winning 8-7.
Simpson switched sides to ally with Labor in 2020. Labor councillors supported Simpson for mayor, and he supported Labor's Forshaw for deputy mayor.
Candidate summary
Liberal and Labor are both running full tickets in this area. Only three of seven Liberal councillors are running for re-election. Five of seven Labor councillors are running again.
Sitting independent councillor Steve Simpson is retiring.
The Greens are running in one ward, and there are six independent groups running across the five wards.
The full candidate list is at the end of this guide.
Assessment
Sutherland Shire is a conservative area and Labor is only competitive here when things are going well for them.
The Liberal Party in 2016 suffered from an inefficient distribution of votes, polling 57-58% in two wards while they missed out on a second seat in two other wards despite polling 44-45%. It wouldn't take much of an uptick in the Liberal vote to win an eighth seat.
It's also worth noting that the size of the crossbench is at an all-time low, and a resurgence in independent candidacies would make it much harder for either major party to achieve a majority.
| | | | | |
| --- | --- | --- | --- | --- |
| Party | Votes | % | Swing | Seats won |
| Liberal | 60,233 | 46.81 | +2.8 | 7 |
| Labor | 47,741 | 37.10 | +19.9 | 7 |
| Independents | 13,814 | 10.73 | -21.9 | 1 |
| Greens | 6,900 | 5.36 | +1.4 | |
| Informal | 5,888 | 4.38 | | |
The following table show the vote in each ward.
The Liberal Party topped the primary vote in three wards, with a vote ranging from 31% in the E Ward to 58% in the A Ward. The Liberal Party won a seat in every ward and a second in A and C wards.
Labor topped the poll in the D Ward, with a vote ranging from 21.7% in the E Ward to 50.7% in the D Ward. Labor won a seat in every ward and a second in B and D wards.
Strong independents only stood in the E Ward, which resulted in that ward being the worst ward for both major parties. Ex-Liberal independent Steve Simpson was elected off a 26.8% primary vote, while ex-Shire Watch independent Peter Towell missed out on a seat off a 20.4% primary vote.
| | | | | |
| --- | --- | --- | --- | --- |
| Ward | LIB % | ALP % | IND % | GRN % |
| A Ward | 57.9 | 27.0 | 0.0 | 15.1 |
| B Ward | 44.3 | 43.7 | 0.0 | 12.1 |
| C Ward | 57.3 | 42.7 | 0.0 | 0.0 |
| D Ward | 44.9 | 50.7 | 4.4 | 0.0 |
| E Ward | 31.1 | 21.7 | 47.2 | 0.0 |
Election results at the 2017 Sutherland Shire election
Toggle between primary votes for the Liberal Party, Labor and independent candidates.
Candidates – Ward A
A –

Independent

Craig Chantler
Kylie Grigg
Jacqueline Cross
Howard Beale

B –

Independent

Leanne Farmer
Gavin Kable
Kerry Coomes

C –

Liberal

Cr Carol Provan
Marcelle Elzerman
Daniel Rindfleish

D –

Labor

Cr Michael Forshaw
Diana Lozell
Paul Constance

E –

Greens

Benjamin Woods
Colin Ryan
Candidates – Ward B
A –

Labor

Cr Jack Boyd
Rosemary Maker
Nick Palmer

B –

Liberal

Louise Sullivan
Cr Kent Johns
Rebecca Pun

C –

Independent

Pam Brown
Steve Smith
Katrina Mulcahy
Candidates – Ward C
A –

Labor

Jen Armstrong
Stephen Ward
Judith Pilch

B –

Liberal

Hassan Awada
Haris Strangas
Meredith Laverty

C –

Independent

Tony Robins
Trent Jordan
Jane Horan

Ungrouped

Mark Preston (

Independent

)
Candidates – Ward D
A –

Independent

Dominique Passmore
Anne Passmore
Tania Clynch
Penelope Passmore

B –

Liberal

Cr Carmelo Pesce
Nathalie Matthews
Cameron Mort

C –

Labor

Cr Diedree Steinwall
Cr Greg McLean
Alexander Shepherd
Candidates – Ward E
A –

Independent

Laura Cowell
Matthew Brady
Giulio Di Stefano

B –

Liberal

Stephen Nikolovski
Jill Deering
Prudence Middleton

C –

Labor

Cr Peter Scaysbrook
Deb Cansdell
Graeme Paterson